Spain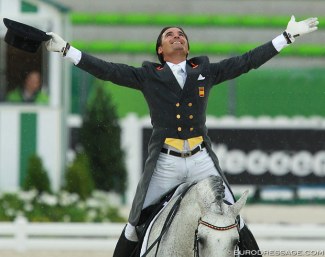 In corona times we are all ordered to stay at home, self quarantine, and do social distancing. With more time on your hands to spend online, Eurodressage launches a "Hit & Run" interview series so that you get to know the world's most famous dressage riders and personalities more closely. 
Spanish Grand Prix rider Jose Antonio Garcia Mena has represented Spain on his career making horse Norte Lovera at two World Equestrian Games (2010, 2014) and two European Dressage Championships (2013, 2015). He won the 2013 Spanish Grand Prix Championships. He competed at three World Young Horse Championships (2014, 2015, 2018). He has been helping Isabell Werth with piaffe training and has currently received the ride on Werth's Sorento as a Tokyo Olympic hopeful.
Hit & Run - Jose Antonio Garcia Mena
What is your earliest memory? 
Riding ponies at Mr. Domecq farm
Which person alive do you admire the most and why?
I admire my parents for how they have worked hard to bring the family forward
When were you the happiest?
l am happy every day. God blesses me
What is your biggest fear?
If I or a family member were to get ill
What was your first thought today?
It was Mother's Day so I congratulated the mothers in my family
What is your most annoying character trait?
I feel that lazy people get uncomfortable around me..
Which trait do you dislike the most in other people?
Hypocricy
What is your dearest possession?
My dear family
If you look into the future, what do you see?
My life among horses. Trying to be better and better
What makes you unhappy?
Watching television these days and see how innocent people die
What is the love of your life?
My family.
What was the best choice you ever took in life?
When I decided to become a father
What's your guilty pleasure?
I'm dying for chocolate
What do you owe your parents?
Everything. Those who know them adore them
Who can sit next to you at your dream dinner table?
Every Friday we make a fun dinner at home, my wife and my two children. Who better than them?
What was the worst job you ever did?
To make some money I had to work in a bar when I was studying and I was 15 years old. I didn't like it
What was your biggest disappointment in life?
Disappointment is negative. I prefer to forget it
What would you change if you can go back into the past?
Nothing. I am very happy with my life
Name one thing that would improve your quality of life?
God makes me privileged. I don't need change anything .
What is your biggest achievement?
To have great friends by my side
What is the most important life lesson you have learnt?
You reap what you sow
Where would you like to be right now? 
I wish I could continue with the plan we had before the corona virus. We should have been at the CDI Segovia 
What's your favourite scent?
The smell of my home
Which character would you dress up in for Halloween?
I don't like Halloween
To whom would you like to say sorry?
When I had to say sorry, I did it
What does love feel like for you?
True and unconditional
When are you most relaxed?
When I return home, having had a good feeling with my horses
What super power would you like to have?
To end world famine
When did you last cry, and why?
a few days ago watching TV, because of the people and the corona virus.
When were you closest to death?
Fortunately I have not experienced anything like this
How do you want to be remembered?
As a good person, a good husband, a good father. To have the respect of my colleagues
Related Links
Second Time's a Charm: Garcia Mena Gets Sorento as Olympic Option from Isabell Werth
Jose Antonio Garcia Mena Gets Married
Jose Antonio Garcia Mena Gets Ride on El Santo for 2016 Olympic Year
Jose Antonio Garcia Mena's Norte Retired from Competition
Jose Antonio Garcia Mena Loses Ride on Dragao Figueiras
When God Smiles on Spanish Talent, Garcia Mena Shines at 2013 CDI Toledo
Jose Antonio Garcia Mena and Norte Win 2013 Spanish Grand Prix Championship
Garcia Mena and Norte Bring Dash to the Arena at 2011 Sunshine Tour