Hit & Run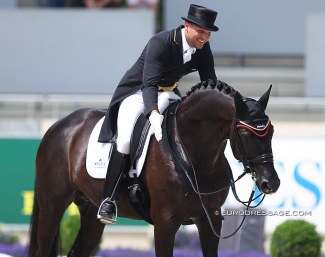 In corona times we are all ordered to stay at home, self quarantine, and do social distancing. With more time on your hands to spend online, Eurodressage launches a "Hit & Run" interview series so that you get to know the world's most famous dressage riders and personalities more closely. 
German Grand Prix rider Matthias Bouten garnered his first fame as an assistant trainer at Isabell Werth's yard in Rheinberg, followed by a stint at Baumgurtel's Freiberger Hof. In the summer of 2014 he started an independent business with his life partner Vicent Arroyo and rode horses for Marianne Jerich and Ferienhof Stucker. Since May 2018 he has been the head rider at Toni and Marina Meggle's yard in South Germany and achieved his biggest successes in the international Grand Prix with their horses, so far. He is currently ranked #45 on the FEI World Dressage Riders Ranking.
Hit & Run - Matthias Bouten
What is your earliest memory? 
Getting our first dog Max
Which person alive do you admire the most and why?
Everyone who is trying to make their dreams come true
When were you the happiest?
When we got the message, that our dog Peaches would survive. During a hack with the horses, she joined me and came out of the bushes injured. We took her to the vet and she had a 15 cm long piece of wood in her stomach that had also pierced her stomach wall, spleen and a kidney. She was operated on but was in critical condition for several days. Fortunately she recovered to full health and we are so happy. It was a miracle. 
What is your biggest fear?
Losing someone I love
What was your first thought today?
Nice day to hack out
What is your most annoying character trait?
Always being late
Which trait do you dislike the most in other people?
Being fake
What is your dearest possession?
Our whippets Lilli and Peaches
If you look into the future, what do you see?
A lot of nice young horses coming up and a lot of fun and happy moments
What makes you unhappy?
When close people or my animals are not well
What is the love of your life?
My long time partner Vicente Arroyo
What was the best choice you ever took in life?
To start working for Mr and Mrs Meggle
What's your guilty pleasure?
Chips and Coca Cola
What do you owe your parents?
The right view for good and bad and giving me the feeling of always being loved by them
Who can sit next to you at your dream dinner table?
Everyone I love
What was the worst job you ever did?
9 months in the army
What was your biggest disappointment in life?
Some horse owners that were not truthful to their word
What would you change if you can go back into the past?
Everything was important to go through, when I look back
Name one thing that would improve your quality of life?
More hours in the day
What is your biggest achievement?
Number 43 with Meggle's Boston in the FEI World Ranking List
What is the most important life lesson you have learnt?
Always be patient and take your time with people and animals
Where would you like to be right now? 
Exactly where I am , it's a dream coming true
What's your favourite scent?
1 Million
Which character would you dress up in for Halloween?
The Joker
To whom would you like to say sorry?
To my friends for often not taking enough time for them
What does love feel like for you?
Harmony, trust and feeling home
When are you most relaxed?
Every year in January on our vacation
What super power would you like to have?
To do magic
When did you last cry, and why?
When our dog peaches was close to death
When were you closest to death?
In a car accident
How do you want to be remembered?
As someone who always tried to do his best
Related Links
Matthias Bouten Signs Contract as Meggle's Head Rider
Matthias Bouten Loses Ride on Jerich Horses
Bouten Out, Hermes In at Freiberger Hof
Ferienhof Stucker Horses to Matthias Bouten
Matthias Bouten Making it to the Big Time at the 2015 CDI-W Brno