France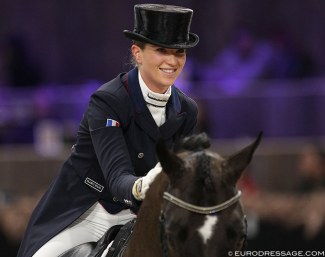 In corona times we are all ordered to stay at home, self quarantine, and do social distancing. With more time on your hands to spend online, Eurodressage launches a "Hit & Run" interview series so that you get to know the world's most famous dressage riders and personalities more closely. 
French Grand Prix rider Morgan Barbançon Mestre began her competition career as a dressage rider, competing for her maternal country Spain. From ponies through junior and Young Riders she moved to Grand Prix when her parents bought her Anky van Grunsven's Painted Black as a schoolmaster. The pair represented Spain at the 2012 Olympic Games in London, 2013 and 2015 European Championships and 2014 World Equestrian Games. Currently trained by Dorothee Schneider, Barbançon rides for France now with Sir Donnerhall II. The pair has competed at the 2018 and 2019 World Cup Final and 2019 European Dressage Championships. She lives in Geneva, Switzerland.
Hit & Run - Morgan Barbançon Mestre
What is your earliest memory? 
A family trip with my parents
Which person alive do you admire the most and why?
My parents, for the way they educated me, their principles, work ethics
When were you the happiest?
When I spend time with my family
What is your biggest fear?
Losing a close one 
What was your first thought today?
Gosh I have a lot to do
What is your most annoying character trait?
I tend to forget things and do things I get told to do
Which trait do you dislike the most in other people?
Dishonest people
What is your dearest possession?
My education
If you look into the future, what do you see?
I hope to do something good in my career and that people will remember it
What makes you unhappy?
To disappoint people and bad training with my horses
What is the love of your life?
My boyfriend Chris
What was the best choice you ever took in life?
Doing what I love every day
What's your guilty pleasure?
A cheese diner with baguette and a good red wine
What do you owe your parents?
Everything, they have always supported me
Who can sit next to you at your dream dinner table?
My family
What was the worst job you ever did?
A full clean up of the stables
What was your biggest disappointment in life?
I don't want to remember, I look forward and not backwards. I always try to have a positive mindset and see the positive in every situation. You learn from your mistakes! Unfortunately a lot of people you encounter aren't honest or trustworthy. I grew up with these values, and I've trusted people that I shouldn't have. Nonetheless it won't change my values or the person I am or will be. I just learnt to be more careful, not everyone has the best intentions at heart.  
What would you change if you can go back into the past?
To not trust some people I did
Name one thing that would improve your quality of life?
Having more hours in one day.
What is your biggest achievement?
9th place in the Grand Prix at the World Equestrian Games in Caen 2014
What is the most important life lesson you have learnt?
Hard work pays off
Where would you like to be right now? 
Where I am right now with my horses
What's your favourite scent?
The scent of the sea
Which character would you dress up in for Halloween?
Not my thing, too scary
To whom would you like to say sorry?
To everyone I might have offended
What does love feel like for you?
Trust, security, fun
When are you most relaxed?
When I am around my horses
What super power would you like to have?
To stop time
When did you last cry, and why?
When I found out what happened to Juan Matute Guimon
When were you closest to death?
In October 2016 during my accident with Girasol when I got dragged on the concrete
How do you want to be remembered?
As a good and honest person
Related Links
Morgan Barbançon Mestre Relocates Home to Switzerland
Morgan Barbançon and Girasol Find Their Stride at the 2016 CDI Deauville
Morgan Barbançon Mestre Wins First World Cup Qualifer in Her Career at 2016 CDI-W Augustowek
Morgan Barbancon Mestre's Painted Black Retired from Competition
Barbançon Sisters Declare for France
Morgan Barbancon Honoured in Madrid as Best Spanish WEG Rider
Barbancon and Anky van Grunsven Part Ways
Morgan Barbancon On the Road to the 2012 Olympic Games