Mexico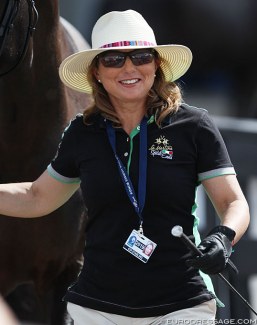 Mexican number one Grand Prix rider Bernadette Pujals has officially declared for Spain.
On 20 March 2020, the FEI has accepted her declaration and as of that point she will compete for her native country, Spain.
Married in Mexico
The 51-year old Pujals is originally from Barcelona, Spain, but married Mexican Antonio Rivera Galarza, a Grand Prix dressage rider, and switched to the Mexican nationality.  Bernadette became one of Mexico's most successful dressage riders in history.
She first represented Mexico at the 1998 World Equestrian Games on Emir, but her first major success arrived at the 1999 Pan American Games in Winnipeg where she won team and individual bronze aboard Rossini. She went on to win team gold and individual bronze at the 2002 Central American Games.
Bernadette's most successful horse to date is the Hanoverian stallion Vincent (by Weltmeyer) with whom she won individual silver and team bronze at the 2003 Pan American Games in Santo Domingo. Under the supervision of German Jonny Hilberath she placed 10th at the 2006 World Equestrian Games in Aachen and was 9th at the 2008 Olympic Games in Hong Kong.
With Bindu she got team silver at the 2006 Central American Games in Bogota
Mexican Star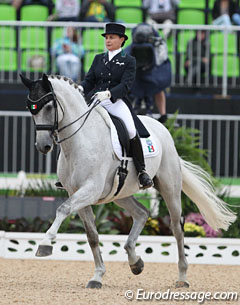 Pujals got divorced but remained in Mexico City as one of the country's torch bearers in dressage sport.  While here presence in Europe ended for four years after the sudden death of her top horse Vincent in May 2010, Pujals continued to compete actively in Latin America. 
She rode Mazal to team bronze at the 2010 Central American Games in Mayagez, but it was the Danish warmblood Heslegards Rolex that would take her to new heights. The grey gelding was purchased in October 2010.
At the 2011 Pan American Games in Guadalajara, Pujals and Rolex were 6th individually, but the team only finished fourth on home turf. At the 2014 Central American Games in Veracruz, Bernadette rode Aurora El Camino to team and individual gold and freestyle bronze. She took Rolex to the 2015 Pan American Games in Toronto, but Mexico was fourth again and with the rising level of competition at the Pan Ams there was no individual medal for Mexico. Pujals was the individual representative for Mexico at the 2016 Olympic Games in Rio de Janeiro. 
Between 2016 and 2018 Bernadette competed Baron de Ley W, Curioso XXV and Rolex at international shows. Pujals did not make it to the 2018 World Equestrian Games in Tryon but instead dropped Rolex to small tour level to show at the 2018 Central American Games in Bogota, where Mexico won team gold. There was no individual medal.
The Spanish connection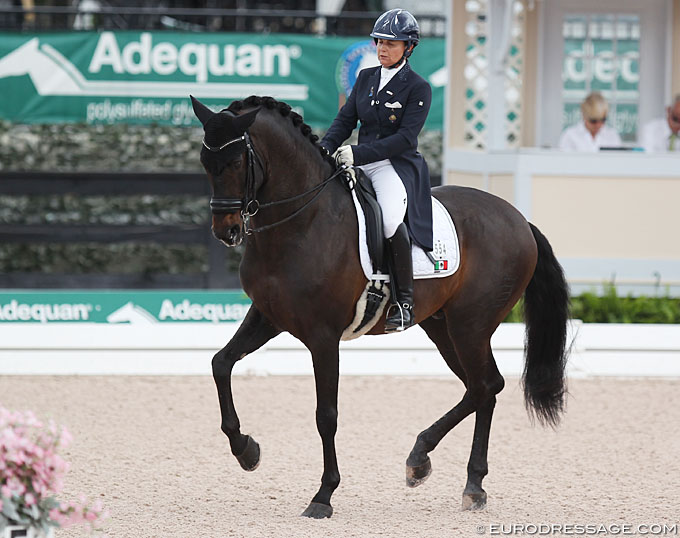 Since 2019 Pujals has only been competing one horse at international level, the PRE bred Curioso XXV, who was originally owned by Spaniard Jose Luis de la Escalera. In 2018 the bay sold to Mexican Toni Camil and half a year later Pujals took over the ownership after she placed fourth with the Mexican team at the 2019 Pan American Games in Lima. Individually she was 16th. 
In 2019 Pujals also spent her first time in Wellington, Florida, where Curioso's previous rider, Spaniard Victor Alvarez Diez, came to watch the pair. 
Pujals had planned on moving back to Spain right before the corona pandemic struck. This has interrupted her moving schedule. 
Photos © Astrid Appels
Related Links
Eurodressage Photo Database: Bernadette Pujals
Mexican Team for 2018 Central American and Caribbean Games Selected
Bernadette Pujals Officially Nominated for the 2016 Olympic Games
Baron de Ley Sold to Bernadette Pujals
Pujals Takes Two at Second Mexican Pan Am Qualifier
Bernadette Pujals in the Lead at First Mexican 2011 Pan Am Games Qualifier
Heslegards Rolex Sold to Bernadette Pujals
Bernadette Pujals' Vincent Died Unexpectedly
Meet Bernadette Pujals' Trainer Jonny Hilberath
Dressage in Latin America and the Caribbean