Hit & Run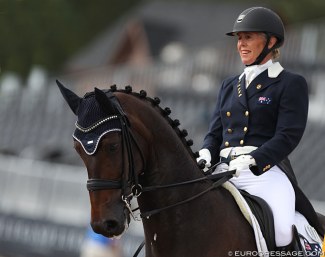 In corona times we are all ordered to stay at home, self quarantine, and do social distancing. With more time on your hands to spend online, Eurodressage launches a "Hit & Run" interview series so that you get to know the world's most famous dressage riders and personalities more closely. 
Australian Grand Prix rider Mary Hanna (née Sutherland) is one of Australia's most successful dressage athletes. She has represented Australia at five Olympic Games (in 1996, 2000, 2004, 2012 and 2016) and at age 65 is short listed for her sixth Games in Tokyo.  She rode at the 2014 and 2016 World Cup Finals and the 1994, 1998, 2002, 2014 and 2018 World Equestrian Games. She also competed at the 1995 and 2003 Open European Championships. 
Hit & Run - Mary Hanna
What is your earliest memory? 
Seeing what looked to be a very large snake on our farm.
Which person alive do you admire the most and why?
Queen Elizabeth. Through all the turmoil she has seen in the world, she has remained gracious and calm, and tried to inspire hope in all. 
When were you the happiest?
Traveling around Europe with my horses, husband and children. I am a gypsy at heart.
What is your biggest fear?
Losing any member of my family.
What was your first thought today?
Being grateful for being home and safe, and worried for the World.
What is your most annoying character trait?
Thinking I am always right (quite often I am wrong)
Which trait do you dislike the most in other people?
Thinking they are always right! And dishonesty
What is your dearest possession?
My horses, although you don't really possess them. 
If you look into the future, what do you see?
I am a little frightened at the moment for the future of the World. A different World, hopefully better, as we learn from our mistakes.
What makes you unhappy?
Fighting with any of my family members. They are very dear to me. 
What is the love of your life?
My husband Robert Hanna 
What was the best choice you ever took in life?
To pursue a life with horses.
What's your guilty pleasure?
Champagne and Chocolate
What do you owe your parents?
Self belief, and the ability to follow my dreams.... and so much more.
Who can sit next to you at your dream dinner table?
Carl Hester.... he makes me laugh so much it hurts. I love his wicked sense of humour.
What was the worst job you ever did?
Waitressing while I was at University, to help pay for my horses. I was not very good at it.
What was your biggest disappointment in life?
I rarely feel disappointed as life has been very good to me, but I have had some great sadness
What would you change if you can go back into the past?
Nothing. I have loved my life, and have no regrets
Name one thing that would improve your quality of life?
Being able to travel freely around the World again
What is your biggest achievement?
Many things as I move through life. No one big thing, and most good things are achieved with a lot of help from others
What is the most important life lesson you have learnt?
Always have an open heart and mind and life will give you many good things back
Where would you like to be right now? 
Right here at home, but not forever.
What's your favourite scent?
Coco Chanel
Which character would you dress up in for Halloween?
Not into Halloween.
To whom would you like to say sorry?
Any one I may have offended, or hurt.
What does love feel like for you?
Warm, safe, a beautiful feeling to be treasured.
When are you most relaxed?
On holidays when I am away from all the stresses of daily life.
What super power would you like to have?
Remember the names and faces of everyone I meet. I have Prosopagnosia, which is face blindness, and causes me a lot of stress and embarrassment 
When did you last cry, and why?
When my daughter Gitte had her first ride on her horse Harmonie, after her accident. We both cried with happiness.... and relief that she did so well. 
When were you closest to death?
Many close shaves, but I was told I was lucky to survive birth as I was 2 months premature as a baby, and normally in those days you died. 
How do you want to be remembered?
I don't mind how I am remembered, as long as those close to me know I loved them.
Related Links
Mary Hanna Sets New Australian Kur Record with Calanta at 2020 CDI Bawley Point
Gitte Donvig Hospitalized with Head Trauma After Fall from Horse
Hard Work Pays Off for Mary Hanna, Syriana Shines at 2019 CDI Deauville
Mary Hanna Sells Boogie Woogie, Focuses on Calanta for Possibly Final Olympics
Mary Hanna Earns Berth for 2018 World Cup Finals at CDI-W Boneo
Mary Hanna's Calanta Blossoms at 2017 CDI Deauville on French Whirlwind Tour
Pretender Sold, New Horse for Mary Hanna
Mosaic, Torch Bearer for Dressage in Australia