Van Olst Sales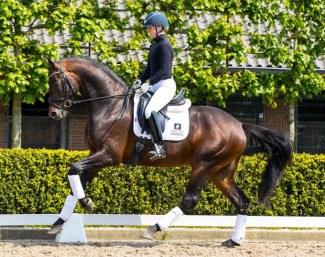 Dutch stallion owner Gert-Jan van Olst and his wife, Danish Anne van Olst, are offering a wonderful collection of 10 talented young dressage horses for sale in their first "online edition" of the Van Olst Sales. The bidding starts on 5 June and will end on 8 June 2020.
This auction will give you the opportunity to buy a wonderful diamond in the rough. The collection includes 10 young 3 and 4-year old horses from their own breeding and rearing program. They are professionally trained youngsters, fulfilling the demands of dressage riders that are seeking affordable and trainable young stars with promise for the future. 
Auction Horse in the Spotlight: Evergreen
4-year old mare by Everdale x Donnerschwee x Warkant
Everygreen has the best German blood. This chestnut mare has successfully competed in a few young horse shows. What stands out with her is her rideability and really good character during work, both at home and in a new environment," said Van Olst. 
Auction Horse in the Spotlight: Mistral
3-year old gelding by Everdale x Zucchero x Flemmingh
"Mistral is only three years old but he already has a good size and body development," Gert-Jan explained. "He's a horse with much go. We believe he'll be a sport horse following in the footsteps of his sire. Despite his young age and size, he already shows good ability to collect."
Auction Horse in the Spotlight: Gregory
4-year old stallion by George Clooney x Lord Leatherdale x Negro
Gregory is an NRPS licensed stallion. This 4-year old was the convincing NRPS performance test winner. He earned 8 for walk, 8.5 for trot, 9.5 for canter, 9 for his dressage test, character, willingness to work, stable behaviour and talent. His beautiful front and above average gaits make him one to watch in the dressage arena. 
Try Out, Vet Reports, Bidding
All horses can be tried out on appointment at Van Olst in Den Hout, The Netherlands, carefully complying with the corona regulations of social distancing and hygiene. Please make an appointment for a try out. 
All horses have been fully vetted and meet the demands of the KNMvD. X-rays and vet reports can be viewed on request at info@vanolstsales.online.
To bid on a horse, register here. Total discretion is guaranteed. Your name will not be shown online in the bidding process.
Check out the collection of 10 riding horses at www.vanolstsales.online