2020 CDN Essen-Herbergen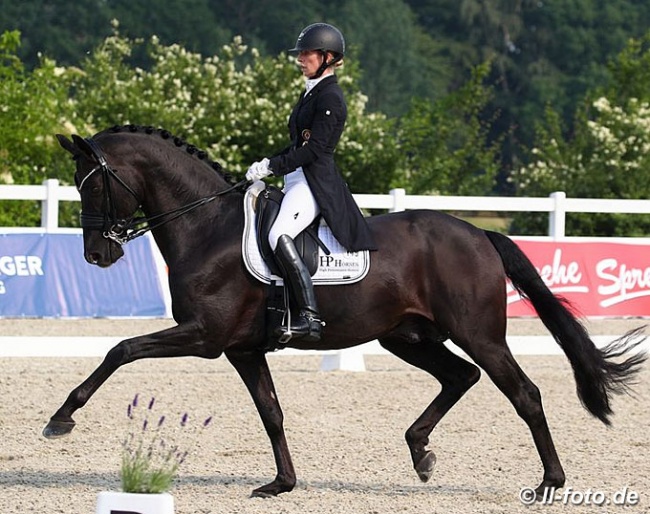 While the majority of the European countries are slowly crawling out of their corona lockdown cryo-state, in Germany the beating of the pulse is already that of a teenager at its first dance festival.
As soon as the German government eased restrictions on the lockdown and allowed less stringent travel, the German equestrian federation reanimated national horse shows as if by electroshock therapy. Already three weeks in a row, competition has been going full swing in the North of Germany. Last weekend the CDN Hagen brought together some of the country's star riders and this week the CDN Essen-Herbergen at Gestut Sprehe drew out even more big guns!
The 2020 CDN Essen-Herbergen has an action packed programme with young horses classes, a Nurnberger Burgpokal qualifier and Grand prix level competition! On Friday 12 June 2020 the show had on the menu the Nurnberger qualifier as well as an Intermediaire II with a field of 32 strong ! It turned out to be a little Scandinavian party with a Norwegian and Swedish rider taking highest honour
Freese and Fursten-Look are Back
German based Norwegian Grand Prix rider Isabel Freese (née Bache) and the 9-year old Hanoverian licensed stallion Fürsten-Look (by Furstenball x Londonderry) made their long awaited come back to the dressage arena after an almost two-year break. The last competition start of the pair was the 2018 World Young Horse Championships in Ermelo, where the combination won the bronze medal. Owned by Paul Schockemöhle and Lone Boegh Henriksen, the black Fursten-Look won the warm-up round on Thursday (72,049%) and also reigned in the qualifier for the finals with 74.585%. The elegant mover looked very confirmed in the small tour movements, moving smoothly through the trot tour, although wide behind in the extensions. The extended walk had a very clear 4-beat rhythm with plenty of overtrack, the collected walk was hardly shown but the turns on the haunches were well ridden. Overall Fursten-Look stays dry in the mouth and there should be more chewing on the bit. His canter work is very impressive, with each stride uphill. The canter half pirouettes were quite big but Freese rode them with great ease, just like the tempi changes every four and three strides. Freese and Fursten-Look took a flying start in this show circuit and grabbed the first of twelve tickets for the finals in Frankfurt of this German Championship for Developing Prix St Georges horses. 
The runner-up was Carina Bachmann aboard Fabian Scholz' 8-year old Hanoverian mare Quadrophenia (by Quasar de Charry x Hochadel). The duo scored 72.341% and edged out Nadine Husenbeth aboard her own 8-year old Hanoverian mare Faviola (by Foundation x Weltmeyer). They were third with 71.902%. 
Kittel One and Two in the Inter II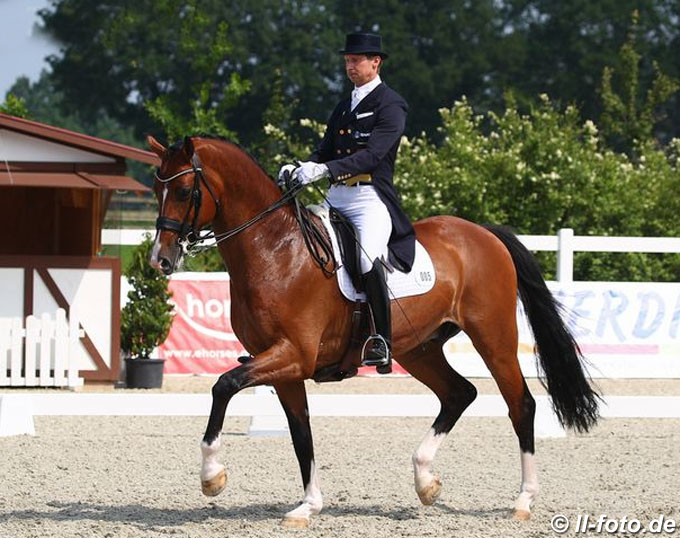 German based Swede Patrik Kittel premiered two new horses in the Essen-Herbergen arena, although they are familiar faces. The Intermediaire II featured a powerful field of 32 riders, which Kittel led aboard his student Antonia Ramel's 9-year old Baden Wurttemberger bred geding Amplemento (by Ampere x Sir Oldenburg). Kittel produced a safe round on the bay, but in the end the togue came out on the final centerline. The panel of three judges rewarded him with 72.675% and ranked him between first and sixth place. 
Aboard Elena Knyaginicheva's 13-year old Westfalian licensed stallion Rocky Lee (by Rock Forever x Justinian xx), Kittel was second on a score of 72.632% ranking between first and ninth place. The Dulmen based rider has been partnered with Rocky Lee around 10 months ago. The stallion had been based for the previous 8 years at Johann Hinnemann's Krusterhof in Voerde and was trained to Grand Prix level by Stefanie Wolf. 
The routinier duo, Fabienne Muller Lutkemeier and the 14-year old Hanoverian stallion Flynn PCH (by Falsterbo x Walt Disney) were on Kittel's heels and placed third with 72.325%. The cute liver chestnut is owned by American Nancy Gooding and the horse is trained under the supervision of Hubertus Schmidt, who last rode Gooding's Denoix PCH into the winner's circle of the Louisdor Cup qualifier held at the CDN Hagen.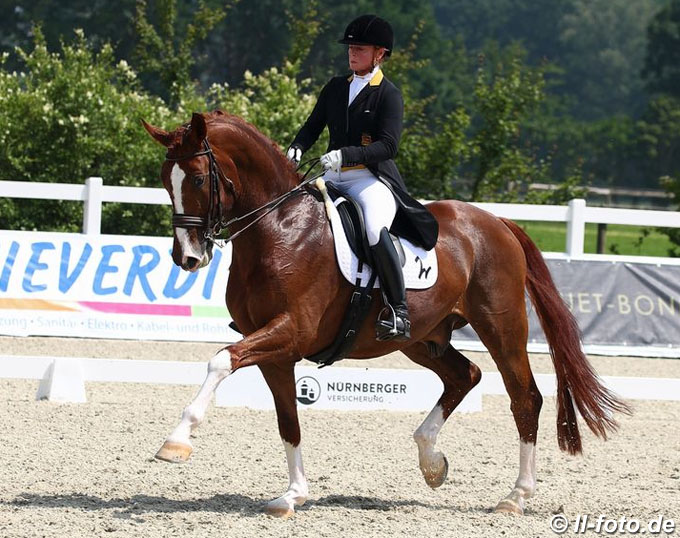 Isabell Werth made her show debut on a new horse that has been in her barn for quite some time, the 11-year old Austrian Warmblood Fairmont (by Fit For Fun x Davignon II). The heavy set chestnut made his show debut in Germany in 2016 under Spaniard Manuel Dominguez Bernal, then disappeared from the arena for two years to return in 2019 under Werth's assistant rider Niklaas Feilzer. The show in Essen-Herbergen was Werth's first competition ride on Fairmont and the communication was not yet smooth. The judges were a bit flustered and scored the pair 71.711%, placing her between 2nd and 13th position.
The top five was completed by Austrian Sandro Nuxoll aboard her own 9-year old Oldenburg mare Hanami OLD (by Dante Weltino x His Highness). She posted 71.623%
Check Them Out
The big Intermediaire II class boasted several more interesting pairs with former German youth team rider Leonie Richter now aboard the Warendorf state stud owned First Selection landing sixth place ith 71.491%. German Young Rider team member Alexa Westendarp steered the Hof Kassemann owned Spanish 2014 WEG team horse Hicksteadt (Borja Carrascosa) to a 9th place with 71.360%. 
Werth's assistant trainer Niklaas Feilzer brought Lara Lochmann's KWPN stallion Cinema's Dream (by Jazz x Ferro) to Herbergen and scored 71.404%. Therese Nilshagen is putting more mileage on her rising Grand Prix star For Romance (by Furst Romancier x Sir Donnerhall) and scored 71.272%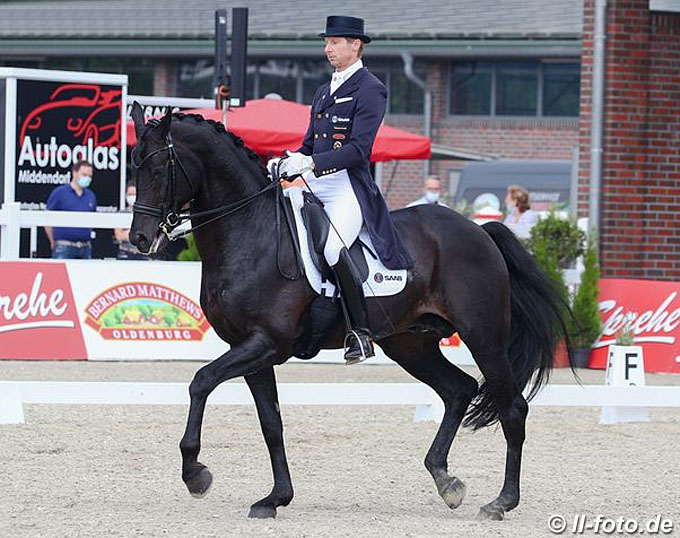 Christoph Koschel presented his Lusitano project Favorito, a 10-year old by Oriente, while Spaniard Moises Jover Azuar rode Marcela Krinke-Susmelj's former ride Sonny Star (by Sunny Boy x Midt West Ibi Light) to a 66.93°% score. The horse is owned by Krinke's long-time sponsor Irine Meyer, who has put the horses in training at Daniel Ramseier's in Germany. 
Photos © LL-foto
Related Links
Scores: 2020 CDN Essen-Herbergen
Meet Denoix PCH, Winner of the Louisdor Cup Qualifier at 2020 CDN Hagen
Amplemento Sold to Antonia Ramel
Damon's Satelite and Rocky Lee Win 2013 Oer-Erkenschwick Bundeschampionate Qualifier
Johann Hinnemann's Krusterhof Presents Ten Exciting Stallions for the 2016 Breeding Season