Schockemöhle/Helgstrand Online Auction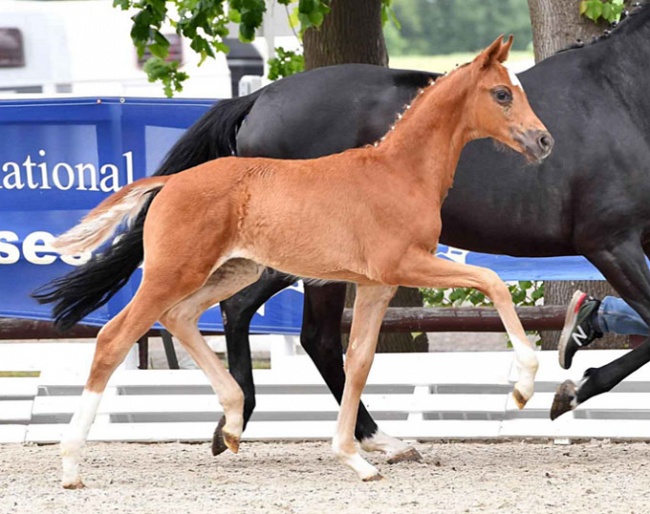 The chestnut filly Furstin d'Amour became the best seller of the 2020 Schockemöhle / Helgstrand Online Foal Auction which concluded on 14 June 2020. 
A collection of 22 show jumping and dressage bred foals in Germany and Denmark were offered for sale via this online auction. 
Furstin d'Amour (by Furst Romancier x San Amour) sold to a German client for 82,000 euro. 
The bay colt Full of Dreams (by Furstenball x Spörcken) moves to The Netherlands for 40,000 euro.
Fynchessa (by Fynch Hatton x Don Bosco)  moves to Spain for 20,500 euro. The same price was paid for the Danish colt Treldegards Shaka Kahn (by Quaterhit x Furstenball). He will go to Luxembourg. 
The Danish bred HP Furstenfreund (by Furstenball x De Niro) received the highest of 19,500 euro from a Dane.
Franklin's Girl (by Franklin x Dimaggio) and Worres Fly with Me (by Franklin x Dr. Dootlittle) both fetched 16,500 euro, the former stays in Germany, the latter moves to Russia. Franklin's Hit (by Franklinx  Belissimo M) sold for 11,000 euro.
Timeless Love (by Totilas x Florencio), Furst of Glory (by Furst Toto x Rosario), and Dancing Valentine (by Danciero x Valentino) all sold for 15,000 euro.   Furst of Glory moves to the U.K.
The Danish bred filly Hedelunds So Pretty (by Janeiro Platinum x Temptation) stays in Denmark. The last bid was 13,500 euro.  Filly Global Dreamgirl (by Global Player x Stedinger) sold for 11,000 euro.
Something Special (by Sezuan's Donnerhall x Zonik) had 9,000 euro as highest bid.
Related Links
Dreaming of Totilas? Buy a Totilas Heir in the 2020 Schockemöhle / Helgstrand Online Foal Auction
Danish Highlights in 2020 Schockemöhle / Helgstrand Online Foal Auction
Fabulous F-Line Foals For Sale in 2020 Schockemöhle / Helgstrand Online Auction
First Schockemöhle/Helgstrand Online Foal Auction of 2020