U.S.A.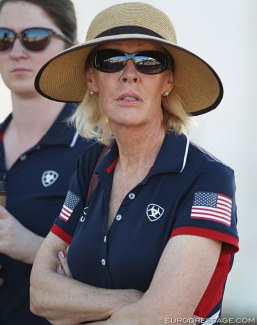 Charlotte Bredahl, the U.S. Developing Team Trainer and a 4* international dressage judge, has been diagnosed with a tumour in her brain and will be operated on to remove the mass immediately on 26 June 2020.
The 63-year old Bredahl began experienced a weakened feeling in her left leg and had an appointment with a neurologist scheduled for 29 June. However upon her return from a clinic in Michigan on last week her condition deteriorated by the day. 
"My left leg was getting weaker by the day. On the day I flew home (from a clinic), it was so bad I needed a wheel chair between terminals," Bredahl explained. Her friend Kathy Connelly speeded up the process for medical intervention and Charlotte's ex-husband Joe flew to Florida. "He has been such an incredible blessing and help.
On 23 and 24 MRI's were done at Palms West Hospital, where "they found a mass on my brain. At this point we don't know if it is malignant or not, but it needs to come out right away," Bredahl stated. "I am having surgery tomorrow (26 June 2020) and need all your love and prayers. I have so much to live for. I have amazing friends, family, job and students I love."
Bredahl is Danish born but has been living in the U.S.A. since 1979. She was married to Joe Baker and originally based in Solvang, California. In the 1980s she sold real estate in the Santa Ynez area to support her riding. She represented the U.S.A. at the 1992 Olympic Games in Barcelona on Monsieur.
Charlotte became an FEI 3* dressage judge in 2010 and promoted to 4* level in 2012. In 2015 she was appointed USEF Assistant Youth Coach and in 2018 she was promoted to the U.S. Developing Team Trainer position. In 2006 Charlotte began spending her winters in Florida and in 2019 she officially became a Florida resident.
Photo © Astrid Appels
Related Links 
Bredahl Coaches Seven at 2019 USPRE Sports Initiative Clinic in California
Bredahl Appointed U.S. Dressage Development Coach
Charlotte Bredahl Retires from Active Competition Career
Williams and Bredahl-Baker Named US Dressage Youth Coach and Assistant Dressage Youth Coach
Charlotte Bredahl's Monsieur Passed Away