France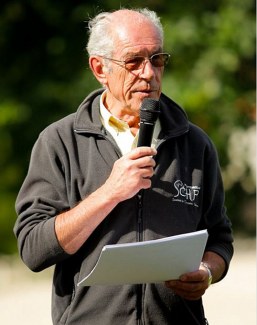 French show organizer and official Roger Simonnet has passed away on Monday 22 June 2020. He suffered from lung issues for the past three years. 
Simonnet was the former president of the Société de Concours Hippiques de Pompadour (SCHP) from 2005 till 2018, which organized the annual dressage international in Pompadour. Roger took over the management of the show from Didier Ferrer, who founded the CDI Pompadour in 2004. 
Roger was closely involved in promoting dressage in the Limousin area in France. He was also a show organizer for national 3-day eventing competitions in France. 
Since the 1980s Simonnet was closely involved with dressage, as a rider, coach and official. Roger worked tirelessly in the show office at Pompadour and promoted horse sport in the local area. 
Roger was father to the Italian based French dressage rider Laure Clementine Simonnet, who competed Danny Wild RR at small tour level and is now showing Donna Argentina at international Grand Prix level. 
"His grand silhouette under his hat, his dedication and passion marked the dressage competitions in Pompadour," the SCHP stated on Facebook. "Either on horse, in the judges box, are ringside, his personality left no one indifferent."
A memorial will be held in his honour during the national dressage show in Pompadour on 17 July 2020. 
Related Links
2018 CDI Pompadour Canceled
2016 CDI Barcelona and Pompadour Cancelled
Didier Ferrer Appointed Dressage Manager for 2014 World Equestrian Games
The Podium People at the 2014 CDI Pompadour
Belgians Pull Out the Stops at 2012 CDI Pompadour
Amy Stovold Scores First International Win at 2010 CDI Pompadour
Alexa Fairchild Sweeps Pony Division at 2010 CDI-P Pompadour