Ekestrian Online Auction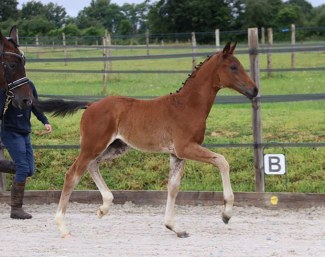 Check out a collection full of promise for the Ekestrian Elite Auction on 7 - 8 July, 100% online.
Secure an In Utero foal out of Quaterback's full sister or buy a stunning colt by Fasino x Rhondeo x De Niro, out of the exceptional dam line of Rubinstein I and II!
Access to the catalogue here: https://www.ekestrian.com/en/auction/enchere-elite-dressage/111
Horse in the spotlight: LOT 1 - In Utero foal, out of the full sister of QUATERBACK, Direct dam line of Poetin and Samba Hit!
This is a unique opportunity to acquire the Vitalis In Utero foal out of Quaterback's full sister, who is no longer to be presented! We also find the maternal line of Poetin, 2003 World Dressage Champion for young horses and of the 5 approved stallions, Samba Hit.
Horse in the spotlight: LOT 15 - Filly by Glock's Dream Boy out of a dam that was 4th in the Bundeschampionate Final and daughter of the full sister of the performing stallion Lancet!
This filly by Glock's Dream Boy N.O.P. has genetics that are rarely found. Her dam, Debutante, won her qualification for the Bundeschampionat and finished 4th in the prestigious German final under the saddle of Klarissa-Alexandra Liss. Debutante is the daughter of Lancet's full sister, approved stallion KEUR for HANN, OLDBG and KWPN. Lancet competed at the Olympic Games in Athens and Japan. This great stallion was ridden by Marlies Van Balen and Emma Hindle. He is the sire of Uzzo, the Grand Prix horse of the Dutch Patrick van der Meer.
Horse in the spotlight: LOT 10 - Colt out of the exceptional damline of Rubinstein I and II, line of performers and approved stallions
This colt by Fasino out of a dam by Rhondeo x De Niro has one of the most special dam lines in the world. We find Rubinstein I, mythical stallion of the German breeding, his blood runs in the veins of the greatest stallions of the moment. Rubinstein I has more than 40 Grand Prix victories and was a member of the Olympic team in 1996. We also find several approved stallions such as Sergio Rossi who was ridden by Helen Langehanenberg and Grand Prix horses such as Patinels.
Horse in the spotlight: LOT 7 - Fürst Jazz x Welt Hit II, sister of the french foals champions 2013 and the reserve-champion 2014!
This filly will know how to seduce you. Sister of the French Champion of foals 2013 and reserve-champion 2014, she has everything for her. Fürst Jazz, out of one of the most important Dutch bloodlines, has already produced several approved stallions. His production is among the best foals. Fürst Jazz is already following in the footsteps of his grandfather and no doubt he will become a great stallion.
Horse in the spotlight: LOT 11 - 2 years - Sister of the approved stallion and World Cup performed Dallas, by Baron x Damon Hill!
Very beautiful filly who will convince you with her energy. Her dam, Rivera H, is the full sister of FRH Rassolini, approved stallion and Grand Prix World Cup winner under the saddle of American Jan Ebeling at over 71%5. He was notably 4th in World Championships at 6 years old with German rider Kathrin Meyer Zu Strohen. Rivera H is also the sister of Dressed In Black, who won 3* Grand Prix! This filly, by the young stallion Famous Grez Neuville and associated with a convincing maternal line, has everything to seduce you.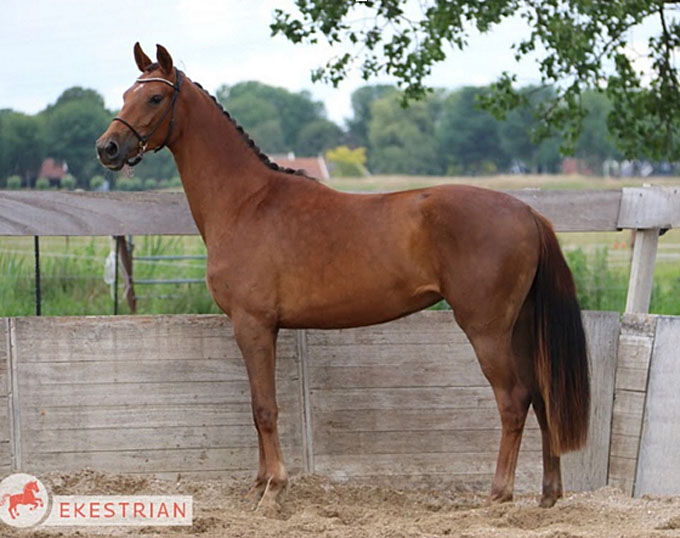 Horse in the spotlight: LOT 17 - Filly out of the full sister of FRH Rassolini, winner in World Cup Grand Prix and 4th at the World Championships for the 6 years old with Kathrin Meyer Zu Strohen!
Sister of Dallas, approved stallion and classed in CDI3* Grand Prix with more than 72% and more than 71% in the Freestyle World Cup Grand Prix with the German rider Jill De Ridder. Dallas was previously ridden by German rider Nicole Casper. This beautiful mare is also sister to Hot Decision, approved stallion of the Baden-Wurttemberg Studbook.
On the father's side, she is the daughter of Baron, son of Benicio x Sir Donnerhall, who is a fantastic young stallion with a lot of potential.
Highly Interesting Bloodlines in Online Auction
You will also find more foals from Bon Coeur, Vitalis, Springbank II VH, Le Formidable in the Ekestrian catalog.
The auction will be 100% online. It will start on Tuesday, 7th of July at 11am (French time) and close on Wednesday 8th of July at 9pm (French time), lot by lot, minute by minute.
To be able to bid the day of the auction, don't forget to create your profile on Ekestrian's website
For any question about the lots or the auction, contact the Ekestrian team