2020 CDN Kronberg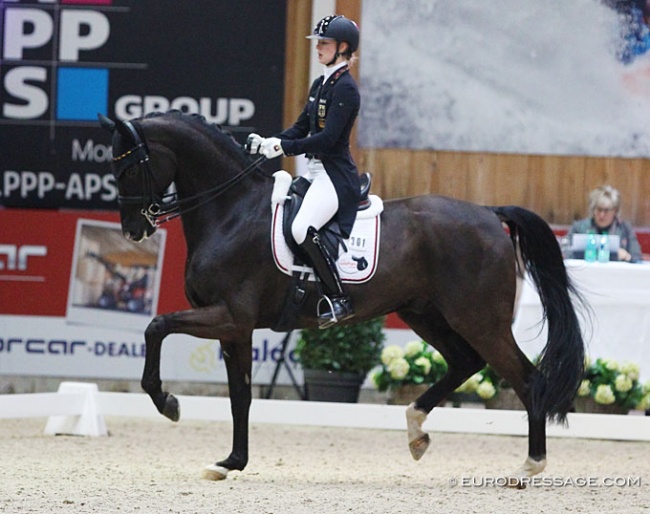 Ann Kathrin Lindner and her Baden Wurttemberger bred Sunfire are the leading the way after winning the first of two German team selection trial for the 2020 European Under 25 Championships in Budapest in August. 
Two Qualifiers for German U25 Team Selection
With only a very short team selection period available due to corona, the German Equestrian Federation decided to host two selection competitions. The first one at the DOKR centre in Warendorf on 26-27 June and the second at the CDI Hagen on 17 - 19 July.
However due to a local outbreak of Covid-19 in the Warendorf area, spreading from a mass infection in the Tonnies slaughterhouse, Warendorf had been in  lockdown. Ann Kathrin Linsenhoff of Gestut Schafhof came to the rescue and invited the first qualifier to move to her yard that weekend.
The first selection trial is also the first qualification event for the "Piaff Forderpreis", the German Under 25 show circuit which leads to a Finals in Frankfurt in December, where the German Under 25 Champion is crowned. 
Lindner in the Lead
The 23-year old Ann-Kathrin Lindner is no stranger to the Under 25 circuit. Last year she was already a member of the gold medal winning German team at the 2019 European Under 25 Championships, where she also placed 5th and 7th individually. 
In 2020 Lindner and her 11-year old Sunfire (by San Amour x Freudenfeuer) were unbeatable in Kronberg, winning the Intermediaire I with 74.956% and topping the board in the Short Grand Prix with 75.698%.  A physiotherapist by profession, Lindner trained with Karl-Heinz Streng. 
Hannah Erbe and her 13-year old Rhinelander bred Carlos (by Carabas x Weltmeyer) have returned to the arena with a bang. The rider struggled with a severe knee injury for almost 1.5 years and her horse was kept fit by her sister as well as professional Stefanie Wolff, as Hannah recovered. Now back in the saddle, Erbe and Carlos proved consistency in Kronberg and twice finished second with 74.342% and 74.574%. Erbe is the 2015 and 2016 European Junior Riders Champion and 2017 European Young Rider Champion. 
2019 German U25 team rider Jil-Marielle Becks and her home bred Westfalian mare Damon's Delorange (by Damon Hill x Rubin Royal) scored a double third. The 13-year old mare earned 73.509% in the Inter II and 73.721% in the Short Grand Prix test. 
2019 German Under 25 team rider Raphael Netz also returned to the a top four place on the board - earning him realistic team consideration - with the Werndl family's 12-year old Hanoverian gelding Lacoste (by Locksley II x Wolkenstein II). The duo posted 72.544% and 72.519%. 
A total of 18 riders competed in the Piaff Forderpreis qualifier in Kronberg. 
Related Links
First German U25 Team Qualifier Moves from Warendorf to Kronberg
Warendorf in Lockdown - First Piaff Forderpreis / EYC Selection Trial Uncertain
German Team Selection System for 2020 European Youth Championships Announced
Hannah Erbe, European Young Riders Champion, Sidelined with Knee Injury