2020 CDI-W Mariakalnok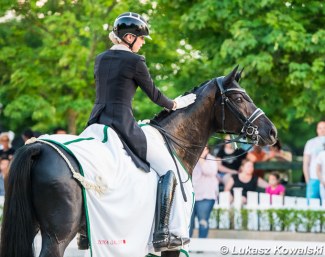 Australia might have a new contender for one of three coveted team spots for the 2021 Olympic Games in Tokyo: Simone Pearce. Aboard Gestut Sprehe's licensed stallion Destano, Pearce rode to double second places at the 2020 CDI-W Mariakalnok in Hungary, scoring up to 73.106%
Sales Horse Rider
The 28-year old is not an unfamiliar face on the European show scene. She made her international debut as an Under 25 rider on Little Lion (by Leandro x Rastell) back in 2013, then campaigned Wladimir OA (by Flemmingh x Florestan) between 2016 and 2018, and in the spring of 2018 also briefly rode the Helgstrand sales horse Santiago (by Stedinger x Dacaprio). Her last Grand Prix horse was Scolari, which sold to Japan as an Olympic hopeful in 2019, before she was assigned Destano in 2020 as her ticket to the Olympics.
Pearce has made her career as a sales horse rider and worked at Stable Perlee in Holland and at Andreas Helgstrand in Denmark (2017 - 2018), before moving to Germany. She initially intended to set up her own shop in the north of Germany, but was quickly persuaded to ride full-time for Gestüt Sprehe, whose dressage barn is managed by Sabine Rüben. 
"Our initial agreement was for me to ride five of the breeding stallions from Sprehe and then rent a barn near the stud to have horses from clients," Pearce told Eurodressage about her move from Denmark to Germany. "When I arrived in Germany, Sprehe proposed a really good offer which would see me riding full time for them. I still have the opportunity to take outside horses if they are interesting for the sport or long term sales, but I have such a nice list of horses, which are primarily not for sale, that for the moment I'm really enjoying having the opportunity - for the first time in my career - to train, compete and develop the horses for the big sport without (pressure that they will be sold)."
Eurodressage asked if Simone can be sure that Destano will be retained for her until 2021. Pearce's last Grand Prix horse, Scolari, sold as an Olympic hopeful and then there is Sprehe's daughter, Kristina Bröring-Sprehe, who is also actively pursuing an Olympic team spot for Germany with Destiny and Saphira Royal in the wings.
"Having worked as a sales rider for almost 10 years I know nothing in the horse world is certain," Simone laughed. "But Albert Sprehe, the owner of Destano, and Sabine Rueben, the dressage manager of Sprehe, are very, very supportive and have said that Destano will remain with me."
Destano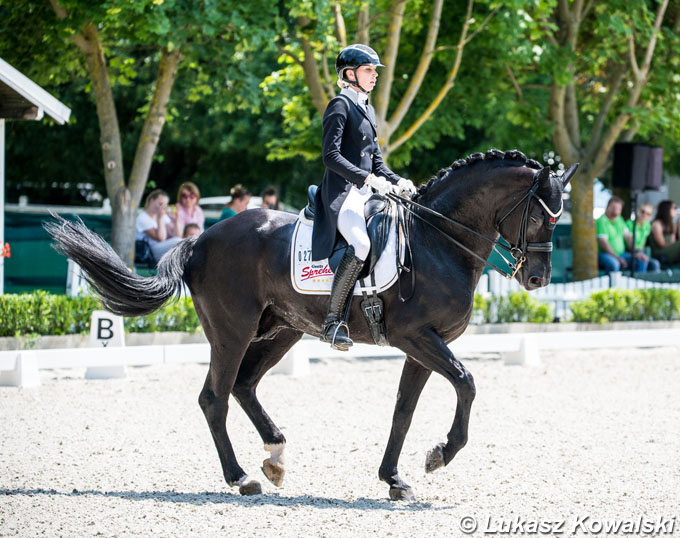 Simone's top horse at the moment is the 13-year old Hanoverian stallion Destano (by Desperados x Brentano II), who is bred by Heinrich Giesselmann and owned by Gestut Sprehe since he was a youngster.
Swedish Michelle Hagman trained the black stallion to Grand Prix level and introduced him to international Grand Prix level competition in 2019 with starts in Kronenberg, Aachen and Oldenburg.  Pearce took over the ride at the start of 2020 in an attempt to qualify the horse for the Australian Olympia team for Tokyo.
The pair made its debut at the CDI Dortmund in March 2030, the weekend of the corona lock down. They posted 68.288% in the Grand Prix. Simone began training with Oliver Oelrich three months ago during the lock down period and she made her post-corona return to the arena at the national show hosted at Gestut Sprehe in Essen-Herbergen, on 11 - 13 June, scoring 71.705% in the S3 and a whopping 75.167% in the Grand Prix. 
At the 2020 CDI-W Mariakalnok in front of an international panel of judges, they posted 71.239% in the Grand Prix and 73.106% in the Special. 
"I was really happy with Destano in Mariakalnok," said Pearce. "We have only been together as a combination since the beginning of the year and it's taken a little bit of time to find each other as a combination, but now we are really starting to click and I am really thrilled with how he is developing. He is feeling so much more with me in the arena and giving me more and more power and thoroughness from week to week at the moment.
Montevideo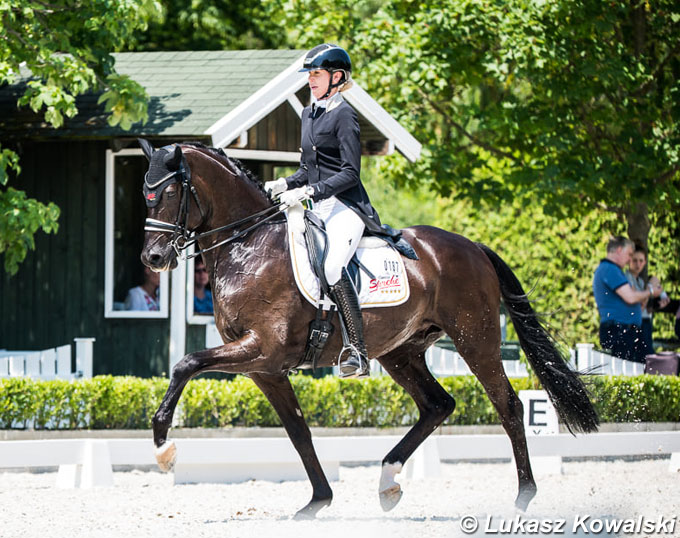 Simone also took a second horse to Hungary, Sabine Rüben's 8-year old Oldenburg stallion Montevideo (by Millennium x Sancisco). The black had his first show across borders and made a splash in the small tour. They won the Prix St Georges with 71.569%, were second in the Intermediaire II with 69.412% and won the Inter I kur with 73.245%.
"I've only been riding Montevideo for about two months now, so it's a very new combination," Pearce explained. "He's really "my style" of horse: quick, modern, sensitive and very expressive. So although it's only a short partnership I feel like the chemistry is really good and the few competitions we have done felt really good."
Busy Schedule
With the corona lockdown lifted in Europe and CDI's popping up on the calendar across Europe, Pearce is facing a busy summer. 
"Post corona 2020 is turning out to be a very busy season, which is awesome," she smiled. "In the coming weeks I have a few national shows including some Bundeschampionate qualifiers with the young stallions, and then I will also debut my 9-year old stallion Amandori in the Grand Prix next weekend."
Amandori is a German Sport Horse (DSP) by Ampere x RA and was previously shown by lsa Maulet.
Simone's next CDI will be Achleiten in Austria.  "We will look at what fits the horses best on the international calender," she added, "but I will also definitely be trying to prepare a few of the youngsters for the world young horse championships in the end of the year too."
Life in Europe
Simone has been in Europe for 10 years and life has certainly been an adventure and learning curve.  While working in a professional sales yard like Helgstrand in Denmark gave her the opportunity to ride a plethora of talented horses, her new job in Germany allows her to plan and work more for the long-term. 
"Of course Helgstrand was a once in a lifetime experience and I am forever grateful to Andreas for all that he taught me and the opportunities that have come from working for him," Simone explained. "It was very busy there: always clients, horses being sold, and new ones coming in. That's the business. In this environment it's very hard to make a plan for the future with each horse."
Although Pearce also has a full book riding horses for Sprehe, she feels she has more time now for in-depth training and development.
"Here I have such a consistent routine, and a long term plan tailored to every horse," she said. "I love being able to look one year into the future with a big goal and be able to set lots of little achievable goals along the way," said Simone. "I think it's a really nice way to train the horses."
When asked what the biggest difference was between working in Denmark and Germany, Simone replied, "one thing I've also noticed is that here in Germany I'm alone in the barn as the only dressage rider with two jumpers; and in Denmark of course you are surrounded by so many top riders.  I find both of these situations to have pros and cons."
Comparing Lives at Helgstrand and Sprehe
Simone has been riding a broad range of horses, both in Denmark and Germany, but notices the difference between a sales yard and a stallion station.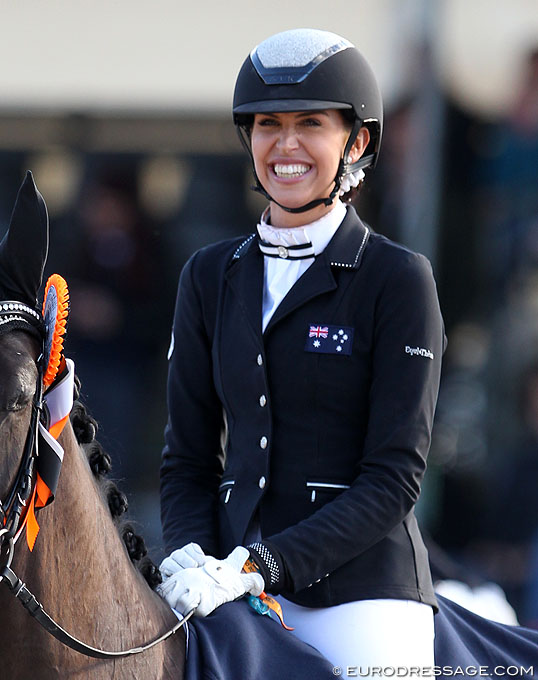 "In Denmark of course being in a barn filled with top riders is inspirational and an amazing opportunity to learn different techniques and also see how all the different styles produce different out comes. I loved that! I definitely learnt a lot, but it's so competitive with so many top riders and if it's not working with a horse quite quickly then they tend to move the horse to a rider which they feel it fits better with. Of course this makes sense, since it's a sales stable and they try to have the horses at their best as quickly as possible, but as a rider it has you end up specialising in a specific style of horse," Simone explained. "For me for example I had a lot of big moving electric horses, which of course i loved, but I think it sort of limits you as a rider with how you develop your ability to manage every situation."
In Germany, Simone has to stand more on her own feet and also work with horses that might not initially be her specialty. 
"Here at Sprehe I am alone in the stable and I've had to find my way with lots of different types of horses," said Simone. "It's been challenging for sure, but I've really thoroughly enjoyed getting to develop my riding across a broad range of horses and I feel very proud and satisfied with how all the horses are progressing in their training. I really love that there is time to develop the horses without any pressure! Sprehe really has the focus on Grand Prix, no matter how long that takes. As a rider this is the most positive environment to produce horses in."
Photos © Lukasz Kowalski - Astrid Appels
Related Links
Two Olympic Hopefuls for Simone Pearce: Denightron and Destano
Scores: 2020 CDI-W Mariakalnok
Scores: 2020 CDN Essen-Herbergen