Germany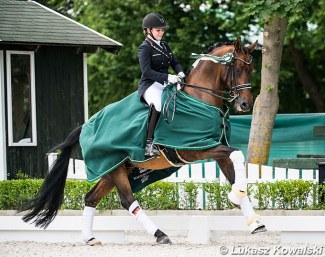 The German equestrian federation has published the names of the children, juniors and young riders who are invited to participate in the German team selection weekend for the 2020 European Youth Championships.
Due to the corona crisis, the normal team selection process can not be followed. The German NF decided to host one 2-day selection event at the DOKR centre in Warendorf on 17 - 19 July 2020. 
Team trainer Hans-Heinrich Meyer zu Strohen and the Youth Dressage selection committee of the German Equestrian Federation selected the group based on training seminars, which were already held in Warendorf the past few months, as well as results achieved at the CDI-W Mariakalnok (25 - 28 June 2020).
Earlier, the invited pony combinations were named. Now the names of the Children, juniors and young riders are disclosed.
Children
Emily Rother - Jasper
Charlotte Rentrop-Schmid -  Djamila K
Carolina Miesner -  Angelina and Sandrino
Anna Nesheim - Future of W
Lia Müller- Flovinio
Paula Koldehoff - Der Clooney
Clara Paschertz - Danubio OLD
Junior Riders
Jana Lang - Davy Jones and Baron
Paula Franz -  Sir Rubin
Valentina Pistner - Flamboyant OLD
Romy Allard  - Summer Rose OLD
Anna Leandra Timm - Foxfire
Franziska Nölken - Rigamento Royal
Marie Bauer - Eye Catcher
Allegra Schmitz-Morkramer - Lavissaro
Helena Schmitz-Morkramer - Florentine
Anna Middelberg -  Blickfang HC
Young Riders
Jana Schrödter - Der Erbe OLD and Frau Holle
Selina Söder - Rendezvous
Elisabeth von Wulffen - Babylon
Nadine Krause - Bailando
Charlotte Rühl - Dante
Luca Sophia Collin - Descolari
Linda Erbe - Fierro and Fire Moon P
Helen Erbe  -  Fürst Kaspar
Sophie Dammeyer - Volare B
Emely van Loon -  FBW Despereaux
Henriette Schmidt  - Rocky's Sunshine
Lia Welschof - First Class and Linus K
The German Under 25 team will be decided after the CDI Hagen at which the long-listed U25 riders are asked to compete.
Photo © Lukasz Kowalski
Related Links
Fourteen Riders Pre-Selected to Ride German Team Trials for 2020 European Pony Championships
German Team Selection System for 2020 European Youth Championships Announced
Eurodressage Coverage of the 2020 European Youth Championships