2020 CDN Schijndel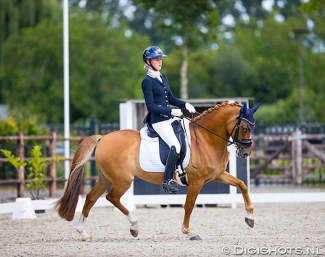 Dutch youth riders from children to Under 25 Grand Prix level gathered at the 2020 CDN Schijndel on 11 July 2020 for their second and last team selection trial for the 2020 European Youth Championships in Budapest on 9 - 30 August 2020. 
For the Children, Juniors, Young Riders and Under 25 riders the national show at stable De Molenheide in Schijndel was their last selection event, for the Dutch pony riders it was their first of two. The pony pairs will meet again in Geesteren on 25 July after which the Dutch Pony team will be announced. 
"I saw a lot of progress and some positive surprising from riders who are not (yet) in the top group," said Dutch children and pony team trainer Imke Schellekens-Bartels. 
In the Children's class Kebie Raaijmakers continued to wield the axe of power. After winning the first selection event, they also topped the second trial with her seasoned competitor Happy Feet (by Tuschinski). They scored 78.100% and left all competition miles behind. Veerle Farla and the 10-year old Formidable (by Tango)  were second with 73.800%, while Amber Schelstraete and 2016 Rio Paralympic ride Burberry (by Lord Loxley) were third on 73.100%
For the pony riders it was exciting times at their first team selection event, although the pony pairs already did two "practice" shows to get experience. Competition has only been allowed as of 1 July due to corona in The Netherlands.  Lara van Nek, who has already been competing extensively at junior level in 2019, steered former Dutch team pony Baumann's Despino (by Don't Worry x Rosedale Tiberius) to victory with 74.19%. Sita Hopman, who began competing internationally in 2019, caught the eye of the selectors by placing second on her 9-year old Brouwershaven Uthopia II (by Metall x Vita Nova's Hanassie). They finished second with 71.143%. Routinier Jill Kempes and the 12-year old Westfalian bred Next Black Magic (by Nabucco R x FS Pour L'Amour) landed third place with 70.571%.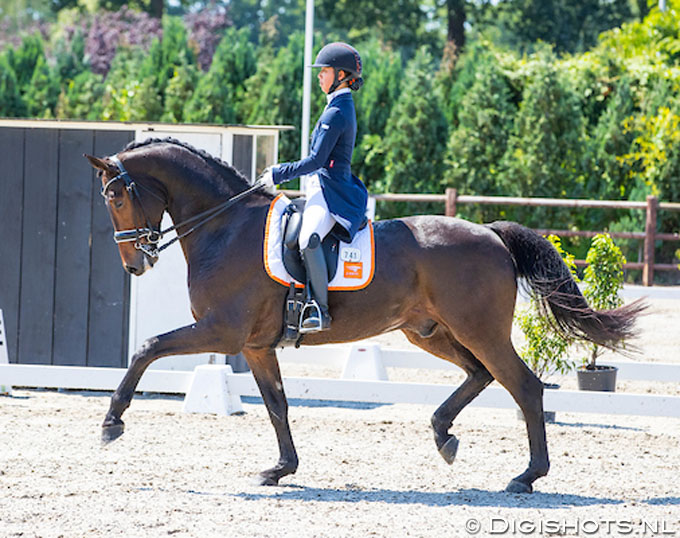 A new winner came to the fore in the junior division. The third placed pair of the first trial in Exloo now reigned supreme. Evi van Rooij and the 13-year old Don Tango B (by Jazz x Contango) aced the class with 72.374%. She had Shanna Baars on her heels with the 10-year old Fernando (by Westpoint). They scored just a fraction less - 72.323% - for second place. Sanne van der Pols and the 11-year old Dutch warmblood gelding Excellentie (by Don Schufro x Riverman) were third with 72.121%.
At Young Riders level the 2018 European Junior Rider Champion Daphne van Peperstraten and the 2019 European Junior Championship silver medal winning Marten Luiten are breathing down each other's neck. In Exloo Van Peperstraten won, in Schijndel Luiten took home the trophy. Aboard the 10-year old Fynona (by Ampere x Gribaldi) he earning the winning percentage of 76.471%, while Daphne and her 13-year old Dutch warmblood gelding Cupido (by Johnson x Duco) were third this time with 75.049%. Thalia Rockx and her home bred 9-year old Golden Dancer (by Bretton Woods) were sandwiched by them and finished second with 75.049%.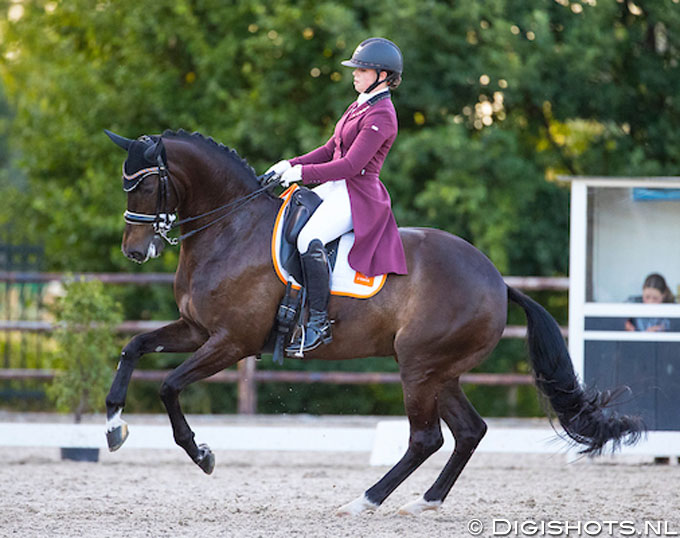 In the Under 25 division Jasmien de Koeyer surfaced at the top aboard Esperanza (by Desperados x Krack C), scoring 74.26(% and edging out the winner of the first selection trial, Febe van Zwambagt on Van Norel and Gabrielle Rensink's 11-year old Dutch bred Edson (by Winningmood x Oscar). This duo earned 74.167%. Van Zwambagt also landed third place on her second horse Fyeo (by United x Jazz) with 70.882%.
Photos © Digishots
Results - 2020 CDN Schijndel
Children
1 Kebie Raaijmakers - Happy Feet 78,10
2 Veerle Farla - Formidable 73,80
3 Amber Schelstraete - Burberry 73,10
4 Veerle Van Hof - Don Diablo 71,78
5 Maura Knipscheer - Amaretto 71,53
6 Fenne Van den Berg - Isala's Arielle 70,88
7 Elise de Loos - Enzo 70,05
8 Flore Woerts - Vlingh 68,10
9 Jessica Nesselaar - Cream on Top 65,78
10 Fleur Kempenaars - Armano 65,43
11 Toesja Van Veen - Namorado 64,95
12 Dominique Van Dalsen - Westerhuis Ferguson 64,28
13 Anne Van Gruijthuijsen- Ferdinand 63,70
14 Skye Plasman - Davino Du Bois 62,10
Pony Riders
1 Lara van Nek - Baumann's Despino 74,19
2 Sita Hopman - Brouwershaven Uthopia II 71,14
3 Jill Kempes - Next Black Magic 70,57
4 Ilse De Wilde - Falco 70,52
5 Morgan Walraven - Devill's Kiss Naoni 70,05
6 Lilli van den Hoogen - Don Davino - 70,00
7 Jill Bogers - First Hummer 69,95
8 Senna Evers - Majos Cannon 69,57
9 Rowi Pille - Don Juan 68,81
10 Taquila Kooiman - Brouwershaven's Jasper 68,81
11 Veerle Van Hof -  Xander 68,29
12 Vicki Sanders - Vidocq 68,24
13 Tessa van Hemert - Alisia 68,10
14 Anniek Van Dulst - Noordhof's Surprise 67,86
15 Rowena Weggelaar - Navarone van de Beekerheide 67,43
16 Bridget Lock - Nespresso 67,10
17 Flore Woerts - Madam's Menno 67,05
18 Anne Uijtewaal Filippo 66,95
19 Esmee Boers - Orchard Red Prince 66,81
20 Jolien Felix - Golden Challenge 66,71
21 Syrah van de Rovaart - Donna Daria 8 66,52
22 Frederique Van Zeeland - Drops 66,24
23 Sophie Van der Steen - Yellow Boy 66,14
24 Julia Willemsen - Baumann's Dior 65,91
25 Mirthe Van Doremalen - Fs Coco Jambo 65,10
26 Julia Willemsen - Movie Star 64,81
27 Joanne Neidhofer -  Pearcy's Popeye 64,43
28 Quinty Helsdingen - Zip 64,38
29 Sterre Henskens - Golden Legend 63,81
30 Sytske De Jong  - Maurik's Roberto Cavalli 63,76
31 Sara Holleman - Reekamp's Emperor 63,00
32 Meike De Jong - Djinteequa 62,81
33 Kyra Roos-  Eikenhorst's Maribel 62,67
34 Yasmin Westerink - Cappuccino Royale G 62,24
35 Megan Hiemstra - Brouwershaven's Peligrini 62,19
36 Sterre Janssen - Goldstar du Bois 62,05
37 Sharon Van der Velden - Sil 61,95
38 Xanthe Daniëlse-  Iscar 57,52
Junior Riders
1 Evi Van Rooij - Don-Tango B 72,37
2 Shanna Baars - Fernando 72,32
3 Sanne Van der Pols  - Excellentie 72,12
4 Shanna Baars - Farzana G 70,51
5 Evi Van Rooij - Edea 70,46
6 Sanne Van der Pols - Cuvanck PP 70,30
7 Robin Heiden - Gasmonkey 70,30
8 Fleur Prinsen - Fame 70,10
9 Chiel Van Bedaf - Millstream's Floris 68,59
10 Fleur van de Walle - Havanna 68,33
11 Micky Schelstraete - Grand-charmeur 67,88
12 Pem Verbeek - Fernando Torres 67,27
13 Anniek Van Dulst - Henderson Hilton 67,07
14 Margje Janssen - Elma 66,87
15 Brem Beers - Casey-olivia 66,72
16 Anouk Neefs - Guess 65,96
17 Anouk Neefs - Gallardo-sw 65,00
18 Nina Laarkamp - East Carolina 63,69
19 Nina Woerts - Catwalk 62,48
20 Fleur Timmermans - Walk of Fame CHWR 59,44
Young Riders
1.Marten Luiten - Fynona - 76,47
2 Thalia Rockx - Golden Dancer de La Fazenda - 75,05
3 Daphne Van Peperstraten - Cupido - 74,66
4 Quinty Vossers -  Inferno - 71,42
5 Quinty Vossers - Hummer - 70,00
6 Thessa Gilbers - Gominka est - 69,90
7 Sascha Heijmans - Flying Dutchman ACB - 68,78
8 Britney De Jong - Caramba -  68,58
9 Amber De Groot - Homemade - 68,38
10 Thalia Rockx - Gerda Nova de La Fazenda - 68,24
11 Annemijn Boogaard - Fullspeed TC - 67,79
12 Zoe Kuintjes - Heurt - 67,30
13 Elles Van Asseldonk - Electro - 67,11
14 Bente Hedeman joosten - Hippy Evitia-  66,96
15 Julia Bouthoorn - S-Klasse - 66,28
16 Kristy De Roo - Supério -  65,44
17 Lauren Neville - Valentino -  65,39
18 Jade Oord - Blof - 65,00
19 Sharina Mandemakers - Guns N' Roses  - 64,66
20 Coco Soffers Global's - Formidable - 64,61
21 Esmee Van Veen - Featherlight D.E. - 64,46
22 Sidney Trimp - Hamora - 64,31
23 Lina Uzunhasan - Hermes - 64,22
24 Nina Jansen - BJ`s Etoi - 63,24
25 Sidney Trimp Florenzo - 62,89
26 Sanne Paulissen - Flügel - 62,55
27 Evi Kissen - Casando Hit - 56,32
Floor De Bie - Gentle Giant - DNS
Under 25
1 1 Jasmien De Koeyer - Esperanza 74,27
2 Febe Van Zwambagt - Edson 74,17
3 Febe Van Zwambagt - Fyeo 70,88
4 Dana Van Lierop - Chocolate Cookie Rdp 69,66
5 Mercedes Verweij  - Four Seasons 68,09
6 Skylar Bos - Choice Finch 68,09
7 Carlijn Huberts - Watoeshi 68,04
8 Jeanine Nieuwenhuis-  Ewoud 67,89
9 Bo Oudhof - Colt Sollenburg 66,67
10 Corinda Luttjeboer  - Cirano DC 66,28
11 Lotte Meulendijks - Welt Hill 66,28
12 Lotte Meulendijks - Eton 65,44
13 Lotte Meulendijks - Fantastique 64,36
14 Julia Groenhart - Razotti 64,12
15 Petra Van Esch - Fifty Fifty 64,02
16 Sanne Voets - Demantur RS2 N.O.P. 62,75
17 Paulette Kral - Zibraldi F 61,03
18 Daria Sushchinskaya -  Charlie Brown 60,64
19 Gina Van der Wal - Valencia 59,12
20 Emma Laarkamp - Beaulieu2 57,84
Related Links
Dutch Youth Meets and Scores at First Dutch Selection Trial for 2020 European Youth Championships
Two Observation Trials to Decide Dutch Teams for 2020 European Youth Championships