Bits 'n Pieces
Juan Matute Guimon is finally reunited with his horses! The 22-year old Spanish WEG team rider  spent two months in hospital following a brain bleed and double surgery. The rider left the hospital on 3 July and is now following a heavy rehabilitation program to improve his motor skills as especially his right side has been affected by the brain trauma. Today, Matute posted his third selfie since being extubated and woken up from four weeks of artificial coma for his brain to rest and heal. "I've missed you my dear friend," Juan said about his top horse Quantico. "Can't wait to start training again SOON and get back in the ring TOGETHER."
Ruben Palomera, an American groom who worked for Debbie McDonald in her heydays as an athlete (2004 - 2008) and for Adrienne Lyle at the 2012 Olympics, is severely ill. "I was diagnosed with a tumor in the bladder with possible cancer," he said on Facebook. "I'm scheduled for surgery on Monday, June 29 at St. Luke's hospital in Meridian." Palomera works as a full time groom at River Grove Farm in Idaho, owned by the billionaire Thomas family. A crowd funding campaign has been started as Palomera has no medical insurance.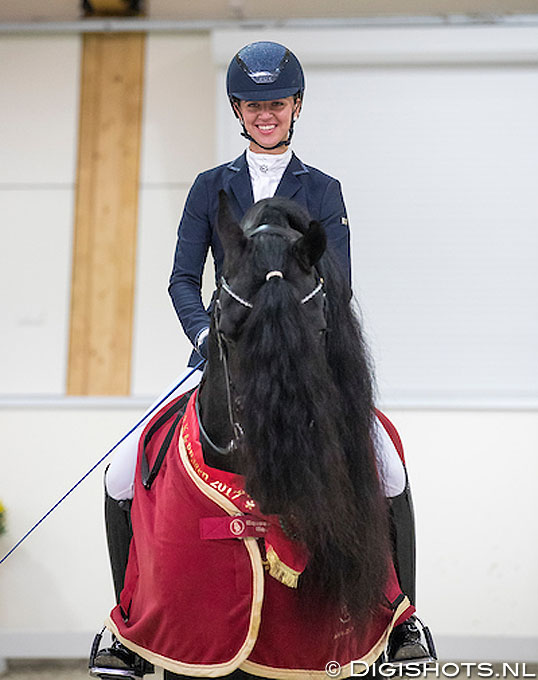 Ohlala, dressage is making headlines in the U.K.'s worst of the worst tabloid magazines! The Daily Mail is bringing all the juice on Dutch Friesian dressage rider Judith Pietersen who since 2014 is having an affair with Dan Brown, the millionaire and author of the Da Vinci Code. Brown's ex-wife Blythe blames Pietersen of the demise of her 21-year marriage to Brown. Pietersen, who is a national level Friesian rider, met the Browns in 2013 when she was flown to the U.S.A to help them with the training of their Friesian. The affair started in 2014. Ex-wife Blythe Brown accuses Dan of having donated horses (including the horse Limited Edition which cost $346,700), a two-horse transport truck and a car to Pietersen, and financed her training stable.  Blythe and Dan divorced with a quick settlement in December 2019, but in January the ex-wife found out about the affaire and is now seeking damages. 
Joop van Uytert and Emmelie Scholtens have co-invested in the 3-year old KWPN licensed stallion Miami Turfhorst (by Toto Jr  x Don Schufro). The liver chestnut licensed KWPN stallion is bred and owned by Eric Koele of stud farm Turfhorst. 
Dutch dressage rider Willem-Jan Piggen became a father. His partner Joyce van der Meulen gave birth to a son, Spencer-Lawrence, on Sunday 12 July 2020.
Soren Wind, member of the bronze medal winning Danish team at the 2019 European Under 25 Championships, has left his employer of five years, Andreas Helgstrand. The 26-year old completed his official training as a professional rider and now begun working at Henrik Amby's Nordentoft Equestrian.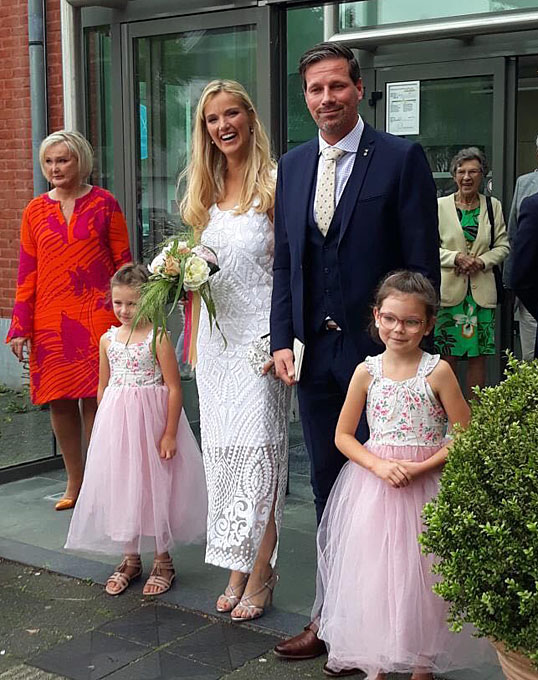 Belgian Grand Prix rider Delphine Meiresonne and her partner of four years, Xavier Mortelmans, got married. The couple got engaged on the Tracadero steps near the Eiffel tower in Paris on Valentine's Day 14 February 2019 and the wedding took place in Zandhoven, Belgium, on 20 June 2020. Because of corona restrictions, the civil ceremony was held in a close circle but Delphine told Eurodressage that it was the perfect with their best friends and family members there. "We had breakfast together, then went to town hall where the ceremony took about half an hour," said Delphine. "We then all went for lunch together and toasted with champagne. It was a fantastic day." The couple intends to throw a bigger wedding party in 2021. 
Australian Grand Prix rider Briana Burgess has secured her first "proven" horse to ride since relocating back home to Australia after training and working in Europe for almost a decade. Burgess has received the ride on Lauren George's imported Hanoverian bred Bertone (by Benicio x Falsterbo x Regazzoni), who won the 2019 Australian Young Horse Championship for 6-year olds under Jayden Brown.
The Belgian based Moroccon FEI rider Naoufal Hassani got convicted to six years in prison for molesting and abusing five minors between 2008 and 2012. At the time Hassani and his parents were based at an equestrian centre in Groenendaal, where the abuse took place. The Correctional Court of Brussels cleared Hassani's parents from the charges that they were aware of the situation and did nothing. The now 30-year old Hassani competed on the international show scene at small tour level in 2015 and 2016 aboard Quazotti and Wadest at the time.  Hassani is apparently appealing the court verdict and has not yet been imprisoned.