France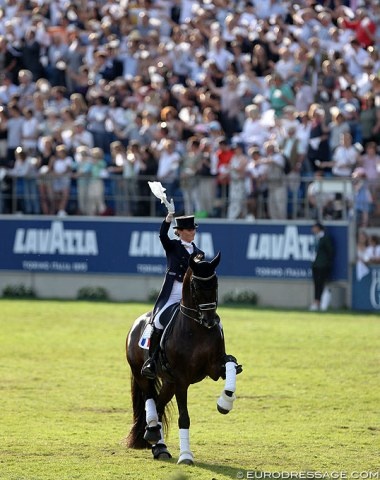 French Grand Prix champion Morgan Barbançon Mestre will not be competing at the national show in Pompadour this weekend as the rider sustained two broken ribs. 
The accident happened at the end of June, right before the first national show in Macon, France, post corona, where Morgan ended winning the Grand Prix on Sir Donnerhall II despite the discomfort. However for the CDN Pompadour this weekend, she is pulling out. 
"Three weeks ago a young horse tripped and we both fell and he stepped on me," Morgan told Eurodressage about the silly accident. 
Morgan said that competing in Macon was "a stupid decision, but I was so looking forward to competing."  She said she rode her horse with her ribcage strapped in. 
At the CDN Pompadour, Morgan had entered no less than six horses to compete, including Haras de Malleret's breeding stallion Flinstone, an 11-year old Rhinelander by Fidertanz x Abanos. However, she has now realized she bit off more than she could chew and called off the show.
"I am in too much pain to fully concentrate, so I decided it was wiser to take it easy," Morgan explained. "In Macon I had only two horses a day but in Pompadour I was supposed to go with six and that would have been impossible."
Having ridden for Spain at the 2012 Olympic Games in London, Morgan has massively expanded her string of horses and is competing more horses than ever before.  She has three Grand Prix horses to ride, Sir Donnerhall II, Black Pearl and Bolero, although the latter has not shown in more than a year. In addition she has upcoming stars Deodoro and Habana Libre as well as three Malleret horses, For Fable, Zaeta and Flinstone. 
Related Links
French Grand Prix Riders Meet "en Masse" for First Post Corona CDN in Macon
Dorothee Schneider to Develop Filarmonie and Dancielle de Malleret
Jessica von Bredow-Werndl Acquires Forsazza de Malleret