2020 CDI Grote Brogel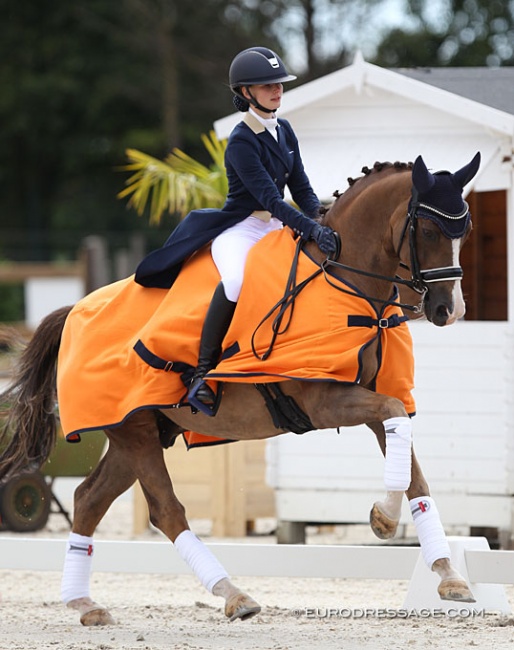 Dutch based Russian Aleksandra Maksakova swept the two Under 25 classes that were hosted at the 2020 CDI Grote Brogel in Belgium on 9 - 12 July 2020. 
The Under 25 division at Grote Brogel only comprised two classes: the Short Grand Prix on Saturday 11 July and the Kur to Music on Sunday 12 July 2020. 
A Mixed Bag
Eurodressage photographed the Short Grand Prix and the field of 10 riders gave a little bit of a mixed bag of riding styles and experience.
The Under 25 division is meant as a stepping stone to senior Grand Prix and is a "learning" category for young riders to progress to highest level. Some ride experienced schoolmasters with an already extensive (international) career at Grand prix level, others have trained their horses up the levels themselves with the help from their coaches.
The judges were Barbara Ardu, Janine Wolters and Freddie Leyman and it was fascinating to see on which aspects of Grand Prix rider they put relevance. While I rather see a horse in light contact, harmoniously flowing with its rider, and then maybe not showing super expressive piaffe and passage, but at least purity of gait; there is a large group of spectators (and judges) who prefer to see the "spectacular", i.e. those off the ground movements and this at the cost of a light bridle contact.
Unfortunately there was still quite a bit of pulling and hanging onto the reins to be seen. Grand Prix sure is not easy, but some self reflection never hurts: "what type of rider do you choose to be." The basics of dressage should be answered. Dressage is not about lifting legs the highest, but about making one's horse supple: gymnasticizing it!
Maksakova Wins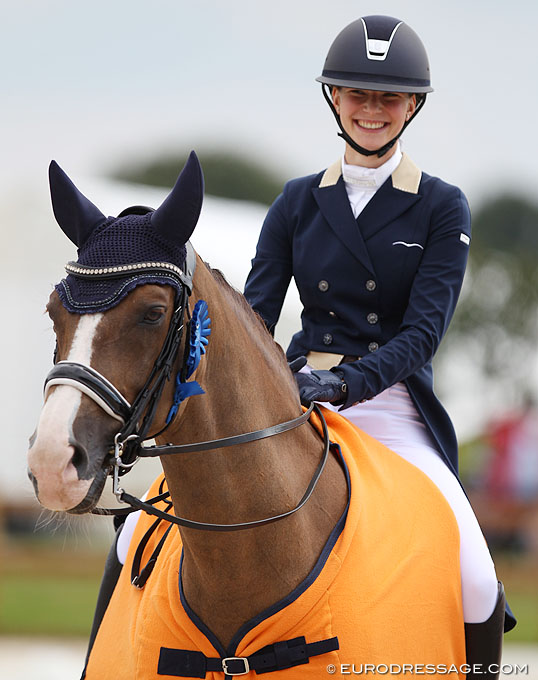 Right before the corona lockdown, the 22-year old Maksakova had been putting the pedal to the metal, competing in no less than 3 CDI's in four weeks time: they went from Le Mans (FRA), to Lier (BEL) and Herning (DEN), scoring between 64 - 67%.
At the first western European post corona CDI in Grote Brogel after a four month break, Maksakova and her 14-year old KWPN gelding Bojengels (by Samba Hit II x Aktion) reached a new level and cracked their first 70% scores at U25 level. The pair has been together since 2015, first riding at junior level, and in 2019 Bojengels returned to the CDI ring at U25 level. 
In Grote Brogel the duo was the most consistently looking of all 10 pairs. The liver chestnut is extremely smooth in the passage and transition to and from piaffe. In the piaffe he leans too much on the forehand, but maintains a very solid rhythm. In the walk, the horse should stride more and stretch over the back. The one tempi changes were a highlight, the pirouette left was tiny but there was a loss of stride.
Maksakova mastered the test well and won the Short Grand Prix with 71.538%. The next day she posted a winning 74.750% in the freestyle. 
Van den Herik and Winner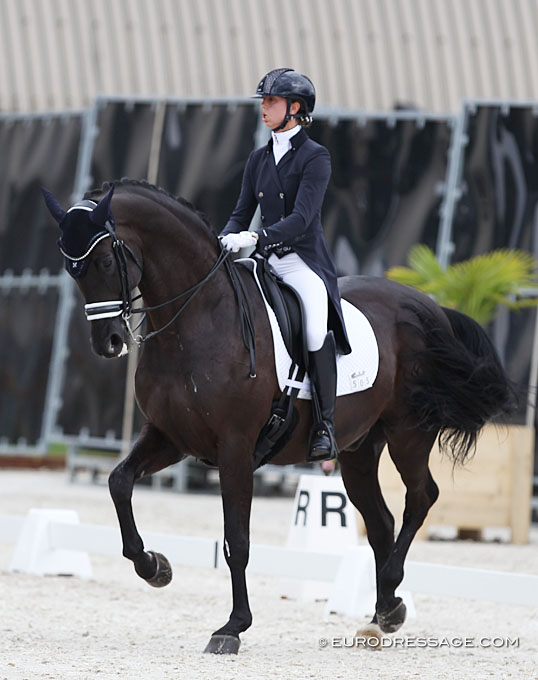 The 20-year old Dutch Lotte van den Herik competed in her second international on the 17-year old KWPN gelding Winner (by San Remo x Gribaldi), who is a horse with an interesting history. 
Winner was discovered as a 3-year old by Dutch journalist Wendy Scholten who trained him to ZZ-licht level and then sold him to Turkish Selen Efe. She rode him at the 2011 and 2012 European Junior Riders Championships as a trail blazer for Turkey in the junior classes.  When Efe went to collage, Kim van der Velden got the ride and trained him to small tour level and then Grand Prix. Kim rode him for 6 years and sold him as as schoolmaster to Van den Herik in the spring of 2017.
Lotte rode the big powerful horse in nice, light and steady contact, although overall the horse should be more elastic of the top line so he can generate more ground cover in the extended walk and trot, one tempi changes, as well as in the passage. He severely lost the rhythm with his left hind when he tripped; but he picked up the pace. In piaffe the horse maintains a nice soft rhythm but does not really sit behind. The image was overall pleasing but would benefit from more stretch in the ribcage and topline.
They scored 68.761% for second place in the Short Grand Prix and landed 8th place in the Kur with 67.625%
Much at Stake for Spanish Duo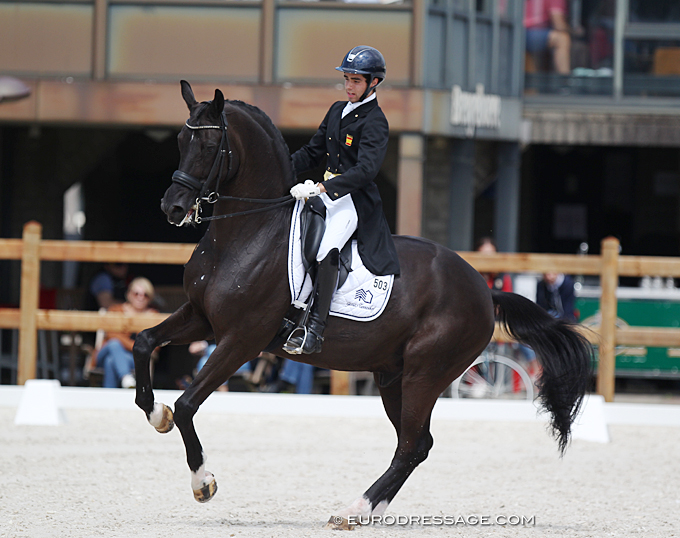 For foreign based Spanish riders Antonia Laiz Zandio and Ruben Mengual Reig much was at stake in Grote Brogel. With Spanish Youth team trainer Jenny Eriksson present to assess the pairs, the CDI Grote Brogel was their one and only Spanish team selection trial for the 2020 European Under 25 Championships in Budapest in August.  Spanish riders based at home will be riding a selection event at Las Cadenas on 14 - 15 July.
The 19-year old Ruben Mengual Reig has been working at Gestut Tannenhof in Germany as an assistant trainer and received the opportunity of his coach Anja Plönzke to ride two of her Grand Prix horses, the 12-year old licensed stallion Download (by Desperados x Wesley) who has never been to an international show in his life and the 11-year old Hanoverian bred Belfast RA (by Benetton Dream x Florestan), who was previously shown at international small and big tour level by Plönzke. 
Mengual Reig started his international career in 2014 as a Children rider on Obrador VIII. In 2016 he competed the pony Piccolo and in 2017 he had two horses for junior level: Dinant and Andres, before moving to Germany to began a professional career in horses.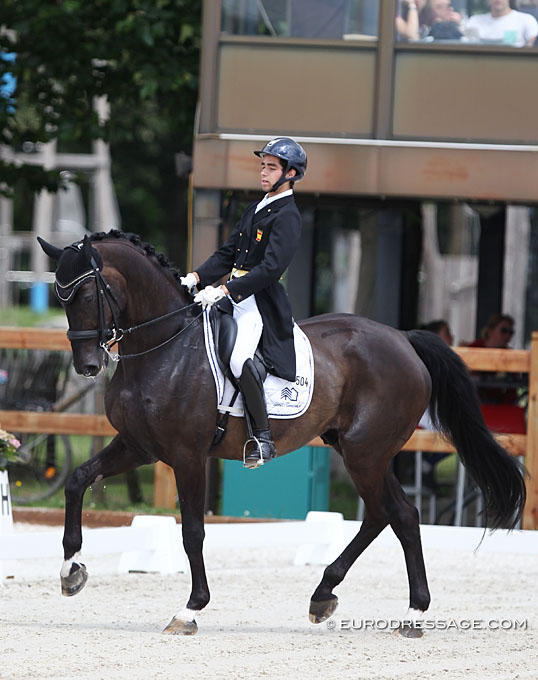 In Grote Brogel Mengual Reig placed third on Download in the Short Grand Prix with 67.909%. The piaffes were small but well ridden, in passage the big stallion lacked engagement from behind, but he was regular. The extended walk had good overtrack and rhythm. The canter tour was fairly laboured, but the pirouette left was superb and also the one tempi changes were super straight. Although Ruben has quite hands, but the contact is strong. It was the same case with Belfast Ra, who looks more at ease with Reig than with Plönzke who rides him with more pressure. Still, the contact with the left rein was stiff and hard though but Reig did a wonderful job at his CDI Under 25 debut in Belgium. Belfast scored 66.282 to finish 6th in the Short Grand Prix. He opted to ride this horse in the freestyle and placed sixth with 69.042%.
At age 24 and already many years living abroad country mate Antonio Laiz Zandio boasts more experience and mileage on the big stage. HIs ride Gejholms Menotti is a 13-year old Danish warmblood gelding by Don Romantic, which has been been his loyal partner for the past five years, going from Young Riders and the European Championships in 2016 to the 2017 European Under 25 Championships in Lamprechtshausen. In 2019 they missed out on the Euros in San Giovanni, but the pair seems to have high hopes for this year to go to Budapest.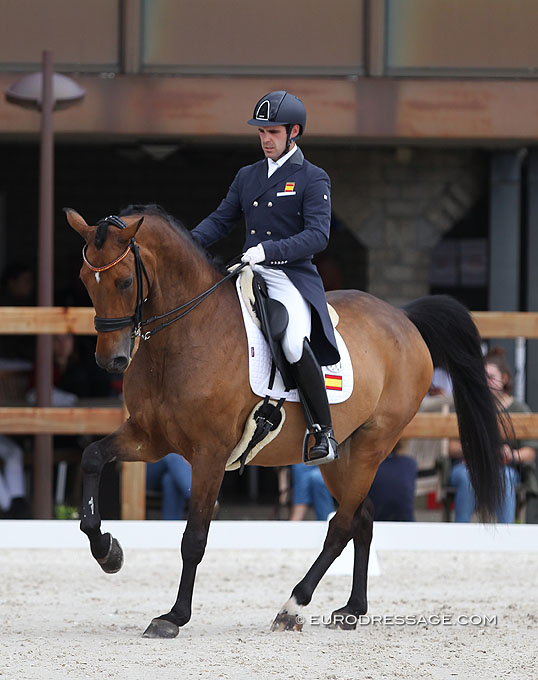 Laiz' bright bay Menotti had the best passage of all Under 25 horses  with impressive engagement, ground cover, and rhythm. The passage was so trained into the horse that he could barely execute a normal, collected trot. The piaffes were minimal though and overall the horse was not elastic. There was hardly any bending and flexion in the half passes, nor in the corners. This also showed in the left pirouette which was a volte. The one tempi changes were outstanding and super straight. Menotti certainly has much to give and would score much higher if the overall bending and flexibility would improve. Still the judges were dazzled by the stunning passage work and scored the horse 67.350% in the Short Grand Prix. They went on to finish second in the Kur with 71.375%.
Text and Photos © Astrid Appels - NO REPRODUCTION ALLOWED - NO SOCIAL MEDIA !!
Interested in photos for your social media or prints, send us an email FIRST with your name and we'll get in touch about reproduction possibilities.
We sell our photos to keep Eurodressage up and running. Please respect our copyright.
Related Link
Scores: 2020 CDI Grote Brogel
Heylen and Kalagan H Moving Up on the Board to Victory at 2020 CDN Grote Brogel
Photo Report: Spotting Talent at the 2020 CDI Grote Brogel, First Post Corona CDI in Western Europe