U.S.A.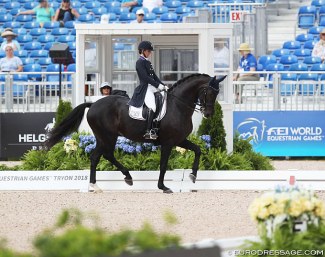 U.S. team rider Kasey Perry-Glass has decided to retire her number one Grand Prix horse Gorklintgaards Dublet from international top sport. 
Dublet is a 17-year old Danish warmblood gelding by Diamond Hit out of La Costa (by Ferro). 
Expected Retirement
The pair's last competition start was the 2019 World Cup Finals in Gothenburg, Sweden, in April 2019, fifteen months ago.
The pair's absence from the U.S. Olympic team selection trial and competition circuit in Wellington, Florida, from January till March 2020 already sparked rumours of Dublet no longer being in top shape for Tokyo. 
Today, Perry-Glass confirmed those rumours. 
"When I look back on our journey I see more than just his accolades and the ones he has given me. I see a horse with a huge heart to please, love, and try his hardest in everything he does. He doesn't owe me anything and now I owe him the best retirement a horse deserves," Kasey Perry stated. "I have come to the conclusion that purusing another year at the elite level is not in his best interest."
Amazing Career
Kasey Perry discovered Dublet in Denmark and bought him as a green small tour horse from Anette Ejlersgaard in 2012.
The pair began competing at international small tour level in California in April 2013 and made its Grand Prix debut in January 2016 in Wellington, Florida. In five months time they have transformed from a strong 72% scoring pair into one of the biggest shooting dressage stars in the world. At the 2016 CDIO Compiegne the pair probably had one of the best rides in their career and scored 77.440%, firmly underlining their hold on an Olympic team spot.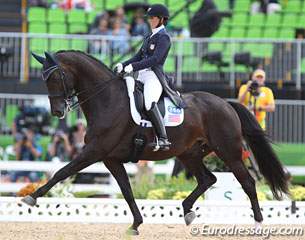 They went to the 2016 Rio Olympics, won team bronze and finished 22nd in the Grand Prix Special. 
In 2017 they placed 7th at the World Cup Finals in Omaha and won the 2017 U.S. Grand Prix championships, but during their Euro-tour in Rotterdam and Aachen their scores were a bit less consistent, yet still above 70%.  The pair went back to the drawing board and focused on solidifying the trust and connection with the help of team trainer Debbie McDonald. 
In 2018 the pair returned in Florida after an 8 month break from competition. They competed at only  the final show of the season and then went to the test event in Tryon, which they won, and to Europe (Rotterdam and Aachen) where their scores were rising again well above 75%. At the 2018 World Equestrian Games in Tryon, they won team silver and were 6th in the Grand Prix Special with 78.541%.
In 2019 the pair focused on World Cup qualification and rode in three CDI-W in Wellington to secure a ticket to the 2019 World Cup Finals in Gothenburg, where they were fifth with 84.975% in the Kur. It turned out to be the pair's last competition. 
A New Chapter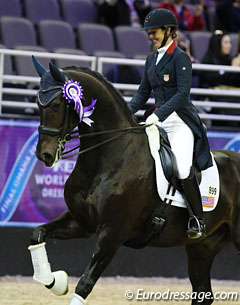 "I imagined that today I would be waking up and preparing myself to ride Dublet down centerline in Tokyo for one final freestyle as a competitive pair, but instead I come on here today to announce Dublet's retirement with both a heavy but joyful heart," Kasey Perry explained.
"The past almost decade with Dublet has changed not only my life but everyone's around us. He has given all of us inspiration, hope, love, beauty, and a sense of belief that everything and anything is possible. He has taught me to listen to my gut and I've learned to listen to what is best for HIM. We have been through so many ups and downs, countries, stadiums, award ceremonies, and quiet one-on-one times together. It is hard for me to believe that this chapter of our journey is closing, but it calms my heart knowing that another chapter is opening in our relationship. I am so excited to take what Dublet has taught me and apply it to a pipeline of future horses!"
Dublet will be retired to the field as well as ridden for pleasure. 
"Obviously this is a lot harder for me than it is for him; he thinks he has the life with all-day turnout and easy rides," she said. "Horses teach us to take our own ambition and greed and put it to the side."
Photos © Astrid Appels
Related Links
Eurodressage Photo Database: Gorklintgaards Dublet
Kasey Perry and Gorklintgards Dublet Rocking for Rio at 2016 CDIO Compiegne
2016 CDI Wellington 3* Grand Prix Class Reveals that The Americas Got Talent
Blood Disregarded at 2016 CDIO Rotterdam?
Scores: 2017 U.S. Dressage Championships
Perry-Glass On the Road to Omaha After Winning 2017 CDI-W Palm Beach Derby Kur
Winning Come Back for Kasey Perry and Gorklintgaards Dublet
Long Awaited Come Back for Perry's Dublet at End of 2018 Wellington Season
U.S. Team Selection for 2019 CDIO Aachen, No Verdades nor Dublet
Salvino Shows Form, Gorklintgaards Dublet Sustained Minor Injury