Russia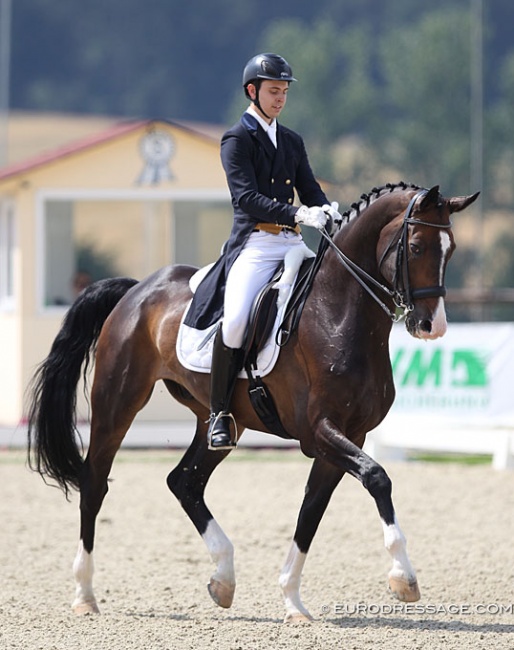 The Russian Equestrian Federation has selected the combinations that will represent Russia at the 2020 European Youth Championships in Budapest on 9 - 30 August 2020.
The Russian youth team selection process has been a strenuous one due to tight measures against COVID-19 in Russia, reducing sport life to a minimum and forbidden travel across borders. 
Difficult Selections due to Covid-19 Restrictions in Russia
Eurodressage inquired with the Russian Equestrian Federation and dressage manager Galina Aralova replied that selection conditions have been extremely hard due to the corona pandemic. 
"Due to the situation with COVID-19 the Russian borders with Europe are still officially closed for travelling and competitions for youth categories in Russia are not officially allowed by the Ministry of Sports until September 1, 2020," Galina Aralova told Eurodressage.  "So it is extremely challenging for the Russian young people and their horses to travel to Hungary for European Youth Championships, 2020."
Despite the difficult situations of not having any competitions available to assess the candidates, a selection process was begun in June with the two Russian National Youth trainers, Olga Soboleva Olga and Alexandra Korelova Alexandra and joined by youth team veterinarian Evgeny Gorovoy.
"The selection was based on the following principles. First, results of riders in 2019 and the beginning of 2020 (and where possible in more recent competitions) in national and international events," Galina explained. "Secondly, we analyzed most resent videos of the horse/rider combinations in training, riding a test, doing the jog (especially for riders, who are based in Europe), and thirdly the national Youth trainers and National Youth veterinarian visited different clubs, doing the veterinary inspections and analyzing test competitions."
Short Listed Pairs, Few Will Go
Although Russia faced challenging selections conditions, the team trainers drafted short lists for five full teams. However, not all of them are able to go as the Russian Ministry of Sports does not allow minors to travel abroad for competitions!
The short listed riders are
Children
1. Agata Zakhrabekova - Ein Champion ZS
2. Varvara Krypchatnikova - Terrano
3. Arina Makhileva - Deutsch Graf or Golden Dream
4. Iaroslava Inshakova - Sean Connery
5. Mariya Kabukaeva - Casper fan Marijke
6. Irina Chugunova - Double Power or Elinor
Pony Riders
1. Olga Arzhaeva - Romika
2. Uiliana Konshina - Maverich
3. Karina Zakhrabekova - Daddy Sunshine
4. Polina Solodkina - Pentagon
5. Mariya Kabukaeva  - Lemniscaat Rapsodie)
Junior Riders
1. Yulia Grigorieva - Kalhave's de Nora
2. Mariya Petrova - Eros Easter A
3. Yanina Frantsuzova - Kleppenhus Deejay
4. Polina Ivanova - Ratzinger
5. Margarita Anashkina - Wout)
6. Olga Arzhaeva - Gycola
7. Karina Zakhrabekova - Delicato or Ein Stern
Young Riders 
1. Polina Yarantseva - Florence
2. Anna Guseynova - Lauda
3. Elizaveta Lyban - Erantos
4. Kristina Leonova - Real Life
5. Varvara Vasilyeva - Dans Avek Lui or Madeira
6. Nikita Surjenko - Flor d'Accord
7. Yulia Gorbacheva - Urbi et Orbi
Under 25 riders
1. Aleksandra Maksakova - Bojengels 
2. Daria Suchshinskaya - Charlie Brown
3. Ksenia Ershova - El Capone G 
4. Tatiana Stepanova - Virtualiti
5. Tatiana Anisimova - Brig
6. Ulia Gorbacheva - Harvari Grand
Only Risk-Takers and Self Funded Riders Will End Up in Budapest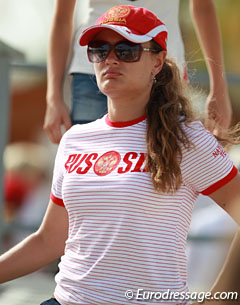 Although the selection process was carried out with the best intentions, the Russian government has prohibited the entry of Russian based riders to the 2020 European Youth Championships. 
"As the situation with COVID-19 still remains quite critical, considering all the health risks and the fact that travelling (especially with minors) is extremely difficult now as there are significant logistical issues the Ministry of Sports of the Russian Federation doesn't officially allow athletes of youth categories to participate in any competitions abroad," Galina explained. 
She continued: "Considering the health and safety of Russian riders and following the instructions of the Ministry of Sports the Russian Equestrian Federation doesn't recommend riders to travel to the European Youth Championships."
Those Russians based in Western or Southern Europe are not prohibited to travel to Hungary and can cross borders to compete at the Championships.
"If some of the selected riders are determined to go, they can do so at their own risk on self funded bases," Aralova stated. "It already became clear that riders from Children and Junior categories will not be able to go. It is still possible that the following individual riders might be able travel to the European Championships:"
Probably competing in Budapest are:
Young Riders
1. Polina Yarantseva - Florence
2. Anna Guseynova - Lauda
3. Elizaveta Lyban - Erantos
4. Kristina Leonova - Real Life
Under 25
1. Aleksandra Maksakova - Bojengels 
2. Daria Suchshinskaya - Charlie Brown
In the Children's division Agata Zakhrabekova (Ein Champion ZS) has been submitted to the already published Master list, but her entry is likely to be cancelled due to quarantine question. 
Photos © Astrid Appels
Related Link
Eurodressage Coverage of the 2020 European Youth Championships