Brazil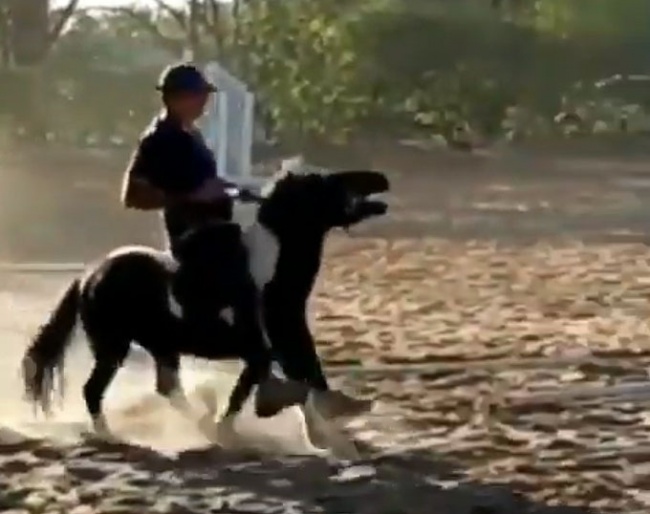 Brazilian Olympic team dressage rider Leandro Aparecido da Silva is under investigation by the Brazilian Equestrian Federation after a video appeared on social media of him abusing a small pony. 
Aparecido da Silva is a long-time Brazilian Grand Prix team member. He competed at the 2008 Olympic Games (on Oceano do Top), the 2011 Pan American Games (VDL L'Acteur). His most successful horse to date is Dicaprio, whom he competed at the the 2014 South American Games,  the 2015 and 2019 Pan American Games and 2018 World Equestrian Games. 
Father and Son Abusing Small Pony
Posted on Sunday 12 July 2020, the video shows the 44-year old Leandro Aparecido da Silva riding a small pony and severely yanking it in its mouth with the reins, while a by-stander (identified as his son) is laughing.
The video went viral after Leandro's son shared the clip with friends. Leandro stated in Brazilian equestrian magazine "Horse" that it was shared "in a playful way" by his son, "to show his father on a pony."
The video is apparently a few months old, taken not long after the 7-year old pony arrived in his stable in Boituva, near Sao Paulo. The pony was purchased as a ride for Leandro's 7 and 2-year old daughter. 
The abuse is not a one-time incident. There is a second video, which shows Leandro's 20-year old son jumping the same small pony and crashing into an obstacle, because the pony can barely jump the height with the weight of his rider on its back. The pony suffers a dangerous, rotational fall and lands on its back! An unidentified by-stander is laughing at the situation.
Pony Bit Daughter
Silva feels the heat from animal lovers who called out this abuse, which is not an isolated incident. Silva responded on social media, defending his actions to ride and "correct" the pony because it had bit his 2-year old daughter. 
Leandro stated on his own social media, "we have a pony that is treated with all the best (care), but it attacked my 2-year-old daughter, bit her back, left her raw. At the time I was very indignant, because he was really mean. As I was, at the same moment I set him up to try to show that he shouldn't have that kind of attitude anymore. I was without a whip, without boots or spurs and just with bridle."
To the magazine Horse he explained the incident as following: "when I saw that, I mounted it the way it was, with sneakers, to correct it. In no time did I get a whip or something to correct. I was in a little bridle. When I put him forward, he wanted to run, and I gave him a quick stop. Then I went to turn, and gave him a shake, and then I took him walking to her."
He also added, "at no time was I aggressive, with a whip or spur. It didn't cut, it didn't hurt, it didn't do anything. The pony has a beautiful life here at home, my daughter walks with him up and down. It goes loose in the halter and he walks behind her."
"I made a Conscious Correction"
Leandro explained that the pony was a stallion upon arrival and castrated after he had bitten his eldest daughter first. According to him, the pony is now "calm and a member of the family."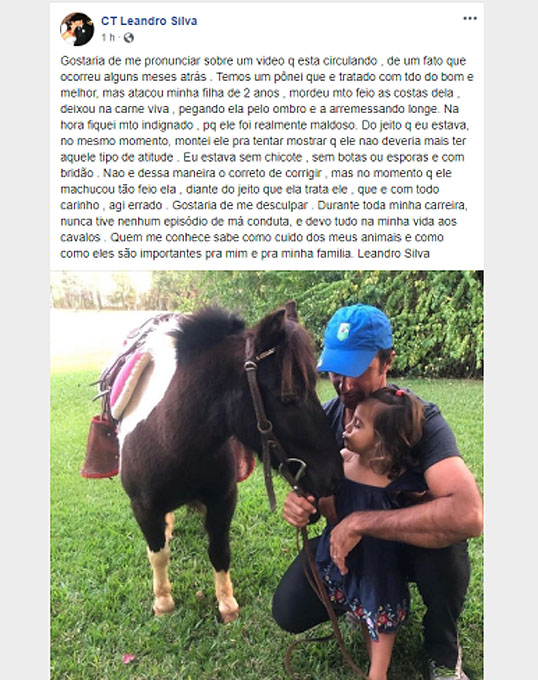 "I don't think that any correction, even when you make a correction to your children, should be exposed to anyone," he stated in Horse. "But in terms of the correction I gave him (the pony), of course, at the time I may have exaggerated a little. Of course, we regret things. Just from the repercussions you had, you regret what was done. Not that I think I mistreated him, so much so that he is very well cared for at home."
Leandro stands by this 'correction' he gave to the pony. 
"I didn't lose (my mind)," he told Horse. "I made a conscious correction for what he had done. I really know what he did, what the pony had done. I couldn't fix it by giving sugar, candies. A correction is a correction. At no time, there was any beating, no aggression whatsoever. The correction was always in (the) technique."
Leandro does not consider the yanking of the bit in the pony's mouth a physical assault.
"The jolting issue depends on the bit you are using. It was a light bit in the bridle. Any rider knows this," he said. "I didn't have a sharp mouth or spur. Nothing that physically assaulted the animal."
Brazilian Equestrian Federation Will Investigate
Both video caused an uproar on social media and has spread across the Brazilian press, even into mainstream publications.
Complaints were filed with the Brazilian equestrian federation, which has officially stated that it is investigating the matter.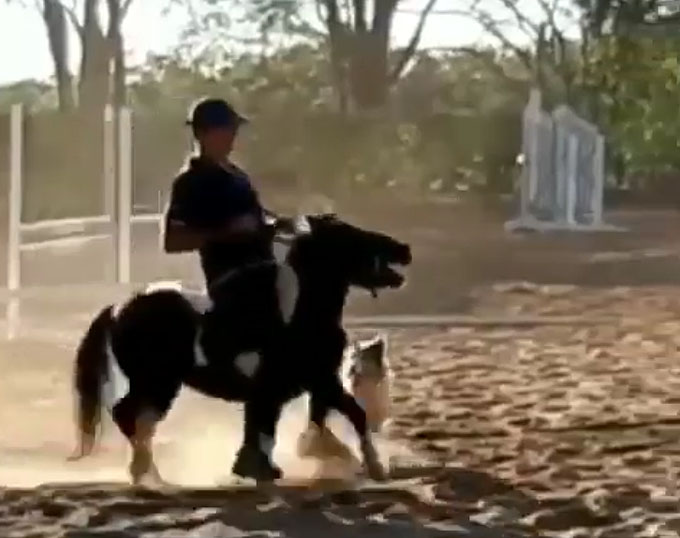 On 14 July 2020, the Brazilian equestrian federation responded with this official note, not mentioning the name of the rider: 
"We reaffirm that we reject any acts of mistreatment and abuse attitudes that endanger the physical or emotional integrity of any animal. In view of the CBH communiqué released on this date, we inform that we are aligned with the same principle of well-being and confident that the responsible bodies will follow the necessary procedures in the administrative and sports sphere."
As the rider has admitted to his actions, the Superior Court of Sports Justice (STJD) of the Brazilian NF will decide if Leandro will be suspended. This might also jeopardize his Tokyo Olympic candidacy. Brazil has secured one individual spot for the 2021 Tokyo Games. 
The FEI has been notified of the issue and they responded that it will adopt the sanctions from the STJD. If the FEI deems them insufficient, they will take action themselves, or refer the case to the ECIU.
Brazilian law categorizes animal abuse as an "environmental crime". Article 32 of the Environmental Crimes Law prohibits the "abuse, mistreatment, or mutilation of domestic or wild animals, including exotic animals, as well as domesticated fauna, which are wild creatures previously captured and tamed". The penalty applied for this crime ranges from "3 months to one year of imprisonment and fines". Another Brazilian law stipulate that an abused, domesticated animal will be taken away from its owner. 
Work Licence Revoked by Sociedade Hipica Paulista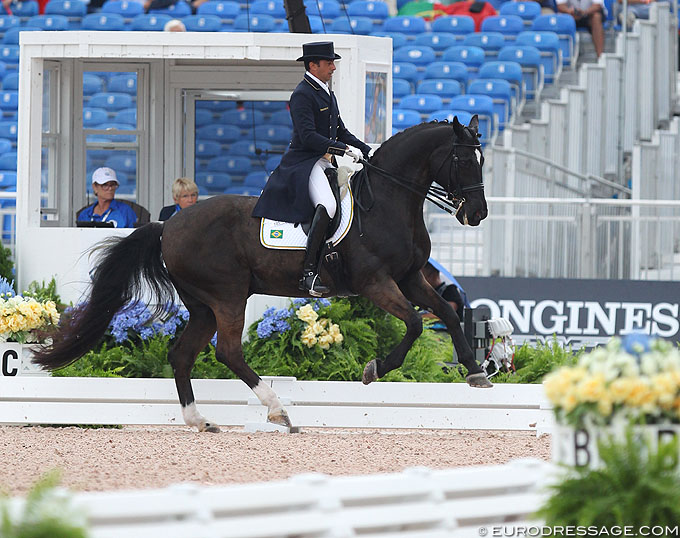 Leandro Aparecido da Silva and his son also run a business at the renowned Sociedade Hipica Paulista in Sao Paulo, the only venue in Brazil to regularly host CDI competitions.
The riding club has revoked their licence to train, teach and work out of their club.
The president of the SHP club, Gabriel Khoury, posted a notice saying that, "Sociedade Hípica Paulista does not agree and repudiates any and all practices that violate the well-being and physical integrity of horses."
Photos © screen captures - Astrid Appels
Related Links
Roberta Prescott: "Brazil's difficult path to Tokyo 2020"
Brazilian Team Selected for 2019 Pan American Games
Brazilian Team for 2018 World Equestrian Games Selected
Waddell and Pass Win 2018 Brazilian Dressage Championships
Aragao and Aparecido da Silva Win 2016 Brazilian Dressage Championships
Brazilian Team Selected for 2015 Pan American Games
Tavares de Almeida and Waddell Win 2015 Brazilian Dressage Championships
Brazil Qualifies Team for 2008 Olympic Games in Hong Kong