Van Olst Sales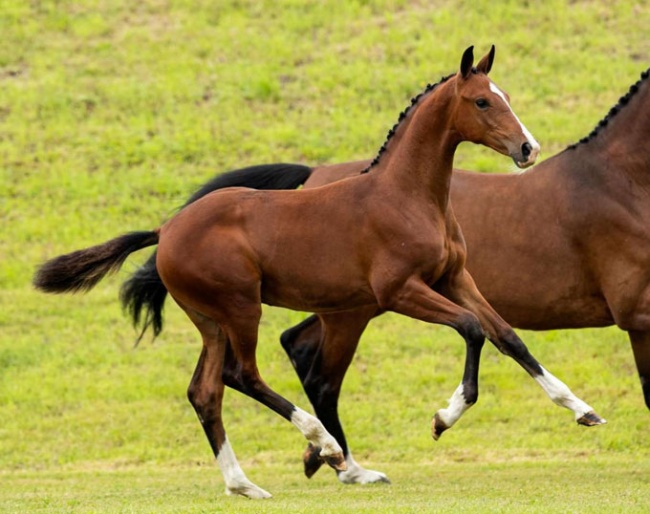 In order to give breeders using his stallions a prominent sales platform, Dutch stallion keeper Gert-Jan van Olst is offering a series of online auctions this year as part of his Van Olst Sales formula. The second collection of exquisitely bred dressage foals will be auctioned on 14 - 17 August 2020.
Due to the corona pandemic in 2020 the Van Olst Sales became an online format, which has been highly appreciated by breeders and buyers. Starting with a collection of well bred young sport horses in the spring, the first Foal Auction was held at the beginning of August.
On 14 August 2020 the bidding will start for a second lot of superb dressage foals and bidding concludes on 17 August 2020.
Superb Lot of Foals
This is a unique opportunity to purchase an exquisitely bred foal, sired by a Van Olst stallion such as Everdale, Glamourdale, Kjento, Jayson and Lantanas, directly sourced at the breeder.
PRIMA DONNA M (by glamourdale x United x Ed King Hill NH 
World champion Glamourdale was also winner of the stallion performance test as a three-year-old. He has now made his Grand Prix debut with a very high percentage. Prima Donna is sired by this stunning stallion out of United daughter Bandessa M. United is a popular stallion in the pedigree of dressage horses. Grand dam Ester is a descended from Ed King Hill and is also the dam of the international show jumper Pharaoh and the international show jumper I'm Joking M.
PARTON DOLLY (by Kjento x Son de Niro x Ulster) 
Parton Dolly is a very interesting foal for both sport and breeding. She has an exceptionally good model, moves with a lot of posture and she can already collect in trot and canter. Her dam Zelly is Z2 dressage and she already produced the Small Tour horse Hadolly and the stallion Moulijn this year, descending from Glamourdale. Parton Dolly's granddam is one of the best mares in the Netherlands, namely Dolly. She herself was a UTV champion but she became even better known through her descendants: Just Mickey, international Grand Prix dressage and Totall and Wolly both Prix st George dressage. She is also grandmother of the international dressage horses Dolman and Meggle's Boston and many other national and international sport horses.
PEARL B (by Jayson x Lord Leatherdale x Negro)
Pearl B is an absolute top foal. She stands out wherever she goes and not only because of her markings! She is large, well developed in size and height and when she moves she is very impressive! Her dam Gwendolyn descends from the very successful combination Lord Leatherdale x Negro that we also see in our Grand Prix stallions Chippendale, Everdale and Glamourdale. Grand dam Dereina is a daughter of Reina (by Monaco). Reina was successful in the Small Tour under the name Roos and she was champion of the national mare show in 2005. She is also known as the dam of Beatrice Ferrer Salat's Olympic hopeful  Elegance (by Negro). Many successful dressage horses and approved stallions come from this dam line.
Bidding Closes on 17 August, Full After Service Available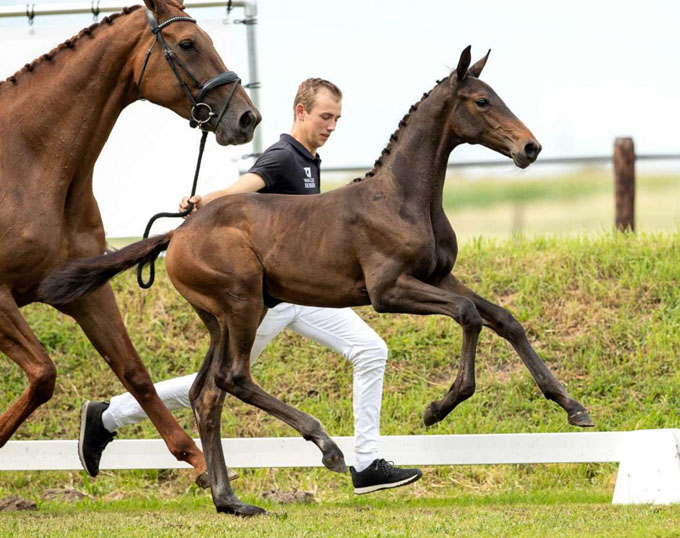 The Van Olst Sales Online Foal Auction starts on 14 August and will conclude on 17 August 2020 at 20h00. 
In order to bid, you need to register online. Your identity will not be revealed and the bidding is anonymous. Only the organizer has your contact information. 
The complete collection can be viewed online at https://vanolstsales.online/collectie/8 
Van Olst provides full "after-sales" assistance for clients who have purchased a foal at this auction. Invest in a foal and make the experience completely hassle free! The possibility exists to have the foal reared at the brand new Van Baalen Farms rearing stable, where your foal will grow up in professional care. 
Van Olst can also offer a total package for each client as well as provide assistance to get your 2.5 or 3-year old prepared for the licensing or be saddle broken. Tailor-made packages for the rearing and training of your youngsters in The Netherlands are available. 
For more information, visit https://vanolstsales.online/en/