2020 European Youth Championships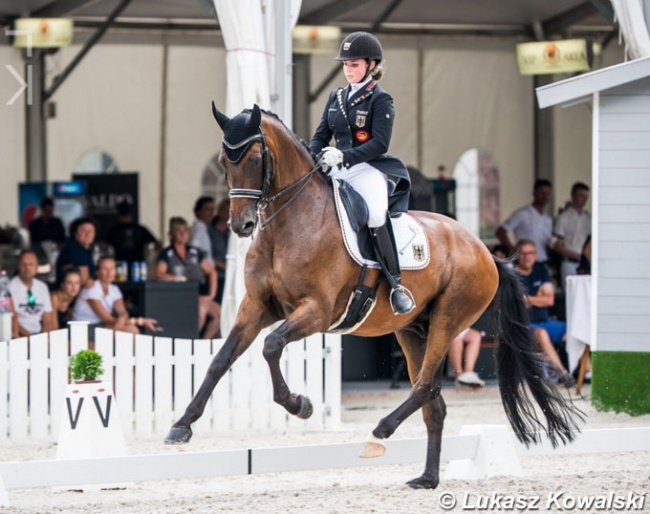 German combination Jana Lang and Baron took the lead after the first group of riders competed in the team championship test at the 2020 European Junior Riders Championships held at Stable Unikornis in Pilisjaszfalu, Hungary on Monday 10 August 2020. 
The junior riders nations' competition for the team medals is contested by the Team Championship test and today the first group of riders (31) went in the afternoon. The second group is scheduled to go on Tuesday after which the team medals are decided.
Set in tropical 30 c° weather, the competition was interrupted once for a thunderstorm break, which turned out to be less severe than expected. However, playing it safe instead of being sorry, the class resumed in the early even with the final set of riders riding their team test. 
The class was judged by the experienced panel consisting of Carlos Lopes, Peter Hansághy, Mariette Sanders Van Gansewinkel, Thomas Kessler, and Maria Colliander. 
Lang and Baron in Charge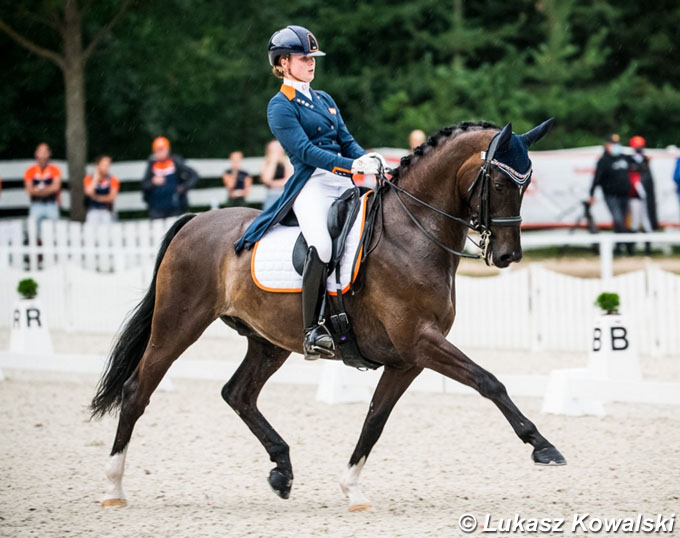 The brand new duo Jana Lang and the 14-year old KWPN gelding Baron (by Johnson x Krack C) were in charge of group one, scoring the highest mark of the day, 74.515%, to take an early lead in the team championship test. Lang has only been riding Baron for a few months. The horse originally came from Belgian rider Brecht d'Hoore who sold it as a 4-year old to Swiss Grand Prix rider Jasmine Sanche-Burger. In 2015 Baron disappeared from the scene due to an injury and only returned to the spotlight this year, having sold to Lang as the horse enabling her transition from ponies to juniors. The pair produced a solid performance that was much liked by the judges, although the individual marks ranged from 72.727% (Lopes) to 76.515% (Coliander). Lang spearheaded the German campaign and put her country on gold medal course in the team ranking. Her previous team representation dates back two years, to 2018, when she rode Cyrill to an 11th place in the Kur at the European Pony Championships in Bishop Burton.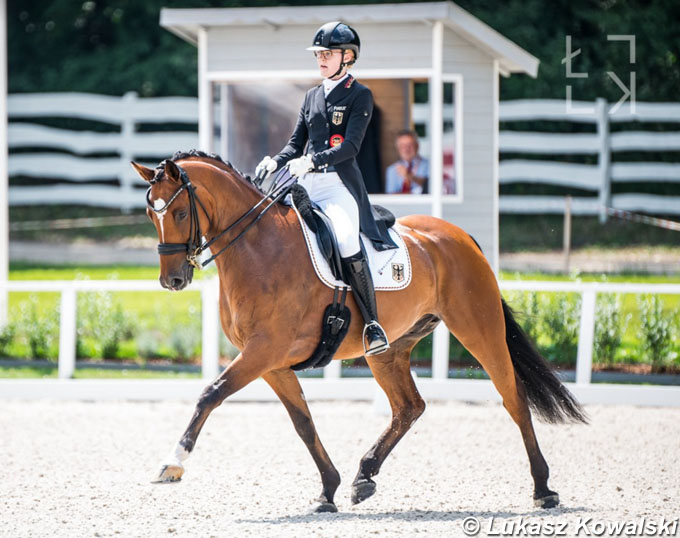 Dutch combination Robin Heiden and the 9-year old KWPN gelding Gasmonkey (by Tuschinski x Ferro) slotted in second with 72.788%. Scoring consistent marks across the board from the five judges, Heiden pulled the Dutch team into a provisional silver medal position. Her home bred Gasmonkey received this boyish name because it was her brother's turn to name new born home bred foal back in 2011. Instead of choosing girly names like Cinderella, as his sister had done before, Robin's brother opted for Gasmonkey, based on the Discovery Channel tv-show "Fast N' Loud" which featured the Texas based Gas Monkey garage. In 2019 Heiden was still on ponies and competed Colourfull Cannonball at the Pony Europeans in Strzegom to a 6th place in the Kur to Music.
The 2019 European Children Champion, Allegra Schmitz-Morkramer, made a seamless transition to junior level aboard her 8-year old Holsteiner bred Lavissaro (by Lissaro van de Helle x Aljano). The pair finished in a provisional third place in the team test on 72.243%, having all five judges quite in unison. 
Germany on Gold Medal Course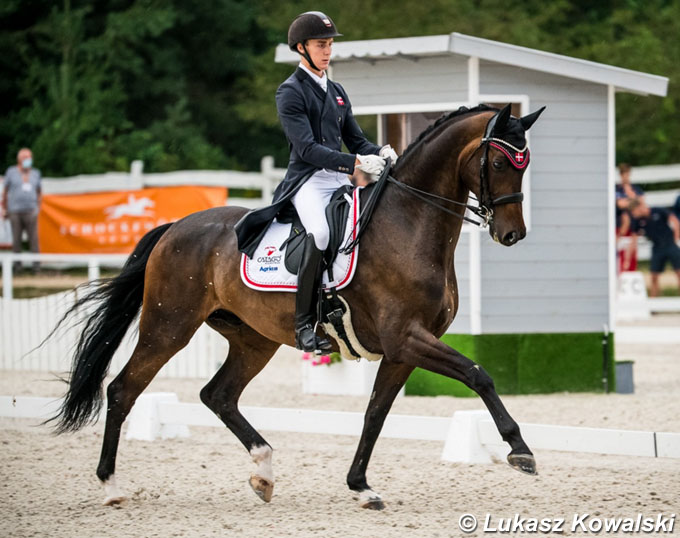 With half the field having ridden the team test, the team of Germany is on gold medal course standing first with 146.758 team points. 
The Dutch team is currently in silver medal position on 141.939 points, led by Robin Heiden and Gasmonkey. The second Dutch score came from team new comer Shanna Baars on the 10-year old KWPN gelding Fernando (by Westpoint x Donnerhall). They are currently 8th with 69.151%. 
The Danish team is holding the bronze medal spot at the moment with  140.728 points. The best scoring Dane at the moment is Kristian Würtz Green aboard the 8-year old Danish bred Bovbjergs Zhivago (by Romanov   x Don Schufro). The pair scored 70.637% to finish fourth provisionally. Wurtz Green is no team new comer. Three years ago he represented Denmark at the 2017 European Pony Championships on Lilo L. His second pony, D'Artagnan, who was always the brides maid during his pony days, is now Denmark's number one dressage pony under Liva Addy Guldager Nielsen.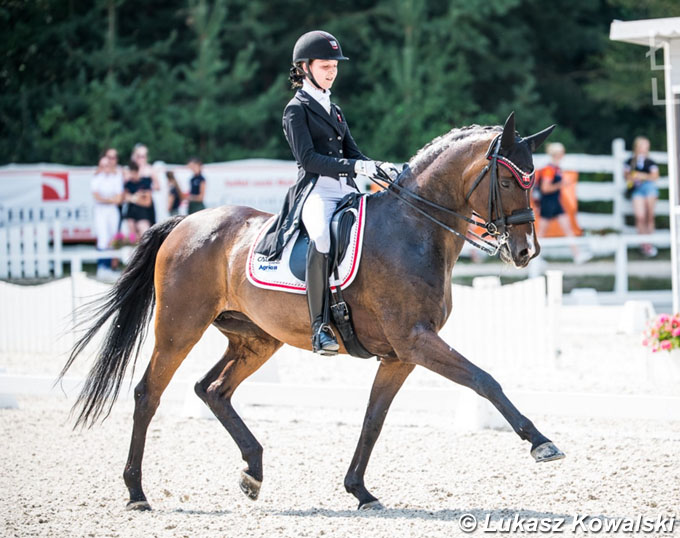 Danish Maja Emilie Leth and her 14-year old Danish mare Stasia EG (by Stedinger x Akinos) slotted in fifth provisionally with 70.091%. Leth's mare has had a whirl wind career so far, claiming the international spotlight back in 2011 by competing at the World Young Horse Championships under Dane Matthias Tourbier. The mare then sold to millionaire and Danish Olympian Anna Kasprzak, but she did not find her match with her. Stasia EG moved to the Czech Republic in 2017, the young rider Anezka Zajicova, who rode her at the 2017 and 2018 European Young Riders Championships. In 2019 she moved to Leth's stable back in Denmark and this year got selected on the Danish team. 
France and Belgium Neck to Neck
The teams of France and Belgium are in a neck-to-neck race in the top five, with France covering a provisional fourth place on 137.394 points, and Belgium just a fraction behind on 137.273 points.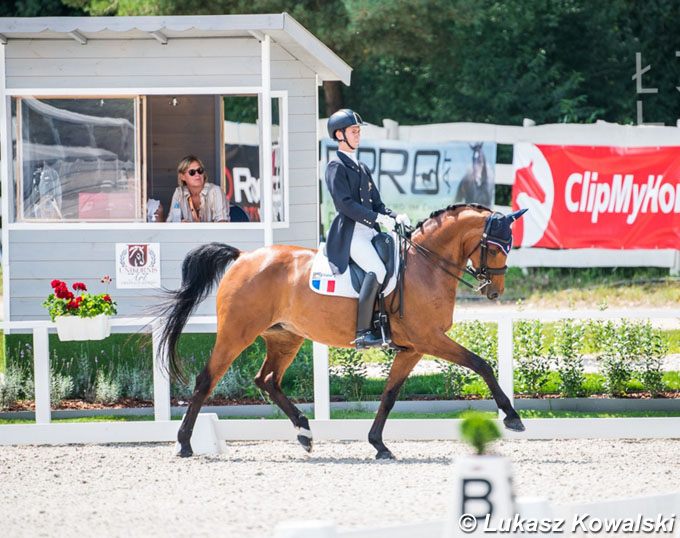 France's highest ranked rider so far is Alexandre Cheret on the 14-year old KWPN mare Bamona (by United x Inspekteur). Previously shown up to international medium tour level by French Veronique Pruede Seguret, Bamona was allocated to Alexandre in 2019. The partnership has now gelled and in Budapest they scored 69.394% in the team test to place sixth provisionally. Ella Lostria and the 8-year old Bon Romantic (by Bordeaux) are 11th with 68.000%.
Dutch born Belgian Jette de Jong steered her 8-year old KWPN gelding Heavenly Charming (by Charmeur x United) to a 68.909% score and a 9th place, while team mate Clara Collard and the 11-year old KWPN gelding Escape (by Tuschinski x Kaiserstern) were right on her heels in 10th place with 68.364%. 
The second group of junior riders will compete in the team test on Tuesday. 
Text by Astrid Appels - Photos © Lukasz Kowalski
Related Links
Scores: 2020 European Children and Junior Riders Championships
Eurodressage coverage of the 2020 European Youth Championships