Van Olst Sales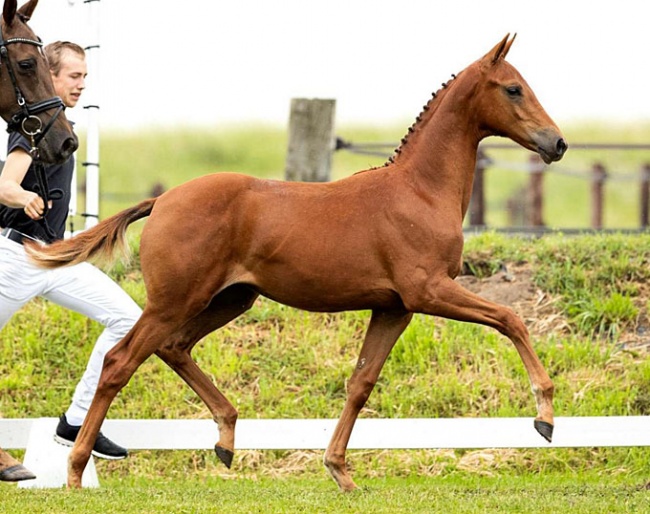 Dutch stallion owner Gert-Jan van Olst is hosting a second online auction of exquisitely bred dressage foals will be auctioned on 14 - 17 August 2020.
Due to the corona pandemic in 2020 the Van Olst Sales became an online format, which has been highly appreciated by breeders and buyers. Starting with a collection of well bred young sport horses in the spring, the first Foal Auction was held at the beginning of August.
On 14 August 2020 the bidding will start for a second lot of superb dressage foals and bidding concludes on 17 August 2020.
Offspring by Proven Stallions
This is a unique opportunity to purchase an exquisitely bred foal, sired by a Van Olst stallion such as Everdale, Glamourdale, Kjento, Jayson and Lantanas, directly sourced at the breeder.
Pastrade (by Kjento x Uphill x Olivi)
As her name suggests, Pastrade comes from one of the most famous maternal lines in the Netherlands. Her mother Felistrade is star and prok and Pastrade is her second offspring. Granddam A-Femmestrade is Elite and great-granddam Veistrade is ster preferent and sport. Some well-known horses from the dam line of this strong moving and long-lined foal are the KWPN approved Intro K, the international dressage horses Triviant and Derrick and the international show jumper Bella Strade
Pippendale (by Glamourdale x Johnson x Damiro)
It is not surprising that Pippendale does not have his talent from a stranger. Glamourdale just keeps winning and grandfather Johnson has competed at the very highest level in the sport. Dam Frizzle Liz is a star mare and a half sister of the Grand Prix dressage horse All-in, the Prix st. George horse Roancka M and the Z dressage horses Ecencka and Whitney.
Peronia K (by Kjento x Johnson x Houston)
Kjento is the father of many auction foals throughout the country. It is no surprise that he passes on his special qualities to his descendants. Periona K has been paired with the Johnson mare Ceresopra Champ. Johnson himself was active at the highest level. Grandmother Oprah is a keur prestatie mare by the stallion Houston. She is also the mother of 6 Z dressage horses and the Prix st. George horse Zoprah Champ v Royal Dance.
Bidding Closes on 17 August, Full After Sales Service Available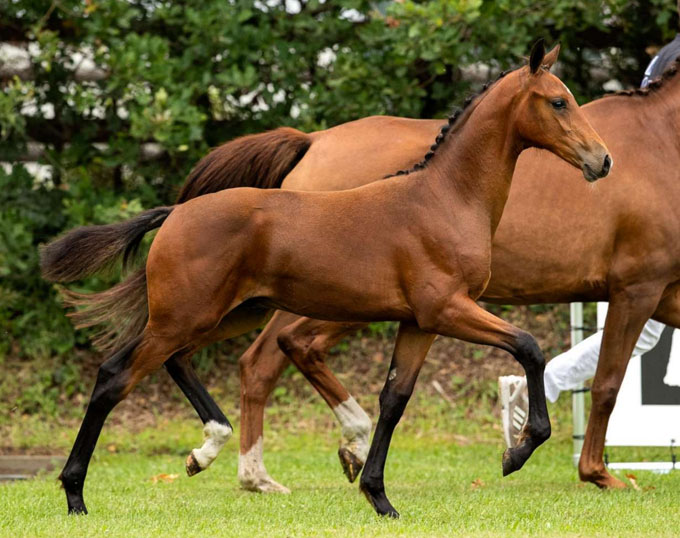 The Van Olst Sales Online Foal Auction starts on 14 August and will conclude on 17 August 2020 at 20h00. 
In order to bid, you need to register online. Your identity will not be revealed and the bidding is anonymous. Only the organizer has your contact information. 
Van Olst provides full "after-sales" assistance for clients who have purchased a foal at this auction. Invest in a foal and make the experience completely hassle free! The possibility exists to have the foal reared at the brand new Van Baalen Farms rearing stable, where your foal will grow up in professional care. 
Van Olst can also offer a total package for each client as well as provide assistance to get your 2.5 or 3-year old prepared for the licensing or be saddle broken. Tailor-made packages for the rearing and training of your youngsters in The Netherlands are available. 
The complete collection can be viewed online at https://vanolstsales.online/collectie/8