Hofauktion Borgmann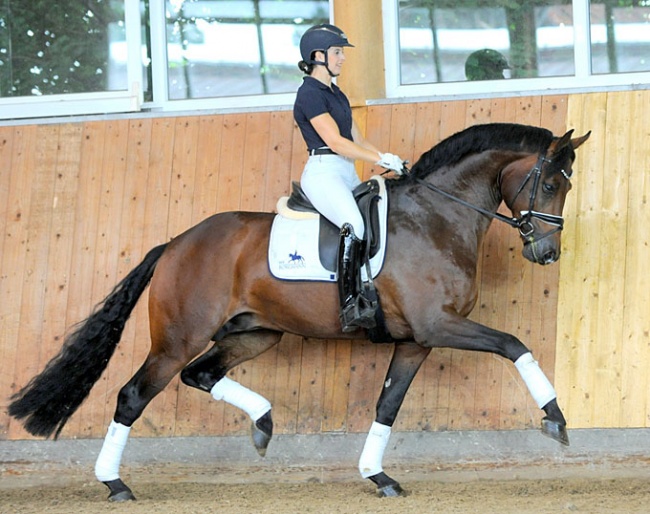 Westfalian horse breeder Stephan Borgmann can throw the party of a life time tonight as his 4-year old stallion About You sold for 1.65 million euro at the 2020 Borgmann Online Auction on 15 August 2020. 
About You (by AC-DC x Estobar) became an online sensation when his video was released. The compact, mega talented mover attracted the interest of Dutch Olympians Hans Peter Minderhoud and Edward Gal, amongst others, but it was Dutch dressage stable RS2 Dressage that came to the auction with the biggest wallet and shelled out 1.65 million for him. RS 2 Dressage is headed by Saskia and Jacques Lemmens, who run a pharmaceutical company, and sponsor dressage riders Robin van Lierop, Marieke van der Putten, and Seth Boschman. 
The second most expensive horse was the 4-year old stallion Aringer (by AC-DC x Ehrentusch), which sold for 190,000 euro.
The third most expensive horse was A New Love (by Adrenalin x Bretton Woods), selling for 95,000 euro.
The 3-year old stallion Attention (by Adrenalin x Den Haag) sold for 83,000 euro, while the 3-year old stallion Attraktiv (by AC-DC x Ehrentusch) found a new owner for  75,000 euro.
The 4-year old gelding Adlon (by AC-DC x Furst Piccolo) fetched 50,000 euro.
Twenty-two young sport horses were offered for sale and 18 of them sold at this auction; all of them home bred, reared and trained by Borgmann. Two received no offer and two were dropped from the auction.
The other horses in the collection sold for significantly lower prices between 10,000 and 25,000 euro. 
Related Links
Smashing Super Stars in 2020 Hofauktion Borgmann, the Hybrid Edition
Discover, Price Highlight of the 2018 Hofauktion Borgmann
AC/DC, Top Seller of the 2015 Hofauktion Borgmann