Vechta Auction News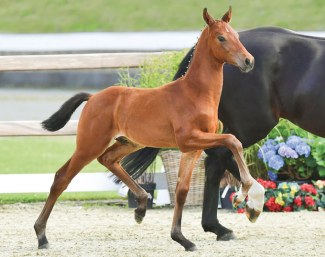 The colt Victor Hugo became the price highlight of the 2020 Oldenburg Summer Elite Foal Auction in Vechta on 15 August 2020.
Victor Hugo (by Valvarde x Donnerhall x Lanthan) sold for 36,500 euro to Switzerland.
Austrian clients went on a shopping spree in Vechta. They secured the liver chestnut filly Baronesse (by Borsalino x Foundation) for 33,000 euro,  the liver chestnut colt Very Smart (by Vaderland x De Vito) for 25,000 euro, the colt Desperados Junior (by Desperados x Hoftanz) for 15,000 euro, and the colt Future Dream (by Furst Toto x Samarant) for 13,000 euro.
Vincent (by Viva Gold x Fidertanz x Stedinger) moves to The Netherlands for 17,000 euro. 
A Belgian customer paid 18,250 euro for Jolie Fleur (by V-Plus x Belantis x Just Perfect), while a German bought Dance Royal (by Danone x Goldberg) for 16,000 euro.
My Sweetheart (by Morricone x Fidertanz) and Devotion (by De Royal x Dante Weltino) move to the U.S.A. for 12,500 euro and 9,500 euro. 
13 out of 25 auction candidates were bought by customers from abroad. They move to Austria (4), USA (4), Switzerland (2), Belgium (1), Great Britain (1), and the Netherlands (1). The 19th Elite Foal Auction shone with an average price of over 14,800 euro.