Vechta Auction News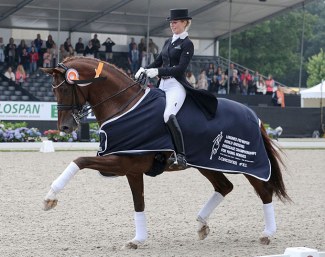 Star sire Vitalis enriches the collection of the 19th Elite Foal Auction with three top-class offspring. Vitalis by Vivaldi was the winner of the Nürnberger Burg-Pokal final under Isabel Freese and shines with spectacular performances and countless victories on the international stage. At the World Championships for young dressage horses Vitalis won the Intermediaire I and was honored as "Stallion of the Year". With Vitaly, Vitalis sends a movement genius from a first-class dam line. Vitalis has set an exquisite highlight with Vertias. And with Velvet Black, Vitalis is once again setting an exclamation mark in Vechta.
Cat. No. 28: Vitaly
by Vitalis - Fürst Romancier - De Niro.
Dam Große Flamme is sister of the Vechta auction horses Große Freude by Fürstenball, successful in advanced level with Danish Maja Juul, Champion stallion of the Oldenburg saddle licensing Boreas by Bordeaux for the USA, as well as the top-priced foals Fürst von Jever by Fürst Romancier/45,000 Euros, Great Stone by Grey Flanell/50,000 Euros and Vallauris by Vitalis/50,000 Euros.
Watch some impressions of Vitaly
Cat. No. 41: Veritas
by Vitalis - Sandro Hit - Rubioso N.
Dam Sandros-Soraya brought the Vechtaer top foals Tollität M by Totilas/22,000 Euros and De Lovely by De Niro/20,000 Euros. Her sister Sorena M produced the licensed and advanced level dressage successful Don Finito by Don Schufro under Friederike Tebbel.
Watch some impressions of Veritas
Cat. No. 42: Velvet Black
by Vitalis - San Amour I - Wolfgang.
Velvet Black's dam is sister of the licensed Oldenburg State Champion Samour by Sandro Hit and the Vechta auction horse Samour M by San Amour I, Prix St. Georges victorious in the USA under Sophia Schults.
Watch some impressions of Velvet Black
The collection of the 19th Online Elite Foal Auction presents the creme de la creme of the current foal crop from Wednesday, August 26th to Saturday, August 29th.
Secure your star
Simply register and here we go. Do you have any questions about the Oldenburger Elite Foal Auction? Then feel free to contact the Oldenburg support team at any time on phone +49(0)173-7573538 or by email at support@oldenburger-pferde.com. Alternatively, you can watch our tutorial "How does the Oldenburger Online Auction works": https://youtu.be/XfAjLCFtTwE. Here we explain how you can bid for your preferred candidate.
Consulting and customer service:
Dressage horses:
Thomas Rhinow: +49(0)172-9748487 or rhinow.thomas@oldenburger-pferde.com
Daniel Pophanken: +49(0)175-2930926 or pophanken.daniel@oldenburger-pferde.com
Manuel Springhetti: +49(0)170-7093018 or springhetti.manuel@oldenburger-pferde.com
General information/telephone bidding orders/catalogues:
Elisabeth Gerberding: +49(0)4441-935512 or gerberding.elisabeth@oldenburger-pferde.com
Heike Arends: +49(0)4441-935531 or arends.heike@oldenburger-pferde.com