F.O.C.U.S.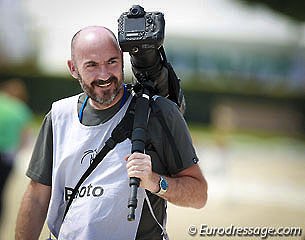 In the latest photographers' series, the FEI catch up with Eurodressage's contriburor Jon Stroud who says planning is key, but be prepared to take a risk.
Jon, who currently lives with his wife, two dogs, six horses and a cat in a little village in Herefordshire, UK, traded in photography of two wheeled sports for the four-legged kind in 2006.
He kicked off his photographer career in commercial and advertising photography in 1988 but took some time out of the profession to work in the publishing world during the second half of the 90s and early 2000s.
He returned to "life through a viewfinder" by working in motorcycle sport, specifically the World Superbike Championship and the Isle of Man TT Races, before making the switch to equestrian 14 years ago.
Switching to Equestrian, Preparation is Key
Since then he has covered multiple Olympic and Paralympic Games, FEI World Equestrian Games™, FEI European Championships and FEI World Cup™ Finals across the globe...
In addition, Jon has sat on the board of the International Alliance of Equestrian Journalists to represent the interests of member photographers since 2018.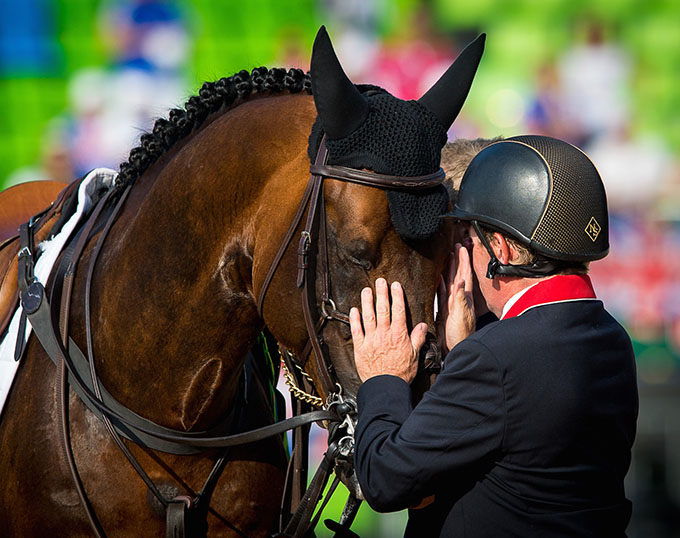 For Jon, he says the key to taking that perfect shot is to make a plan in advance.
He said: "This can involve so many things – what angle will I shoot from? Will I get low to the ground or try and elevate my position.
"Do I want to shoot tight or wide? What lens should I use? (Shooting with a long lens from a distance can give a very different feel to shooting close by with a shorter focal length lens). What is the light going to do at different times of the day?"
However, he notes, being flexible and willing to adapt with little warning is the key to catching those epic moments of emotion.
He continued: "For all of this preparation you have to be flexible and prepared to change plan at a moment's notice.
"For me this has often been about predicting possible outcomes and being prepared to play the odds and, on occasion, take a big gamble."
Take a Big Gamble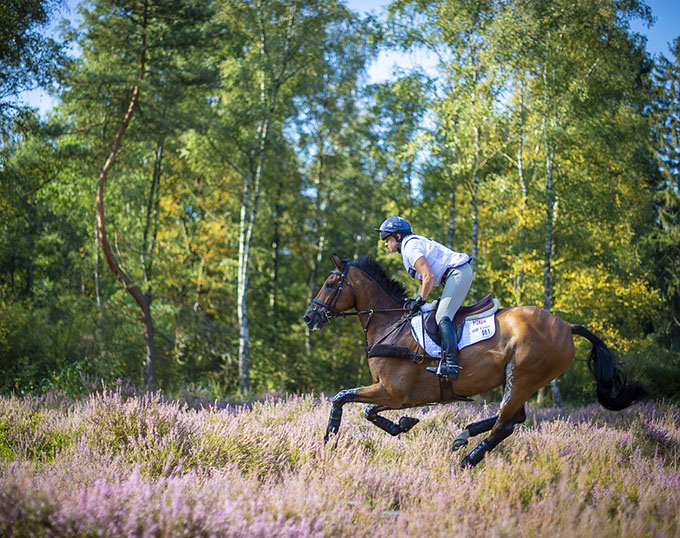 During the jumping final at 2016 Olympic Games in Rio, Jon said he had picked a great position to shoot the jump-off. Nick Skelton and Big Star were first to go and from the moment they finished their round he was 100% convinced Nick would take gold.
"While all of the other photographers stayed arena-side to capture the remaining five riders' rounds I quickly decamped with all my kit to the warm-up arena where Nick and Big Star were quietly warming down.
"It was a huge gamble that could have left me with nothing of the winning round but, as we all now know, Nick took the gold medal and I was the one there to capture his reaction and the emotional scenes that followed."
Make a plan but be prepared to take a risk, he urges!
Let's take a look at Jon's Top 5 FEI images from his career and find out a little bit about why he likes each one…
1. A Special Moment
"I find this so soft and gentle and quite contrary to the usual noisy, high-octane atmosphere of the Olympics.
I can almost imagine Nick experiencing this moment in complete silence."
2. Galloping Through the Heather
"I planned this shot a couple of days before having first spotted the beautiful heather in the woods on a misty early morning course walk.
I wanted to do something special so I chose to use a wide-aperture 50mm lens to create an almost surreal softness to the foreground and background and knew that I had to photograph one of the very first riders of the day to catch the perfect light."
3. Relationships are Everything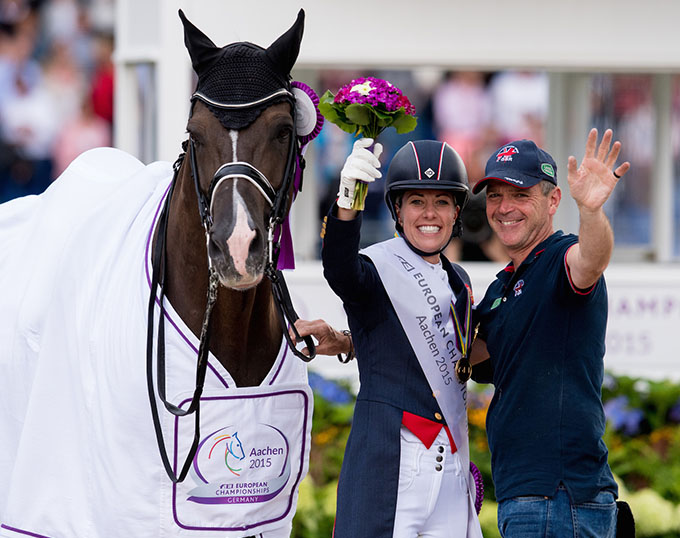 "I have been very lucky during my years of working in equestrian sport to have got to know many of the competitors, both equine and human, very well.
In 2015, I was fortunate enough to be asked to work as photographer for Carl Hester's book "Valegro, Champion Horse".
I had photographed Blueberry from way back when he was competing at Novice level in the UK and have tracked his, and Charlotte Dujardin's, parallel careers getting to know them both very well.
This relationship was rewarded in what, for me, was a touching moment at the 2015 European Championships in Aachen when, having just won individual Gold and with rather a lot on their minds, Charlotte dismounted the podium, grabbed super-groom (and my very good friend) Alan Davies and hunted me out amongst the hoards of photographers lined up on the field of play.
To be remembered, with everything that was going on that afternoon, was very special and personal to me and certainly ranks as a career highlight."
4. Home and Clear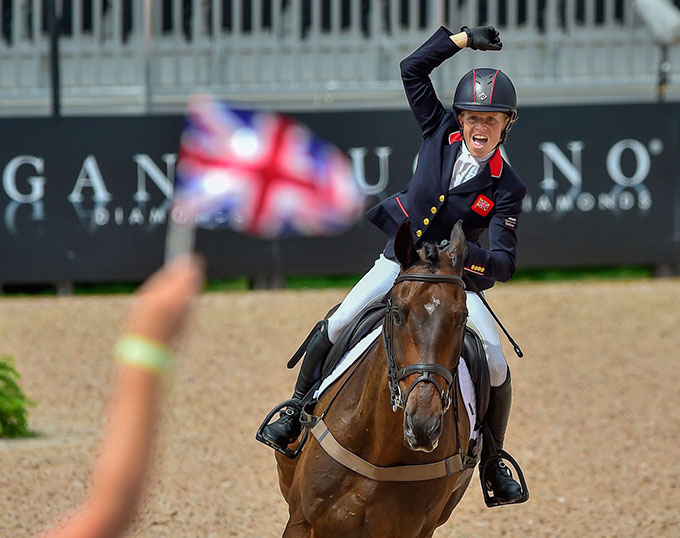 With a chance of her winning gold I took the view that jumping images of Ros were secondary to a great victory shot of a potential World Champion so, having watched the lines of a few other competitors, I picked a position in the rider's tribune that would best offer a clear and sweeping view of and celebrations.
I got my shot with an unexpected added bonus when, just as Ros rounded the corner punching the air, a spectator leapt to their feet waving a union jack flag.
This truly made the shot but I was so lucky they weren't sitting a little bit to the right! I wouldn't have been so happy if the flag had been right in front of Ros's face!
5. Wide Awake in Shetland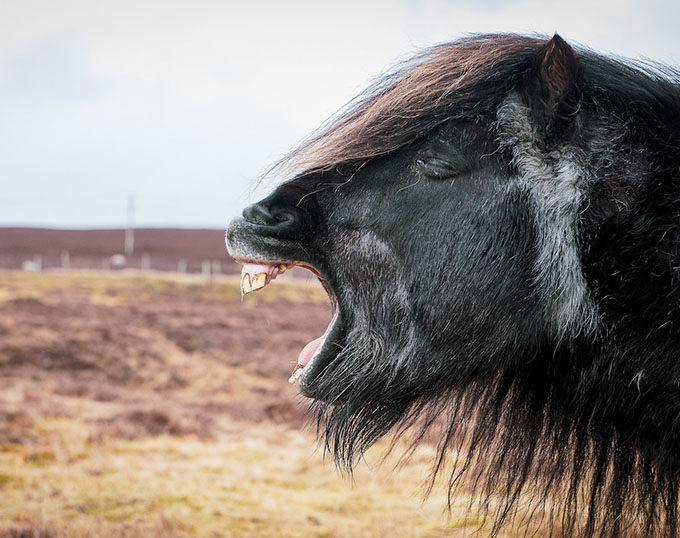 "My work doesn't just involve covering equestrian sport.
I was very lucky to be asked to spend a week working on location in Shetland, a group of islands that sit 170km north of the Scottish mainland and 300km west of Norway.
There may be more exotic locations in the world but It's the most wonderful place with a stunning landscape, fabulous people and, of course, Shetland ponies galore and I'm already planning a return visit for another project."