Nordic International Sales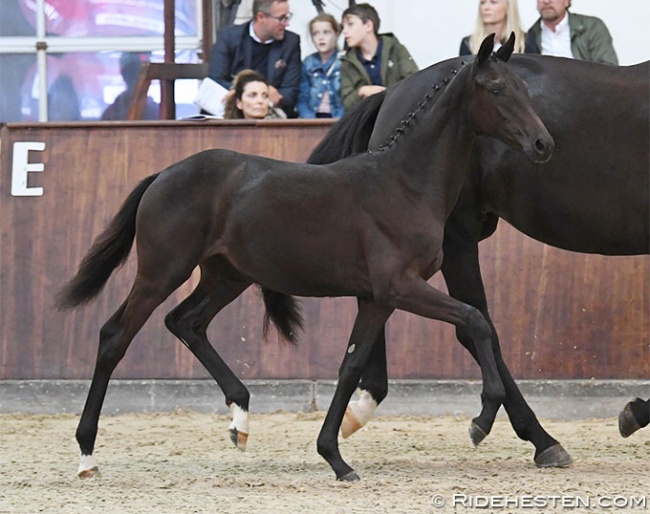 The 2020 Nordic International Sales foal auction, hosted by Helgstrand Dressage and Danish Warmblood, at the 2020 Danish Grand Prix Championships in Uggerhalne on 5 September 2020 was a big success.
It proved that a hybrid auction, with bidding online as well as live at the venue, is not hindered by the current Corona situation. High quality foals achieve top prices no matter what. Bids were placed from clients in Austria, Canada, Germany, the Netherlands, Sweden and the UK via telephone and internet.
Five foals were sold for more than 30,000 euro and three for 50,000 euro or more. 
Blackberry Most Wanted
The beautiful black filly Gørklintgårds Blackberry (by Franklin x  Gørklintgårds Santos), from the renowned Gorklintgaard breeder Jørgen Ravn, became the auction's price highlight with a knock-down price of 56,000 euro.
The second most expensive foal was the handsome colt Gammelenggårds Galiano (by Grand Galaxy Win x. Blue Hors Don Romantic), which sold for 54,000 EUR. He was offered for sale by breeder Nanna Jonsson and Stald Heiline.
Canadian amateur Grand Prix rider Vicky Lavoie, a long-time client of Helgstrand Dressage, acquired the colt Casper (by Janeiro Platinum x Dancier) for 50,000 euro.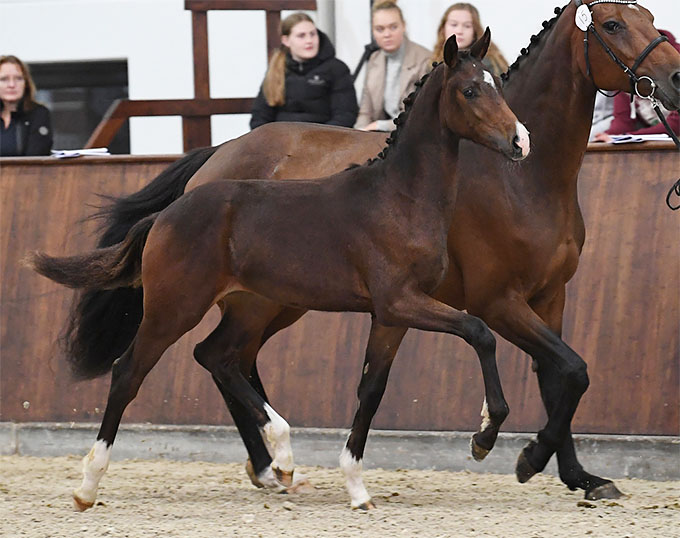 Local buyers from Northern Jutland, both return customers of Helgstrand Dressage, secured two high priced foals: Tjørnegårdens Tennessee (by Janeiro Platinum x  Blue Hors Hotline), bred by Christina Reslow, sold for 44,000 euro, and Flying Tabata Pilekær (by Jameson x Ferro), bred by Lars Langendorff and Anne Mette Rossen, sold for  31,000 euro.
HP Vin Chaud (by Vitalis x Furstenball), bred by Lone Boegh Henriksen, sold to Danish GP rider Carina Cassoe Kruth and Danish show organizer Jens Trabjerg for 15,500 euro.
Hybrid Auctions are the Future?!
Ulrik Kristensen, head of the Danish Warmblood auction committee, is delighted with the outcome of the auction and describes it as a major success. He underlines that the organizers owe the success to the breeders who have had the courage the retain their top foals for this auction. "Earlier this year, the Corona situation made it a challenging season, but nonetheless it was possible to sell foals for top prices in a totally different market. It required innovation and adaption including a new set-up with online bidding – a set-up that will be a part of our future auctions."
Interesting to note is that all the the top priced foals sold to people bidding at the venue itself and not online. 
The 2020 Nordic International Sales comprised a collection of 15 foals out of which 13 sold for an average price of 25,000 euro.
Related Links
Best of Denmark For Sale in the 2020 Nordic International Sales
Farrington Pilekær, Top Seller at the 2019 Nordic International Sales
Fellini, Top Seller of the 2018 Nordic International Sales
Faretti, Price Highlight of the 2017 Nordic International Sales