Nordic International Sales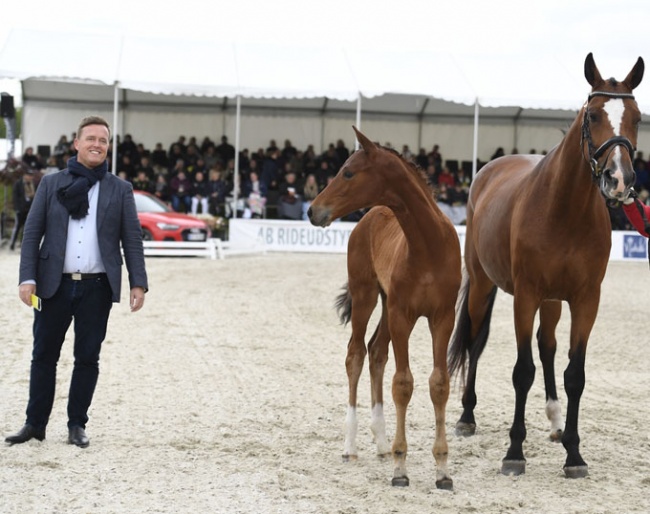 Farrington Pilekær became the price highlight of the third edition of the Nordic International Sales, an elite foal auction held at the CDIO Uggerhalne on 25 May 2019.
Farrington Pilekær (by Franklin x Sir Donnerhall I), bred by Anne Mette Rossen and Lars Langenhoff was purchased for 120,000 euro by Havgaard Horses. The company is also the owner of the most expensive NIS foal so far, the filly Faretti I (by Franklin x Don Frederico) which they bought for 150,000 euro.
The second most expensive foal was the colt Francetti. Sired by Franklin, he is out of a dam, who has two World Young horse Champions in her bloodlines: Sezuan and Fiontini.  Bred by Henrik Hansen, a regular business partner of Helgstrand Dressage,  the colt sold for 105,000 euro to another business partner of Andreas Helgstrand: Stutteri EVO, who co-owns Fiontini with Andreas and who also bought the full sister of this foal, Fellini, at the 2018 NIS.
The most expensive filly foal at the auction was Spring-Rose-Ø (by Springbank II VH x Blue Hors Farrell) and out of a mare which is maternal sister to the upcoming young stallion Blue Hors Zackerey. This filly, bred by Bente and Jens Møller Hansen, achieved a knock-down price of 70,000 euro.
Valerian (by Valverde) found a new owner for 61,000 euro, filly Margarethe (by So Unique) sold for 57,000 euro, Jealousity (by Janeiro Platinum) fetched 50,000 euro, while Vancouver S (by Vitalis) sold for 46,000 euro
This Nordic International Sales foal auction is a co-operation between Helgstrand Dressage, Equitour Aalborg and Danish Warmblood and most foals are DWB's. Danish Warmblood director Casper Cassøe was the auctioneer.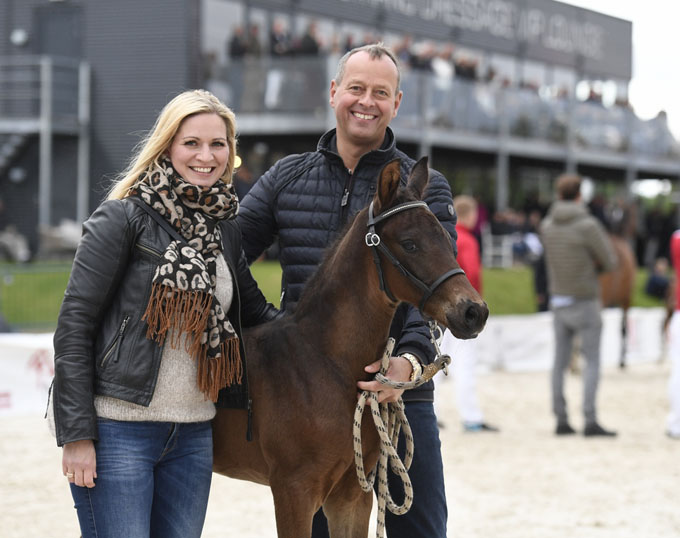 The sales' percentage the previous two years was as high as 90% but this year it dropped to 59%. However, the average price was the highest so far, with a foal costing 40,825 euro on average at the 2019 edition of NIS.
"We had a lovely auction with massive interest from abroad, and therefore the phone lines were extremely busy and the bidding went fast. Unfortunately, very bad weather kicked in and had a negative effect on the usual impulse buying. However, we are very pleased that this auction attracts new buyers as well as returning customer, and not least that the price highlights of the auctions, once again, were Danish Warmblood foals," said Casper Cassøe.
Related Links
Exquisite Collection of Foals Up for Auction at 2019 Nordic International Sales
Fellini, Top Seller of the 2018 Nordic International Sales
Faretti, Price Highlight of the 2017 Nordic International Sales