Portugal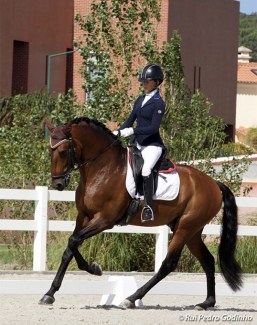 Portuguese Grand Prix team rider Maria Caetano has welcomed two new, young talents in her barn: Jasmim Plus and Guapa. 
After a 2.5-year training stint in Germany, Maria returned home to Portugal for the summer, reuniting with her family which she hadn't seen for months due to the corona lockdown. 
Her repatriation was not only a welcome emotional boost, reconnecting with her parents and friends, but also brought new opportunities for her professional career. With an active national show circuit on-going in Portugal and even several CDI's on the schedule, Portugal turned out be an ideal base for summer training and competition.
Jasmim Plus, "One of the Best Lusitanos I Ever Rode"
In addition, Maria was able to expand her string with two new horses that show promise for the future. 
The 6-year old Lusitano stallion Jasmim Plus (by Escorial x Peralta) is bred and owned by Vasco Francisco Freire of Dressage Plus and arrived in Maria's care 1.5 months ago. The pair clicked immediately and Caetano already got her feet wet in the show arena two weeks ago at the 2020 CDI Beloura, where they won the 6-year old classes with 79.900 and 82.400 points.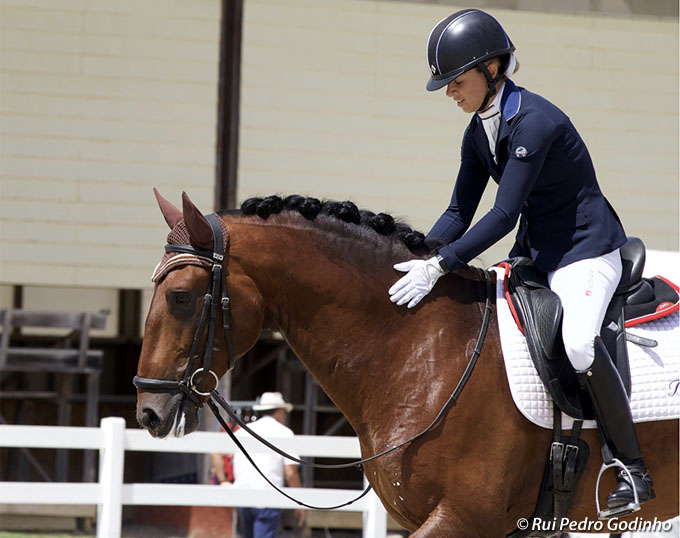 "He is definitely a super talent," said an ecstatic Caetano. "He can very easily perform all movements towards Grand Prix and already scored very high in young horses classes. He's one of the best Lusitanos I've ever rode."
The 2020 CDI Beloura in Sintra, Portugal, was hosted almost on Caetano's doorstep so she loaded two more horses on the truck. With her rising Grand Prix horse Fenix de Tineo (by Rubi AR x Oheide) she placed third in the Grand Prix with 69.456% and second in the Special with 70.511%, while with Happy Plus  (by Bretton Woods x Rubin Royal x Peralta) she was second in the Prix St Georges (70.765%) and she won the Intermediaire I (71.618%). 
Guapa R, from Broodmare to High Performance Sport Horse
The second new addition to the barn is Gaupa R, a 9-year old Lusitano mare (by Átila X Nabuco), bred and owned by Coudelaria Resina de Carvalho.
Previously trained by Dario Aleixo, Guapa moved in with Maria just a week ago.
"She has incredible movements," said Maria. "Super expressive trot work! She's a bit behind in her trained for her age, since she was on breeding duties for some years, but with her willingness to work I believe she will make it through all the exercises soon."
Photos © Rui Pedro Godinho
Related Links
Maria Caetano Returns to Portugal for Summer Training and Showing
Maria Caetano Relying on Lusitano Power, in the Present and Future
Corona Times: Hit & Run with Maria Caetano
Caetano and Coroado Write History for Lusitano Breed by Cracking 80% Barrier
Portuguese Team Selected for 2019 European Dressage Championships