2020 German Youth Championships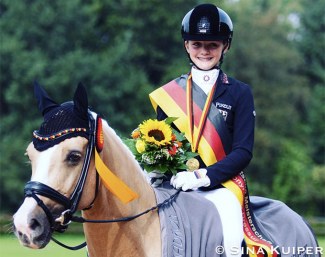 Pony rider Oatley, children rider Emily Rother, junior rider Allegra Schmitz-Morkramer, and young rider Luca Sophia Collin became the winners and new national champions in their age class at the 2020 German Youth Championships in Riesenbeck, Germany, on 11 - 13 September 2020. 
The 2020 German Youth Championships (DJM) in Riesenbeck are the season finale of the 2020 summer show circuit, which certainly was a different one from other years due to the corona pandemic. To continue with the untraditional strand, the German Nations for ponies, children, junior and young riders were held partly indoors instead of exclusively outdoor. 
Oatley Gets Second, Consecutive Pony Gold
Thirty-nine combinations competed in the pony division which featured an interesting field of riders. Two of the European Pony Championship gold medal team were absent, including European Pony Champion Lucie-Anouk Baumgurtel who opted to spare her pony Nasdaq and ride the junior Championship. The same strategy was chosen by Shona Benner, who left her Der Kleine Sunnyboy home and rode juniors instead. 
This left plenty of space for the 2019 German Pony Champion Rose Oatley to ride to her second, consecutive German title with the 10-year old Daddy Moon (by FS Daddy Cool x Capri Moon). The talented duo, that won team gold and Kur bronze at the Europeans, was the number 1 in Germany in all three rounds. She scored 78.55% in the team test, 80.37% in the individual and 85.05% in the Kur to leave the competitions miles behind her with a total of 243.960 points. 
The silver medal went to team mate, 14-year old Antonia Roth on the 9-year old Daily Pleasure (by HB Daylight x Dressman). After team gold and individual test bronze, Roth now can add a national silver medal to her tally. She placed second in the team test with 75.30%, third in the individual wutg 72.03% and second in the kur with 80.03% to finish second with 227.360 points. 
German team reserve Lara-Pinou Baumgürtel and the 15-year old Massimiliano (by Monsun x Cap Cennedy) landed the bronze. She was fourth in the first round (71.37%), then moved into second place in round 2 (72.85%) and finished third in the freestyle with 78.00%. Her total of 222.210 points was good for an overall third place on the leader board, while the fourth placed Paulina von Wulffen and her 2018 European Pony champion mare Top Queen H was fourth with 216.980 points. 
"I'm incredible proud of our performance," said the 13-year old Oatley. "Daddy Moon felt really well in the warm up test. In the second round my mom (Kristy Oatley) had almost tears in her eyes while  was riding. And after the Kur, when we saw I got 85%, our feelings exploded."
Rother Wins Children Championship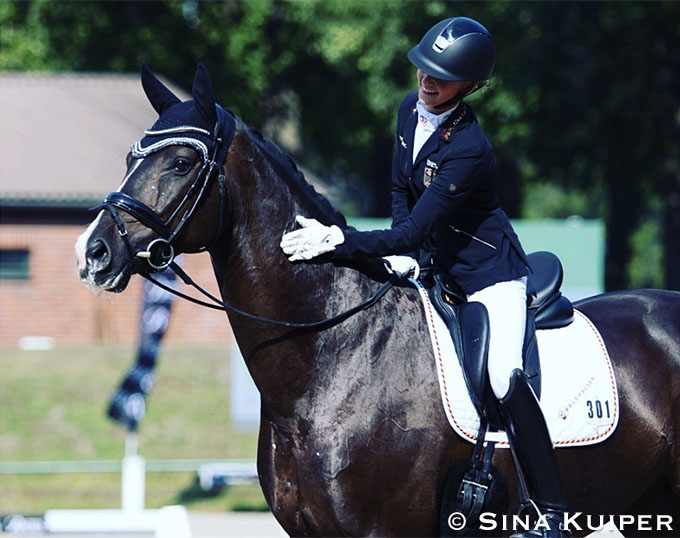 For Children rider Emily Rother the 2020 show season was a blast despite the rollercoaster season due to Covid-19. Her first international show in her career was the 2020 European Children Championship, where she won triple gold. To put the icing on the cake she also dominated the 2020 German Children Championship. 
For the second year running, the podium for the German Children Championship is decided by a finals with horse change, in which the three highest scoring riders of the first two rounds end up riding each other's horses in the finals. 
The horse change finals became a battle between Rother, her European championship team mate Carolina Miesner and new comer on the scene, Josephine Ruppert. The third German Children's team rider at the Europeans - Clara Paschertz - did not declare for the Nationals in this divisions, but opted to ride her pony in Riesenbeck. 
Rother dominated the finals, riding the highest score on all three horses. She got 8.8. on her own Jasper (by Jazz Rubin x Pik Donnerhall), and scored 9 on Miesner's Angelina (by Decurio x Liberator), and 8.2 on Ruppert's Bella Donna (by Belissimo M x Dimaggio). She totaled 26 points for the gold. The silver went to Rupport who got 8.5 on Angelina, 8.2 on Bella Donna and 8.4 on Jasper (total 25.1 points). Carolina Miesner finished with bronze on 24.3 points after scoring 8.7 with Angelina, 7 with Bella Donna and 8.6 with Jasper. 
Judge Dietrich Plewa praised the winner as following: "your performances improved throughout. You showed in such a beautiful way how to connect with a horse. You want to be one with a horse and you succeeded."
Schmitz-Morkramer Rises to Junior Gold
Forty combinations gathered for the junior competition. The 2020 European Junior Kur gold medal winner Valentina Pistner and QC Flamboyant decided to sit this one out and compete at the CDI Hagen in two weeks instead. Also a no-show was the European double individual bronze medal winner Jana Lang, who decided to give Baron a break.  The other two German team gold medal winning riders  - Anna Middelberg and Allegra Schmitz-Morkramer - were in Riesenbeck and breathing down each other's neck.
In the end it was Schmitz-Morkramer and her 8-year old Holsteiner gelding Lavissaro (by Lissaro van de Helle x Aljano) who rose to the top and finished on the highest step of the podium with gold. They were third in the team test with 72.03% but then won the individual as well as the Kur with 74.56% and 79.43% to finish on a winning total of 226.01 points. 
Only with a fraction less - 225.25 points - did Anna Middelberg get the silver. Aboard her 9-year old Hanoverian Blickfang HC (by Belissimo M x Brentano II), the European individual test gold medal winner won the team test with 73.02% and was second twice in the individual and Kur with 74.47% and 77.75%. The bronze went to 2020 European Pony champion Lucie-Anouk Baumgurtel on her 9-year old Hanoverian Farlana FH (by Furstenball x Lancier). She was second in the team test with 72.16%, and twice third (73.73% and 73.98%). 
"The German Championships are my second big highlight of the year. I'm so proud of my horse and what we have achieved in our first year as juniors," said Allegra, who won the German Children Championship in 2019.
Collin Climbs to Gold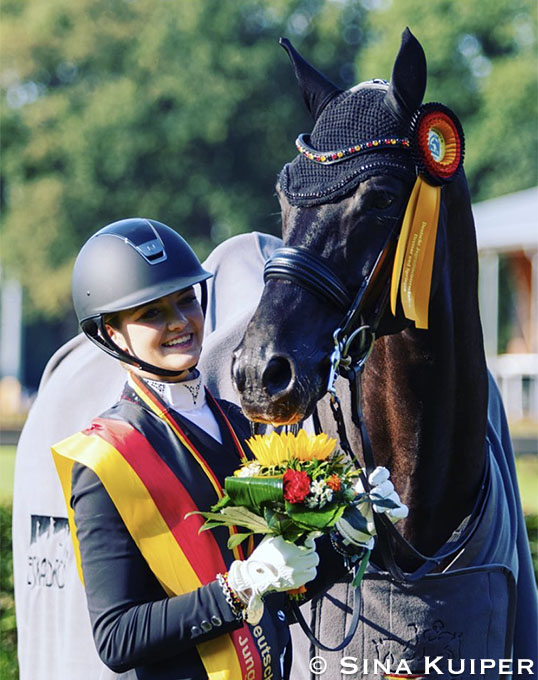 Thirty-seven Young Riders appeared at the starting line at the beginning of the weekend and it was European team silver medal winner Luca Sophia Collin who ruled the roost in Riesenbeck and climbed to gold with 227.88 points. Aboard her 10-year old Hanoverian gelding Descolari (by Desperados x Weltmeyer) she won all three rounds with 75.18%, 74.25% and 78.45%. 
The silver medal went to Jana Schrödter on the 8-year old Westfalian mare Frau Holle (by Furstenball x Riccio). They scored 74.04%, 74.17% and 75.80% to finish on 224.00 points and the second step of the podium, a nice consolation after missing out on the 2020 European Young Riders Championships due to a positive medication test. The bronze went to Lia Welschof on her third horse, the 18-year old Oldenburg Don Windsor (by Don Cardinale x Waldstar xx). Welschof left triple European championships silver medal winning First Class home for a holiday, while her number one ride Linus K is still recovering from an injury. With routinier Don Windsor she worked her way up on the board, placing fifth in the team test with 73.07%, fourth in the individual (72.85%) and second in the Kur (76.50%). They finished on 222.42 points.
"Luca already rode well at the European Championships and since then she got even more control over her nerves. Both were very secure in all gaits," said German youth team trainer Hans-Heinrich Meyer zu Strohen. 
Photos © Sina Kuiper
Results - 2020 German Youth Championships - Riesenbeck
Pony Riders
1 Daddy Moon - Oatley,Rose - 78,55 - 80,37 - 85,05 --- 243,96
2. Daily Pleasure WE - Roth,Antonia - 75,30 - 72,03 - 80,03 --- 227,36
3. Massimiliano FH - Baumgürtel,Lana-Pinou-  71,37 - 72,85 - 78 --- 222,21
4. Top Queen H - Wulffen,Paulina von  - 71,50 - 70,29 - 75,20 --- 216,98
5. FS Mr. Magic - Bomberg,Jona-Emily-  71,15 - 70,49-  74,68 --- 216,32
6. Drink Pink - Middelberg,Lara - 71,11 - 70,57 - 73,25 --- 214,93
7. SF Dark Royal - Neumann,Nina Sue - 70,94 - 69,23 - 74,23 --- 214,39
8. Carleo Go -  Schmitz-Heinen,Julie Sofie - 70 - 70,57 - 73,45 --- 214,02
9. De Long - Binder,Marlene Maria - 70,26 - 70,61 - 72,75 --- 213,62
10. Frühlingstraum - Palm,Enya - 69,62 - 70,20 - 71,78 --- 211,59
11. Dabia Dior - Kohnle,Maleen - 68,63 - 71,83 - 71,10 --- 211,56
12. Novellini - Miesner,Carolina-  70,94 - 68,74 - 62,03 --- 201,71
Children
Rider - Angelina  - Bella Donna - Jasper --- total
1. Rother, Emily -  9 -  8.2 - 8.8 --- 26
2. Ruppert, Josephine -8.5 - 8.2 - 8.4 --- 25.1
3. Miesner, Carolina -  8.7  - 7  - 8.6 --- 24.3 
Junior Riders
1. Lavissaro - Schmitz-Morkramer,Allegra 72,03 - 74,56  - 79,43 --- 226,01
2. Blickfang HC - Middelberg,Anna 73,02 - 74,47 - 77,75 --- 225,24
3. Farlana FH - Baumgürtel,Lucie-Anouk 72,16 - 73,73 - 73,98 --- 219,87
4. Brisbane - Benner,Shona 71,98 - 72,68 - 72,53 --- 217,18
5. Summer Rose OLD  - Allard,Romy 71,22 - 71,54 - 72,58 --- 215,33
6. Inspire -  Klenk,Kelly-Ann 70,50-  70,22-  71,55 --- 212,26
7. Mellemhaves Copperfield - Gagel,Pia-Carlotta 69,28 -  70,35 -  72,63 --- 212,26
8. Barolo M - Hodes,Philippa 70,45 - 71,45 - 70,30 --- 212,20
9. Samoa - Casper,Lisa 69,87 - 70,18 - 72,05 --- 212,09 
10. Florentine - Schmitz-Morkramer,Helena 69,01 - 70,92 - 72,10 --- 212,03
11. Cecil - Schwierking,Kenya 69,87 - 69,83 - 69,65 --- 209,34 
12. Final Selection - Löbbert,Nele 68,83 - 69,96- 67,20 --- 205,99
Young Riders
1. Descolari -  Collin,Luca Sophia 75,18 - 74,25-  78,45 --- 227,88
2. Frau Holle - Schrödter,Jana 74,04 - 74,17 -  75,80 --- 224,00
3. Don Windsor OLD - Welschof,Lia 73,07 - 72,85 - 76,50 --- 222,42
4. Nymphenburg's Easy Fellow - Fircks,Cosima von 73,86 - 73,25 - 74,98 --- 222,08
5. Wild Willy Granly - Laabs,Luna 73,07-  71,97-  73,15 --- 218,19
6. United Europ - Kaltstein,Alina 71,71 - 71,89 - 73,50 --- 217,10
7. Franziskaner - Netz,Raphael 71,67 - 70,26 - 73,28 --- 215,21
8. Genua TC - Reef,Sophie 71,45 - 70,88 - 71,93 --- 214,25 
9. Quotenkönig -  Friesdorf,Theresa 73,11 - 71,62 - 68,60 --- 213,34
10. Rocky's Sunshine - Schmidt,Henriette 72,54 - 70 - 70,33 --- 212,87
11. Dancing World - Wulffen,Elisabeth von 70,53 -  69,04 - 71,53 --- 211,09
12. Hayden HR - Ritzinger,Sophia 71,10- 67,59 - 65,88 --- 204,56
Related Links
Oatley, Schmitz-Morkramer, Schrödter, Rothenberger Win 2019 German Youth Riders Championships
Treffinger, Pistner, and Welschof Win 2018 German Youth Riders Championships
Alegra Schmitz-Morkramer Wins 2018 German Developing Pony Rider Championship
Middelberg, Allard, Rothenberger Win the 2017 German Youth Riders Championships
Erbe, Horstmann, Becks Win 2016 German Youth Riders Championships 
Rothenberger and Nowag Win 2015 German Youth Riders Championships
Mende, Abbelen, Rothenberger Win 2014 German Youth Riders Championships
Rothenberger, Abbelen, Niemann Win 2013 German Youth Riders Championships
Rothenberger, von Platen, Kienbaum Win 2012 German Youth Riders Championships
Walterscheidt, Voigtlander, Rothenberger Win 2011 German Youth Riders Championships
Photo Report: All the Action from the 2010 German Youth Riders Championships
Scores: 2009 German Youth Riders Championships
Photo Report: 2008 German Youth Riders Championships in Hannover
Photo Report: 2007 German Youth Riders Championships in Steinfeld
Photo Report: 2006 German Youth Riders Championships