The Netherlands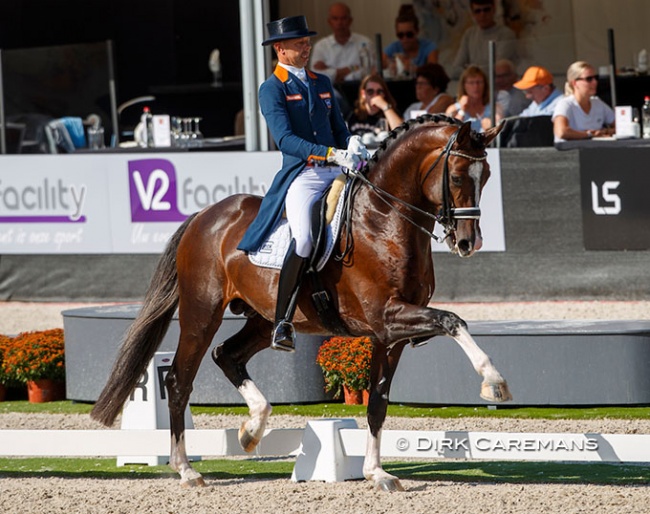 The Dutch equestrian Federation and KWPN society will hold its one and only Dutch team selection trial for the 2020 World Young Horse Championships next week in Nunspeet. Ringing names are to be found on the entry lists.
After several preliminary selection trials in the spring, based on video entries as well as live sessions, the Dutch team selection was arrested due to the corona crisis as well as due to the postponement of the World Championships from August till December.
The KNHS and KWPN will now hold one team selection trial on 1 - 2 October 2020 in Nunspeet.
The entry list for Nunspeet has some star-studded pairs, including the 2019 World Young Horse Champion Jovian (Andreas Helgstrand) and the 2020 Dutch Small Tour Champion Invictus (Hans Peter Minderhoud). 
At the selection trial all combinations have to perform the Finals test after which a 15 minute training session takes place. 
Starters List - 1 October
Kim Thijssen - Kadym (5yo, by Ferdinand)
Veronique Roerink - Khaleesi (5yo, by Negro)
Annika Roodhart - Kintyre (5yo, by Grand galaxy win)
Kirsten Brouwer - Jheronimus (6yo, by Dream Boy)
Diederik Van Silfhout - Kyando (5yo, by Arlando)
Marieke Van der Putten - Keano (5yo, by Governor)
Kirsten Beckers - Jeniro (6yo, by Negro)
Maxime Osse - Kapri Son (5yo, by Capri Sonne Jr.)
Femke De Laat -  Kind Pleasure (5yo, by Governor)
Mette Jensen Kremlin MD (5yo, by Governor)
Diederik Van Silfhout - Impression (7yo, by Don Schufro)
Marieke Van der Putten - Kuvasz (5yo, by Glamourdale)
Andreas Helgstrand - Jovian (6yo, by Apache)
Anne Mette Strandby Hansen - Janeiro Platinum (6yo, by Sezuan)
Lynne Maas - Incredible (7yo, by Charmeur)
Dinja Van Liere - Kaiman (5yo, by Dark Pleasure)
Tracy Wyngard Gill - Jasmal Al Sno (6yo, by Ferdeaux)
Jamy Ummels - Jillz (6yo, by Jazz)
Patrick Van der Meer - Jazzuan Svn (6yo, by Sezuan)
Nicky Snijder-  Jongleur Sth (6yo, by Expression)
Lynne Maas - Kaygo (5yo, by Capri Sonne jr.)
Dinja Van Liere - King's Pleasure (5yo, by Dark Pleasure)
Marijke Van Giesen - Kurona (5yo, by George Clooney)
Eva Möller  - Ibicus (7yo, by Ibiza)
Quinty Vossers - Inferno (7yo, by Everdale)
Nicky Snijder - Identity Sth (7yo, by Charmeur)
Jonna Schelstraete - SD Iristo (7yo, by Apache)
Emmelie Scholtens - Indian Rock (7yo, by Apache)
Thamar Zweistra - Hexagon's Ich Weiss (7yo, by Rubiquil)
Starters List - 2 October
Nikki Snijder and Jongleur at the 2019 Dutch WCYH
selection trial in Nunspeet Photo © Digishots

Margreet Prosman -  Ivanhoe (7yo, by Desperado)
Chris Epskamp - Jiolympia (6yo, by Sezuan)
Yessin Rahmouni - Impress Taonga (7yo, by Vitalis (Capriool)
Marie louise Moerings-  Indo (7yo, by Hofrat)
Marijn Van Dijk - Journalist (6yo, by Charmeur)
Vai Bruntink - Jatilinda (6yo, by All at Once)
Yessin Rahmouni -  Irabel (7yo, by Charmeur)
Charlotte Fry-  Inclusive (7yo, by Everdale)
Bart Veeze-  Imposantos (7yo, by Wynton)
Hans Peter Minderhoud - Kardam's Whisper (5yo, by Toto Jr)
Charlotte Fry-  Kjento (5yo, by Negro)
Bart Veeze - Kyton (5yo, by Ferguson)
Renate Van Uytert - Vliet -  In Style (7yo, by Eye Catcher)
Michelle Westerdijk - Kashmire (5yo, by Governor)
Emma Van den Hooven - Jarlien (6yo, by Electron)
Hans Peter Minderhoud-  Invictus (7yo, by Jack Sparrow)
Charlotte Fry - Jayson (6yo, by Johnson)
Renate Van Uytert - Vliet - Johnny Depp (6yo, by Bordeaux)
Dinja Van Liere - Independent Little Me (7yo, by Uno don Diego)
Tracy Wyngard Gill - Jasmal Al Sno (6yo, by Ferdeaux)
Saskia Van Es - Italo (7yo, by Fürstenball)
Charlotte Fry - Jeroen Leatherdale G (6yo, by Lord Leatherdale)
Hans Peter Minderhoud - King Zack (5yo, by Zack)
Renate Van Uytert - Vliet-  Just Wimphof (6yo, by De Niro)
Seth Boschman - I Am Sam (7yo, by Everdale
Dinja Van Liere - Key Largo (5yo, by Toto Jr)
Saskia Van Es - Jaccardo (6yo, by Desperado)
Mara De Vries-  Icerole DVB (7yo, by Desperados)
Marieke Van der Putten - Jameson (6yo, by Zack)
Photo © Dirk Caremans - Digishots
Related Link
Eurodressage Coverage of the 2020 World Championships Young Dressage Horses