Futurity Elite Online Auction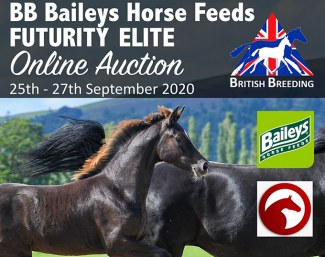 With Covid 19 affecting everyone's ability to travel long distances and run public events or open days, we have recently seen a plethora of new online auctions popping up, with barely a day passing on social media without a new auction advert appearing on our timeline. What then, is so new or different about British Breeding's Futurity Elite Online Auction? 
Unlike studbook or private auctions, the Futurity Elite Online Auction drew on around 400 British Breeding Futurity entries this year to create a selection of 40 exceptional lots with superb pedigrees, but above all with the highly respected seal of approval that comes from achieving a Gold or even an Elite Premium at the BB Baileys Horse Feeds Futurity Evaluations. Of those, 20 are bred for dressage and thus make up the first half of a very exciting selection to go under the hammer 25-27 September, with final bid up starting from 6pm UK time. 
An Online Auction with a Difference
British Breeding is a not-for-profit organisation carrying out the Equine Development Programmes formerly performed by the British Equestrian Federation. Its Futurity is a thorough and holistic evaluation of foals and young horses open to horses and ponies bred for one of the Olympic disciplines regardless of studbook. In addition to numerical marks, candidates receive a detailed linear score with discipline specific guidance, which are published on the organisation's public database.
Says British Breeding Director Jane Marson: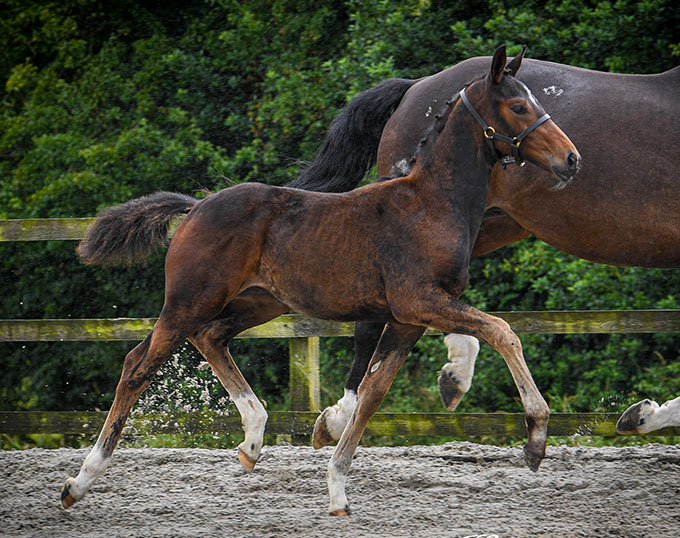 "The Futurity qualification is what makes the Futurity Elite Online Auction unique: Buyers can bid with confidence, in the knowledge that every young horse or foal for sale has been not only through the usual vetting, with x-rays for the older horses, but also through a rigorous assessment by a highly experienced, independent international team of evaluators, as well as by our head veterinarian and nutritionist, ensuring that our collection is of the highest quality, with strong emphasis on ability, performance, conformation and soundness."
Say British Breeding Director Dr Eva-Maria Broomer:
"It is always difficult to comment on a collection like this and identify particular favourites or stand out lots. The strength of this selection is its diversity and a direct reflection of what makes the Futurity so interesting: a way of taking the pulse of Britain's breeding industry and highlighting its creativity and ingenuity in creating a compelling cocktail of top international sires and  the very best of Dutch, Danish, German and of course a good dose of homegrown British lines. Above all, we see breeders increasingly investing in excellent motherlines, which is extremely encouraging."
Exciting Foals in the Collection
One example of a very interesting use of motherliness is Lot 7, bred by Liz Ball of Bramble Stud, in the catchily named colt foal Womble of Wimbledon. 
Womble is by the British bred stallion and son of Farouche, Woodlander Wild Child, who is now standing at the State Stud in Celle. What is interesting is that Womble's mother, Duffy Diamond, comes from the same family as Farouche, the line of Erlenkette. Crossing F-line blood back onto this mare family created not only Farouche, but also the Bundeschampionat winner Fürst Fabio and Sönke Rothenberger's international Grand Prix horse Favourit. Fürst Fabio is, in fact, out of Duffy Diamond's mother Waldrose who also bred the Grand Prix horse Sir Eon and who has two grandchildren at international PSG/Inter I level in San Fabia and Penhaligon's Juniper.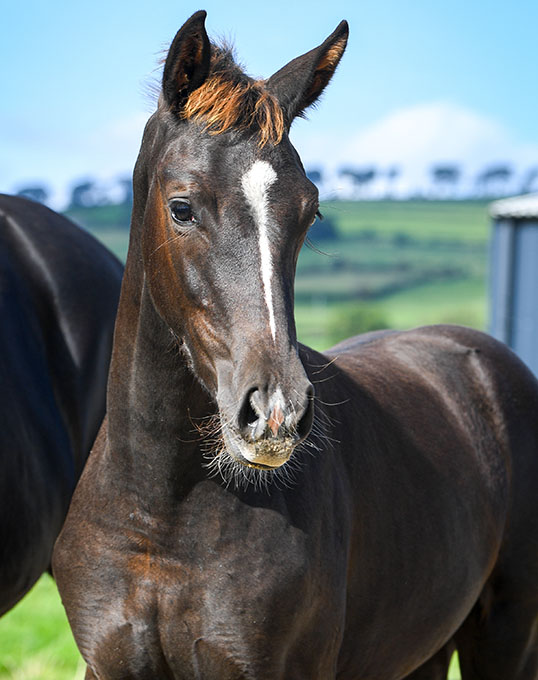 Other Lots represent different approaches, such as Lot 15, Wickwater Riley, bred by Laura Davis, who stayed resolutely Dutch in her choices. This colt foal will be particularly interesting to fans of the great Glamourdale, with whom Riley, by Lord Leatherdale out of a Negro mare, shares ¾ of his pedigree, which proved to be such a successful combination over the years. 
The auction candidate with the highest Futurity score is bred by Andrea Nigam in Lot 8, Primero's Ultimate Dream GHS, a colt foal who was awarded a Futurity Elite, which means that his overall scores from the vet, and scores from the international panel for conformation, walk, trot and canter, averaged over 9. He is by Dream Boy out of a Don Primero mare with showjumping lines behind that produced the Grand Prix showjumper Elpasso.
Another Futurity Elite entry is Lot 11, RHL Valhalla's Law, a colt foal bred by Emma Jackson and Becky Jackson-Colwill of Roundhill Law Sport Horses. He is by Vitalis out of a Florestan mare who has already produced PSG progeny in Rezzonico by Rubin Cortes and who is the full sister of three advanced level dressage horses. The direct motheline produced the licensed stallion Flavigny, also by Florestan.  
Seven Elites Awarded
Says Dr Eva-Maria Broomer:
"This year, out of over 400 entries, only 7 Elites were awarded across all ages from foal to 4 years old, and across all disciplines, which shows what a fantastic achievement this really is. We are delighted to have 2 of them in our dressage collection!"
Of course this year, the Futurity had to rise to the challenge of Covid 19 and come up with some innovative ways to ensure the continued input of international evaluators, which is key to the series' philosophy. Through Zoom conferencing, the Futurity brought together, from Germany, the highly successful breeder and respected judge Hans-Heinrich Brüning, the journalist Drs Bert van Wanrooij who looks back on decades of experience in Dutch equestrianism, as well as Rik van Miert, who served many years as the Vice President of the World Breeding Federation for Sports Horses, and as a director of the BWP. 
Says Futurity evaluator Drs Bert van Wanrooij:
"This year it was my first time evaluating at the British Breeding Futurity, but it certainly won't be my last. It is a totally unique system, having the veterinarian input, but also the way in which a lot of time for consideration is given to every entry, looking carefully at conformation, walk, trot and canter. At big events on the Continent, you can sometimes be in a rush and you rarely get to see the canter, which is so important. At the Futurity, each entry is given plenty of time for careful consideration for a thorough and fair evaluation."
Input from Veterinarian and Nutritionist Experts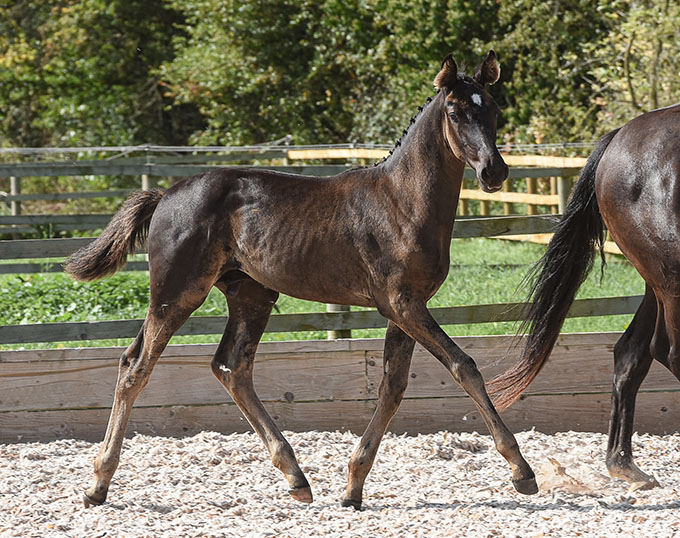 Highly valuable input was provided by veterinarian and nutritionist experts, who were meticulous in assessing every entry and provided what makes the Futurity unique: A rounded assessment not only to recognise excellence and assess correctness of conformation, but also to support the management of the Futurity candidates in view of improving long term soundness and welfare. To be considered for the auction, all entries had to score highly in their veterinary assessment in particular.
Say Jane Marson:
"Online auctions deliver exactly what vendors and buyers are looking for now: an accessible and convenient way of promoting quality youngsters and connecting breeders, owners, riders and producers from across the world. We are excited to be at the forefront of these developments and to offer our Futurity breeders this truly outstanding new opportunity."
Explore the Collection, Bidding Online
The auction selection can be pre-viewed on the British Breeding website, british-breeding.com, where interested buyers can access the details of each lot's Futurity evaluation. 
Full preview catalogue can be viewed at https://british-breeding.com/events/futurity-2020-virtual-evaluations/elite-futurity-auction
Bidding on the ClipMyHorse.tv website opens on 25th September and finishes on 27th September.  Live auction in association with Clipmyhorse.tv at https://auctions.clipmyhorse.tv/en/auctions/online-futurity-2020
Says Rachael Holdsworth:
"In the run up to the auction we will be holding several interesting webinars, in which we will talk to some of our evaluators and to industry figures about our lots to give interested buyers a detailed insight into the wonderful foals and young horses available. We will also invite some of our breeders to join us, so you have the opportunity to ask questions and find out more about the background of our auction lots. To round things off, and also to celebrate the fantastic Futurity season we had this year, we will hold a final Futurity Roundup and Celebration webinar on the last night of the auction."
Webinar to Introduce the Collection
A webinar dedicated to introducing the Dressage Collection will take place on Friday, 25th September at 7pm UK time. 
The End of Season Celebration which coincides with the final bid ups for the auction takes place on 27th September from 5.30pm.
To register for the preview webinars and End of Season Celebration/Auction Finale, visit https://british-breeding.com/webinars. 
Photos © Eva Maria Broomer, Tanja Davis