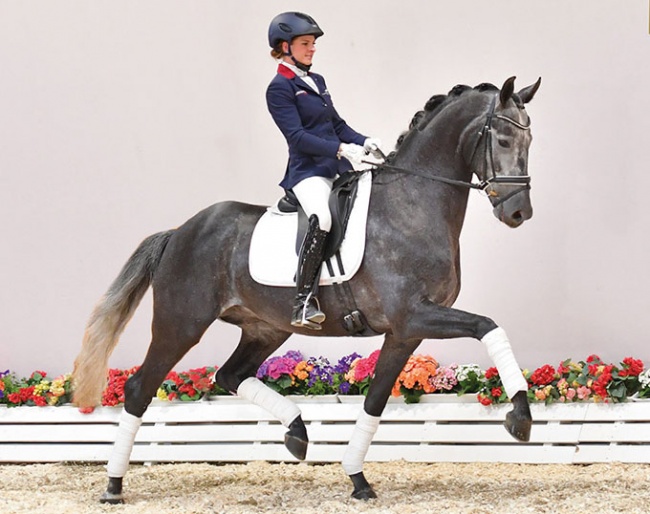 Successful dressage horses and talented youngsters for the international dressage rings around the globe will inspire on Saturday, October 3rd and Sunday, October 4th, in the online collection of the 93rd Fall Elite Auction at www.oldenburg.auction
The dressage horse collection inspires with successful youngsters to collect ribbons right away.
Young Star:
Young stars like the six-year-old grey stallion Borsody, Cat. Nr. 1, by Bordeaux - Sandro Hit - Donnerschwee.
This ultra-modern eye catcher from the famous Rudilore dam line is placed in dressage tests at 2nd level and ready for 3rd level. Dam Rudiflora is sister of the licensed Showdancer I, Intermediaire I with Lena Waldmann.
Movement giant in a class of its own:
The three-year-old Invictus, Cat. Nr. 3, by Asgard's Ibiza - Belissimo M - Londonderry.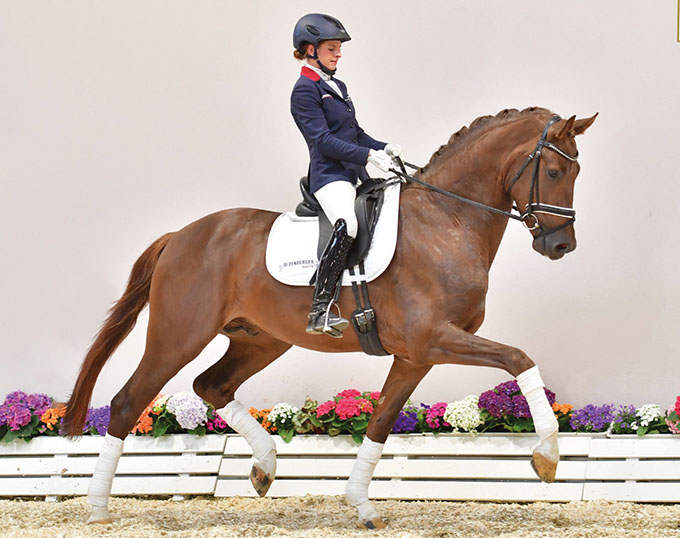 From the dam line: the Grand Prix successful Lesotho/Ellen Schulten-Baumer, Fürst Amante/Kelly Layne, AUS, and Briatore/Christin Potratz.
Charmeur with a special charisma:
The three-year-old black gelding Fosbury, Cat. Nr. 5, by For Romance I - Depardieu - Fürst Heinrich.
His granddam Fasil is sister of the licensed stallions Franziskus by Fidertanz/Grand Prix winner with Ingrid Klimke and Dementi by De Niro/Prix St. Georges with Bruno Greitemann as well as Fürst Ferrari/Intermediaire I with Hermann Burger.
Book a Try-Out
The horses are now in training and ready to be tried out by interested parties. Make an appointment with a member of our team and get to know your darling personally. Please contact our consulting and customer service team.
Foals in the Collection
And also modern top foals impress in the online collection of the Fall Elite Auction on Sunday, October 4th. The world's best stallions meet sporty mare lines. Secure your future star!
Fynch Hatton Salutes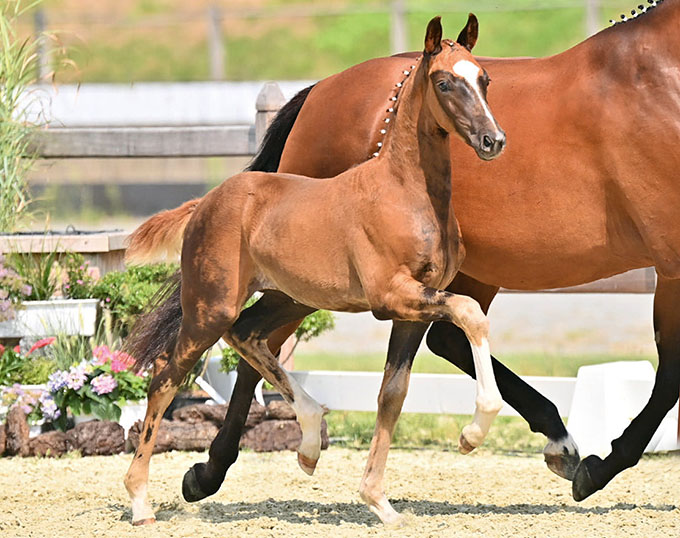 The saddle licensing winner and reigning German and Oldenburg State Champion Fynch Hatton OLD sends a beautiful stallion candidate par excellence. Feingold, Cat. Nr. 22, by Fynch Hatton - Fürst Romancier - Carry Gold, knows how to capture the audience straight away. From the dam line: the licensed Grand Prix winning Plaisir d'Amour/Markus Gribbe and TC Take it easy by Florestan I/Intermediaire I with Jasmien de Koeyer, NED.
Que Belle, Cat. Nr. 23, by Q-Sieben - Sir Donnerhall I - Rubinstein I – a brilliant dancer from a world famous dam line. From the Love Story dam line: the stallions Fürst Wilhelm, Feinbrand and the Grand Prix winning Sir Diamond/Juliette Piotrowski.
Almost ideal in every way:
Quentin, Cat. Nr. 54, by Q-Sieben - De Niro - Sevillano xx. Dam Dakati is sister of the licensed Force Majeur MN by For Romance I OLD and the top-priced auction horse D'arcy Diamond OLD by De Niro/Intermediaire I with Louisa Lüttgen. From the dam line: the Grand Prix star Foundation under Matthias Alexander Rath.
You can find an overview of the entire collection on the Internet in the auction area of the Oldenburg website: www.oldenburg.auction
You have the opportunity to follow the parade of the elite foals live on Friday, October 2nd at 6:00 p.m. and the presentation of the sport horses from 7:00 p.m. on the Oldenburg website www.oldenburger-pferde.com or at www.clipmyhorse.tv.
Consulting und Customer Service:
Dressage horses:
Information/Catalogue orders: