F.O.C.U.S.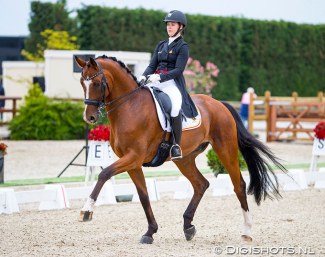 You see it happening time and again in the horse world. A junior/young rider gets a horse of which the talent and potential has exceeded all expectations and then the big offers start rolling in. For riders with no strong financial backing from parents, this often results in a sale. While the financial fortune puts them in a more comfortable position in life, for their competitive career it is often a set back. 
Dutch multiple medal winner Stephanie Kooijman sold her major team ride Winston to Greece, Swedish Mathilde Hannell lost the ride on her Under 25 hope Cassio and saw him leave for Denmark, and Belgian Kayleigh Buelens sold her highly successful young star Fifty Ways to Victory to the U.S.A.
After a stellar time in the European and World Championship arena, Buelens had to go back to the drawing board after selling Fifty Ways to Victory.
Through the Youth System
Like most international dressage riders Buelens begun her international competition career as a pony rider moving through the system from ponies to young riders.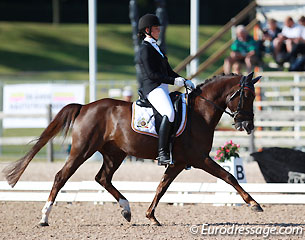 Her CDI debut was in 2012 on pony Rasputin but it was the Hanoverian bred pony Berlioz (by Benetton S x Dschingis Khan) which gave her a first taste of success in 2013. 
The pair represented Belgium at the 2013 European Pony Championships in Arezzo and returned on the pony team for the 2015 Europeans in Malmo, where they placed 16th in the Kur to Music Finals.
That same year the Buelens family purchased the 3-year old Oldenburg gelding Fifty Ways to Victory (by Foundation x Harvard), who is bred in Germany by American Holly Simensen, as the future horse for their daughter. 
Fifty Ways to Victory
With no budget for a ready made junior riders' horse, Buelens had to work with a youngster and train it up the levels herself. With the help and expert guidance of her coach Carmen de Bondt, the tall gelding developed in a seriously talented young dressage horse.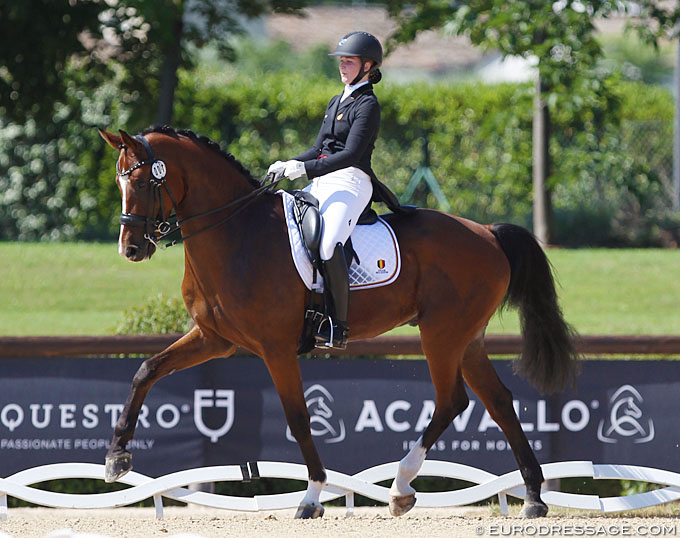 Kayleigh returned to  the international stage as a member of the Belgian delegation at the 2018 World Championships for Young Dressage Horses in Ermelo, The Netherlands, where they were fourth in the consolation finals. 
By 2019, Fifty was schooling the small tour level movements and Buelens returned to the youth circuit at Young Riders level. The quality of her horse and riding did not go unnoticed and the selectors picked her for the Belgian team to compete at the 2019 European Young Riders Championships in San Giovanni in Marignano, Italy, where they were 12th in the Kur to Music finals as best scoring Belgian duo. 
Two weeks after the Europeans, the duo won the gold medal and national title at the 2019 Belgian Young Riders Championships. 
Fifty to America, Back at Base One
These stellar achievements at the World Championships, Europeans and Nationals combined made offers on the horse rolling in. As Fifty had a clear future at Grand Prix level written all over him, he sold through horse dealer Jochen Arl to the U.S.A. as a Grand Prix hopeful. For Kayleigh it meant back to base one.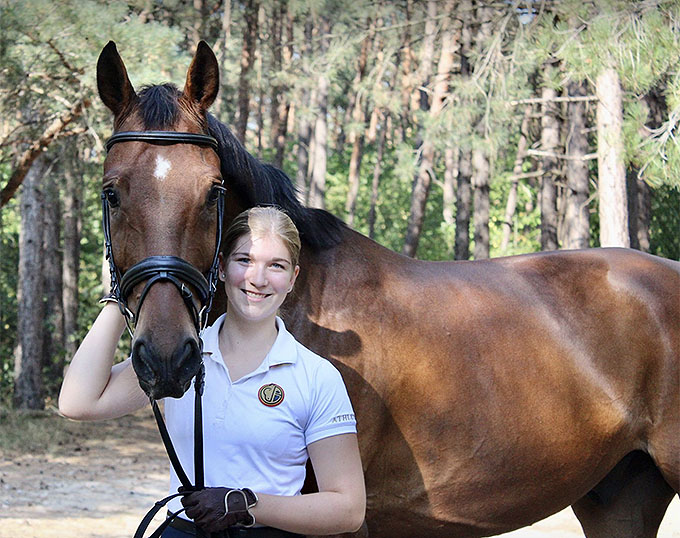 The expected transition from young riders to Under 25 was not take place and Kayleigh had to start all over again. Instead of investing her newly earned money in an FEI level trained horse, Kayleigh decided to go back to the basics.
"It has always been my ambition to buy and train one or two young horses after Fifty Ways to Victory," the 21-year old Kayleigh told Eurodressage. "With Fifty I truly discovered that my passion is developing youngsters to a nice level."
Kayleigh found two new youngsters quicklt: the 4-year old stallion Lordswood Legend (by Ferdeaux x Wynton) and the 6-year old gelding Fantastic Beast (by Feedback x Sir Donnerhall).
"I haven't competed either of them yet," said Buelens, who is also enrolled in the Karel de Grote College in Antwerp. "I will be taking my time to train and compete them. Like this I can conclude my Accountancy studies successfully."
Photos © Digishots - Astrid Appels - private
Related Links
Fifty Ways to Victory Sold to the U.S.A
De Jong, Goovaerts, Van den Steen, Buelens, Defalque, Roos Win 2019 Belgian Dressage Championships
Belgian Teams Selected for 2019 European Youth Riders Championships
Scores: 2018 World Championships for Young Dressage Horses
Belgian Horses Nominated for 2018 World Young Horse Championships