Ex-Pat Stories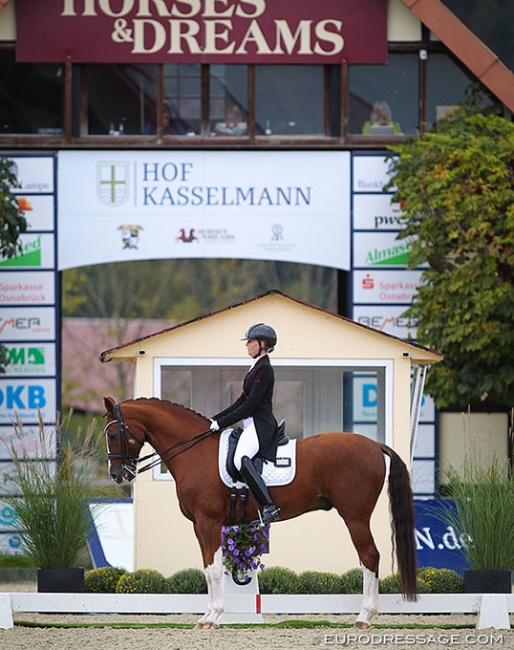 Since August 2019 Australian Rebecca Williams-O'Brien has relocated to Germany with her 9-year old Hanoverian gelding Hollingrove Dazzler. Originally from Emerald, Victoria "Bec" has been on an adventure, halfway around the planet, to train with Stefan Wolff at equestrian centre Sudenhof in Hagen.
Williams-O'Brien made her international show debut on European soil in July at the CDI Hagen and competed at the second September edition of the CDI Hagen two weeks ago. She shares her experience competing in Europe on the big stage with Eurodressage. 
ED: What was your feeling on Hollingrove Dazzler at the September CDI Hagen?
RWOB: I was very happy with how we went. Day 1 saw us do the Prix St Georges, where we got a PB of just over 66% and I was super happy with how he went, even if he ran out of gas by the end. Day 2 saw us tackle our first nter 1, that is also to say that it was my very first time competing at this level. Unfortunately, I totally over rode the test and as the saying goes "Slap the rider; pat the horse". But we did score just over a 63%, so I can't be too mad at myself. It was an amazing learning experience that's for sure.
ED: Does a show atmosphere feel different in Europe compared to Australia?
RWOB: I would say the show atmosphere aren't too different to those in Australia. Australia has some very well-run events, such as the Sydney CDI, Willinga Park Dressage by the Sea CDI, Boneo Park CDI's and Dressage with the Stars, and the organising committees are developing their events from events here in Europe. Unfortunately, with the interruption of the world wide lockdown and events being cancelled over this past European spring/summer I did really get to experience any of the amazing events Germany has to offer, but I do hope that next year, 2021, we will be back to "normal" with spectator participation and trade stand villages.
ED: How does it feel to ride at the same show as famous riders such as Isabell Werth, Jessica von Bredow-Werndl, etc.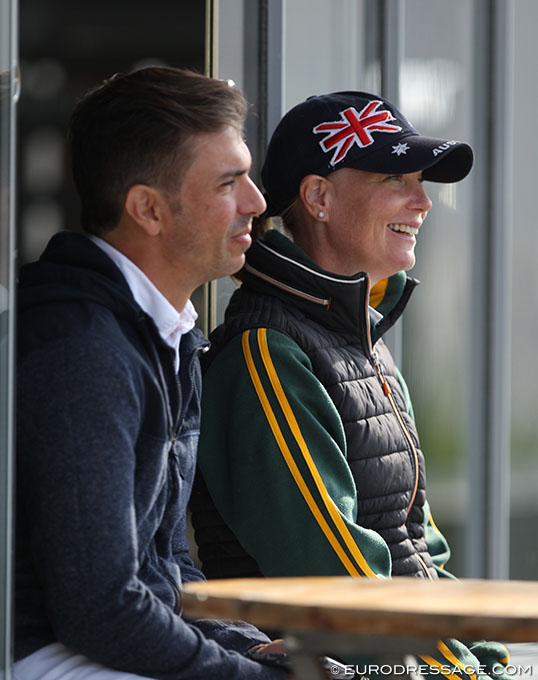 RWOB: Riding with the big names such as Isabell Werth, Jessica Von Bredow-Werndl, Lara Butler, Borja Carrascosa, Adelinde Cornelissen, Hubertus Schmidt, Charlotte Fry,…. and the list goes on… Well if you really want to have a mind blowing experience in life, entering a training session with these riders kind of makes me feel I should just stand with Hollingrove Dazzler and watch, and say to him, are you watching this buddy??? We are definitely not in Australia anymore.  And then there we are two "Little" Aussies, "Giving it a Go!" Ha Ha Ha – literally pinch me please.
The first Hagen CDI back in July, I was truly terrified, the nerves nearly got the better of me. It was really overwhelming, and then at this last Hagen CDI in September we were actually stabled with the British contingent and we had Charlotte Fry on one side of us and Rodolpho Riskalla on the other.  Rodolpho has his stallion, Don Frederic, based at Sudenhof (where I am) with Holga Finken so we know each other, but having Lottie and the Von Olst crew next to me, and competing with her in the Prix St Georges and Inter 1 my brain nearly had a meltdown. But then I did something interesting; I introduced myself and we had a little chat.
In my head I had built these amazing riders up, and respect them so highly for all they have achieved that I had forgotten one simple thing… They are still human! Once I had "broken the ice" I felt so much better, and the nerves departed. Because at the end of the day we all get our 6mins in the ring; and anything can happen. If anything this is one massive development for me personally, being able to get over competition nerves, and I'm actually really proud of myself for it.
ED: What is the most significant lesson you have learnt over here. What do you feel is missing in Australia to take dressage there to the next level?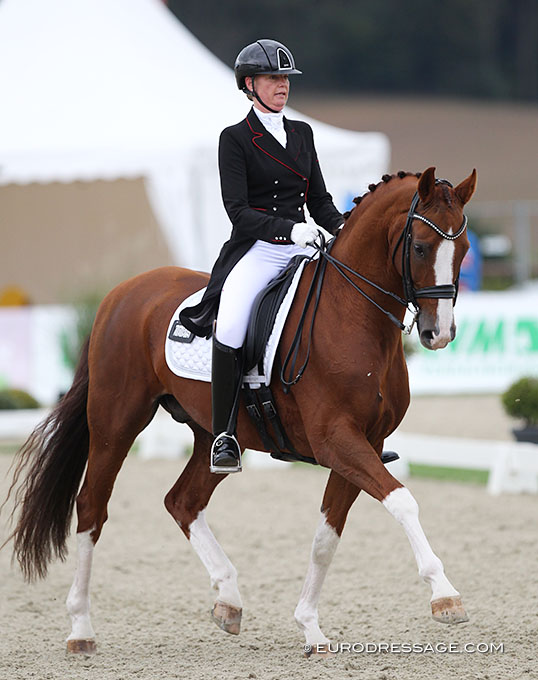 RWOB: I think we do have the horses in Australia and some amazing breeders and breeding programs that are just as good as over here in Europe. Hollingrove Dazzler is proof of that. He's Australian bred, with amazing German dressage bloodlines.
For me it all comes down to the standard of the riding and training and the epic discipline that's needed within the rider. That's the biggest item I have had to personally develop within myself. Every transition, half halt, the rhythm, the cadence. It all starts with the rider, because let's face it, our horses would prefer not to do 100 circles in a training session for you to get the dimensions right.
I feel that the education of the Australian riders, especially the next generation who want to make a business from this sport, or even make it onto the Elite Squad, should head over here to Europe to work and educate themselves as to the standard of training we should be doing back home. 
If we want to do better as a nation on the international stage then I personally believe that's what will help. We have to be open to realising we need more education to improve and develop a path of personal growth. 
Photos © Astrid Appels
Related Links
Dressage Expats: Rebecca Williams-O'Brien, An Australian in Germany