The Netherlands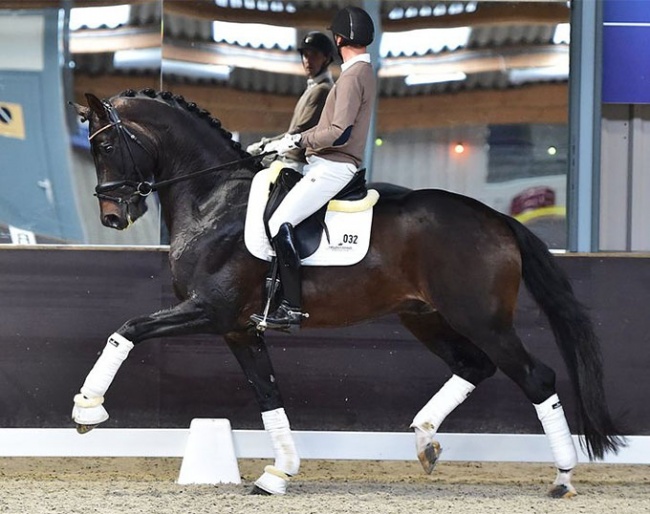 The Dutch Equestrian Federation and KWPN society have announced the horses that have been selected to represent the KWPN breed at the 2020 World Championships for Young Dressage Horses in Verden, Germany, on 9 - 13 December 2020. 
Following a small series of selection trials in spring, based on video clips and some live sessions, one big selection event was staged in Nunspeet, The Netherlands, on 1 - 2 October 2020. 
The Dutch selectors -  Floor Dröge, Monique Peutz and Johan Rockx - made their final pick for a Dutch delegation for Verden.
"For a couple of horses it was their first time away from home (in this corona year), so we were happy that after the test we could do some training with the combinations," Dröge commented. "Then sometimes you get to see what you hope for.
The selectors were thrilled with the quality of five-years old but confirmed again that the technical level, with especially the flying changes, is still a challenge for some 6-year olds. 
The selected horses are: 
5-year olds
Bart Veeze - Kyton (by Ferguson) 
Charlotte Fry - Kjento (by Negro)
Dinja Van Liere - Key Largo (by Toto Jr)
Femke de Laat - Kind Pleasure (by Governor) 
Hans Peter Minderhoud - Kardam's Whisper (by Toto Jr) 
Marieke van der Putten - Keano (by Governor) 
1. reserve: Marieke van der Putten - Kuvasz (aka Kanjer - by Glamourdale) 
2. reserve: Dinja Van Liere - King's Pleasure (by Dark Pleasure) 
3. reserve: Maxime Osse - Duval´s Kapri Son (by Capri Sonne Jr.
4. reserve: Veronique Roerink - Khaleesi (by Negro)
6-year olds
Andreas Helgstrand - Jovian (by Apache)
Anne-Mette Strandby Hansen - Janeiro Platinum (by Sezuan)
Charlotte Fry - Jayson (by Johnson)
Marieke van der Putten - Jameson (by Zack) 
Renate van Uytert - Just Wimphof (by De Niro)
Renate van Uytert - Johnny Depp (by Bordeaux)
1. reserve: Nicky Snijder Jongleur STH (by Expression)
7-year olds
Bart Veeze - Imposantos (by Wynton)
Diederik Van Silfhout - Impression (by Don Schufro)
Emmelie Scholtens  - Indian Rock (by Apache) 
Hans Peter Minderhoud-  Invictus (by Jack Sparrow) 
Quinty Vossers  - Inferno (by Everdale)
Renate van Uytert - In Style (by Eye Catcher)
1. reserve: Eva Möller - Ibicus (by Apache) 
2. reserve: Charlotte Fry - Inclusive (by Everdale) 
3. reserve: Dinja van Liere -  Independent Little Me (by Uno don Diego) 
4. reserve: Thamar Zweistra - Hexagon's Ich Weiss (by Rubiquil)
Related Links
Eurodressage Coverage of the 2020 World Championships for Young Dressage Horses
KWPN Makes Long List Based on Videos for Team Selection 2020 WCYH Verden
KWPN Long-lists 59 Horses for 2020 World Young Horse Championships Team
First Dutch Selection for 2020 World Young Horse Championships via Video