Hanoverian
St. Felice became the exciting price highlight of the 2020 Hanoverian Autumn Elite Auction, which happened online and concluded on 10 October 2020. 
St. Felica is Arosa
After a bidding duel of 90 minutes, the mare St.Felice (by St. Schufro x Fürstenball) sold for 205,000 euro to Austrian Nicola Ahorner. No less than 190 bids were placed on the mare, bred by Patrick Seefeld. St. Felice competed in the 2020 Hanoverian Young Horse Championships with the name Arosa. 
The second most expensive horse was the 3-year gelding Egon Goes to Hollywood (by Escolar x Royal Bend) which found a new German owner for 85,000 euro. 
The 4-year old gelding Favourite Boy (by Floriscount x Diamond Hit) was the third most expensive horse, selling to a German for 62,000 euro. 
First d'Avie (by D'Avie x Sir Donnerhall) neared that price with 61,500 euro. Landsmann (by Lissaro van de Helle x Sir Donnerhall) sold for 53,000 euro.
The 3-year old Flaconi (by Furstenball x Wolken-Hit) found a new owner for 43,000 euro. Santa Fe (by San Amour x Wolkenstein II) switched owners for 42,000 euro.
German Grand Prix rider Christoph Koschel bought Valencia (by Vitalis x Flourscount) for 35,500 euro.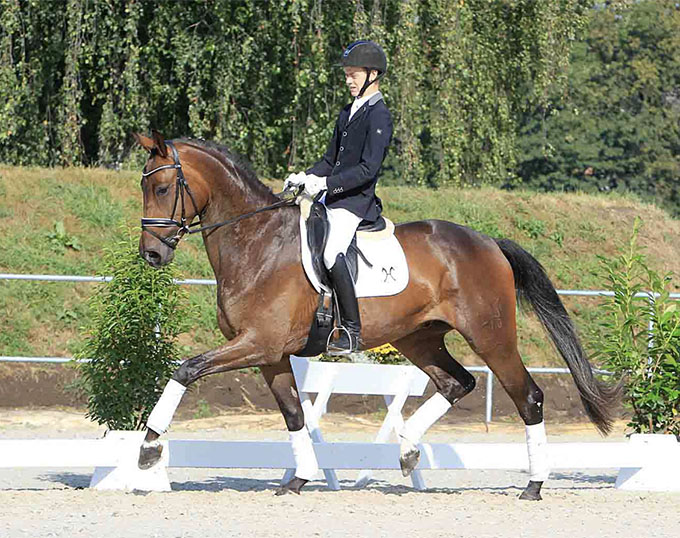 American amateur Grand Prix rider Marne Martin-Tucker secured Belia (by Borsalino x Quaterback) for 35,500 euro. The 4-year old gelding Sunny BC (by San Amour x Don Frederico) will also fly to the U.S.A. but for 31,000 euro. He'll be joined by Verlaine (by Vilancio x Fidertanz), who sold stateside for 28,500 euro.
A Spaniard secured Rock Island (by Rubin Royal x Furstenball) for 30,000 euro.  Belio (by Belantis x Ampere) moves to Switzerland for 21,500 euro, Walencio (by Weltruhm x Don Cavallo) to Belgium for 21,000 euro.
Italian Grand Prix rider Anna Campanella bought Leno B (by Livaldon x Freudenfest) for 19,000 euro. 
The best selling show jumper was Cornflake PJ (by Carridam x Loredo). The licensed and performance tested chestnut stallionsold for 41,500 euro to a renowned training stable in Lower Saxony.
The auction lot of 40 dressage and 20 jumping horses brought an average price to 29,900 euro per horse. 20 horses will leave Germany. Four Hanoverian horses will travel to the USA, two to France, Austria, the Netherlands and Switzerland. 
Colt Collection: Saffron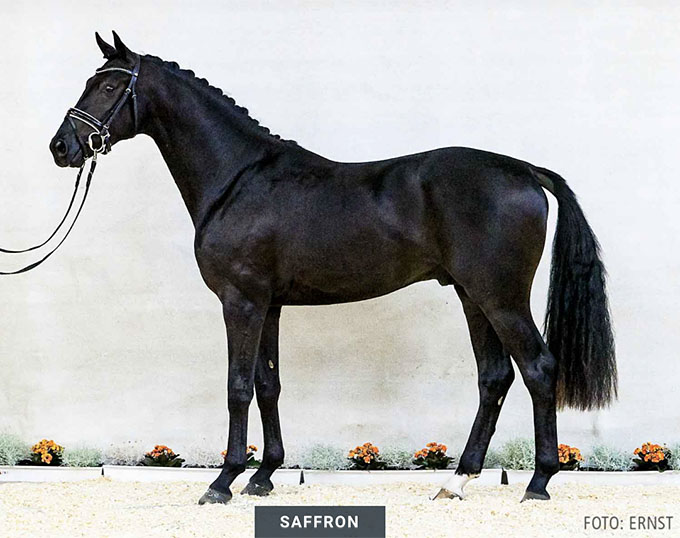 The collection also included several 2.5 year old colts. Saffron (by Secret x Hohenstein - breeder and owner Peter Bösch) was auctioned off in a separate auction, because of a lack of clarity about the biddings. He sold to France for 52,000 euro. 
Fürstenbuster (by Fürstbischof x Alabaster) sold for 35,500 euro to a Germany client.
Former French team rider Pierre Volla and his business partner Marianne Eichenberger paid 28,500 euro for Flaubert (by Foundation x San Amour). Another French customer paid 27,000 euro for Les Hommes (by Livaldon x Don Frederico).
Secret's Son (by Secret x Danone) fetched 27,000 euro, while Bianco (by Belantis x Sandro Hit) sold for 22,500 euro.
The average price for a 2.5 stallion prospect was 18,458 euro.
Foal Collection: Dream of Heart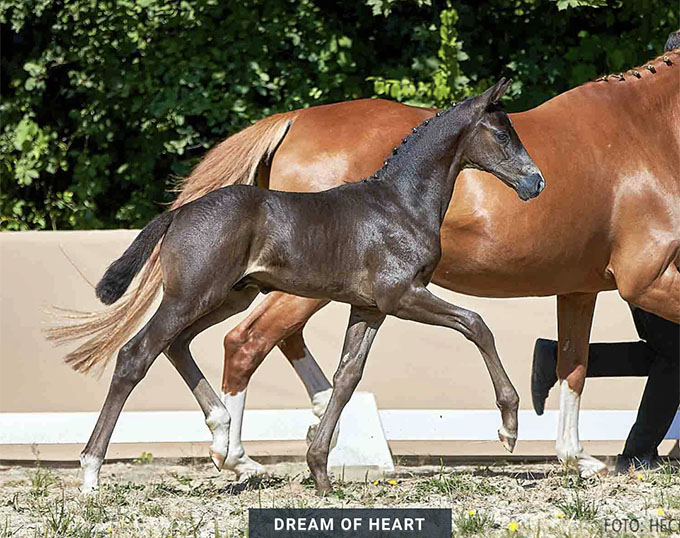 The auction also included a collection of foals. Dream of Heart was the best seller. The colt (by Damsey x Quaterback) sold for 51,000 euro to Blue Hors stud in Denmark.
France Gall (by Furstenball x Sezuan) achieved a knockdown price of 19,000 euro.
Filly Daria (by Donier x Furstenball) sold for 14,500 euro, while Bond Girl (by Bonds x Soliman de Hus for 12,500 euro and Selfmade (by So Unique x Desperados) for 10,500 euro.
The average price of the 21 foals was 10,107 euro.
More Hanoverian Auction News on Eurodressage
Photos © Tammo Ernst