Belgium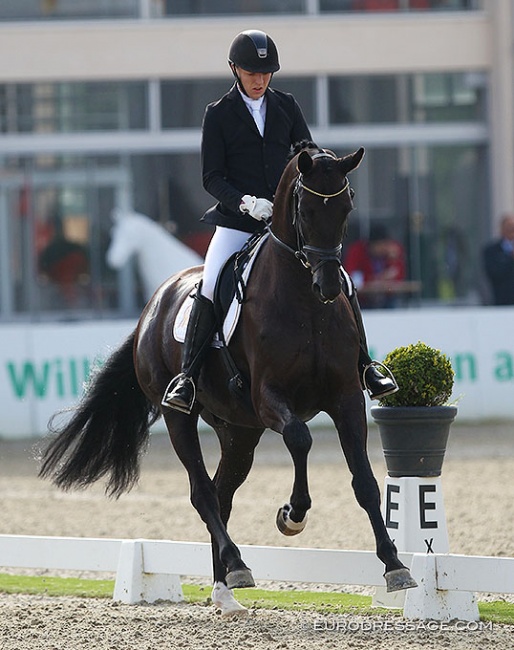 The Belgian Equestrian Federation (KBRSF) has held its first of two selection trials for the 2020 World Championships for Young Dressage Horses, which will occur in Verden, Germany, on 9 - 13 December 2020. 
The first Belgian trial took place at Stable Bocage in Dentergem on 14 October 2020. 
Riders from Belgium, Germany and Holland came to Dentergem to obtain a highly coveted ticket to Verden. They brought Belgian bred, KWPN as well as German bred horses along. 
Big Turnout for First Trial
It was planned that The horses would appear in groups of 2 and 3 into the arena for the 5-year olds and individually for the 6- and 7-year olds, but in the end all appeared individually into the arena.
 Each combination got 7 minutes to show the required movements and gaits to the selection panel.
The participants list for the first selection trial included:
5-year olds
Ippolito Giuseppe-  Galiléo (by Millennium X Gondoliero )
Van Dyck Dries - Saint-Etienne (by St. Schufro X Sarkozy)
Michiels Domien - Panthero van de Vogelzang (by Belantis X Quaterback) 
Cocchiarella - Lucy Klamoudale (by Glamourdale X Santano )
Tonnaer Jacqueline - Perla Negra (by Negro X Sir donnerhall )
Müller-Kersten Andrea - Powerpoint de Tamise (by Dark President x Sandro Song)
Debo Nils - Escojunio ballante (by Escolar X Diamont hit)
Coenegrachts Jef - Katniss Granta (by ?)
Ippolito Giuseppe - Florieux HC DE (by Florenz X Bordeaux )
Borghijs Maarten - Panta Rei ter Dolen (by Quaterback X Furst Heinrich)
Dossin Julie - Kensington (by Vivaldi X Sir Sinclair)
Heylen Inge-  Fiero JM (by Blue hors Farrell X Rohdiamant)
Halkett Kizzy - Kalashnikov v/d Wolfshoeve  (by Romanov X Osmium)
Debo Nils French kiss de GAIA (by I'm special de muze X Canadian river)
D'Hoore Brecht - Kings-Dream WH (by Everdale X Gribaldi)
Pauluis Larissa - Khéops d'Hathor (by Toto Junior X Amsterdam)
Van Laer Nick - Jack Daniels N (by apache X welt hit II )
Verreet Katrien - Kali (by Blue horse zack X Sandro hit )
Bosman Kara - Parisienne G (by Special agent amour X diamond hit )
D'Hoore- van der Horst Dominique - Wolfshoeve's Kenzo (by De Niro X Jazz)
6-year olds
Mrvik Jana - Odessa van Jonckhoeve (by Special Agent Amour x Rohdiamant) 
Desender Bart - Fine Art von Bellin (by Fidertanz X De Niro)
D'Hoore Wouter - Jessica (by Fairytale X Krack C)
De Coninck Floris - Origi CH (by Don Frederic x Jazz)
Verreet Katrien - Oblix van de kempenhoeve (by Quarterback X Sungold )
Halkett Kizzy - QC Flambo (by Fidertanz X De Niro )
De Winne Flore -  San Lora (by  San Amour X Fürst Heinrich )
D'Hoore- van der Horst Dominique - Dana Vita (by Danone I X Abanos )
Schuurmans Cindy - Olympia Van 'T Heurnehof (by -002-W00307455 Special agent amour X Muenchhausen )
Desender Bart - Fabulous Flora von Bellin (by Floricello X Blue horse Diamond Dancer )
D'Hoore Wouter - Sammy De Luxe WHDE (by Scuderia X Wolkenstein II)
Jennifer Reimer - Zapzarap  (by Zonik X Bordeaux )
Verreet Katrien - Oliviera van de kempenhoeve (by Bailamos biolley X Londonderry)
Franckx Tom - Javea (by Bon bravour X Krack c)
Swagemakers - Veronique Solotanzer (by San Amour I X Ehrentanz)
De Winne Flore - Flynn (by  Fahrenheit X Sir Oldenburg)
Pauluis Larissa - Jordy HBC (by Lord Leatherdale X Metall)
Schneiders Jerome - Boateng OLD  (by Bon Bravour X Diamond Hit)
7-year olds
Cool Isabel - No Limit (by Jack sparrow X pavarotti vd helle)
De Mulder Peter - Indian Summer (by Apache X Rousseau)
Van Laer Nick - Conan di fonte abeti (by apache X Sir Donnerhall )
D'Hoore Brecht - Inverness WH (by Everdale X Johnson )
Swagemakers Veronique -  Ice & Fire (by Apache X Fürst Heinrich)
De Ben Shana - Ivanow (by Apache X Gribaldi )
Franckx Tom - Quanto Curo vh bloemenhof (by Quantenkoning X Weltino )
Peeters Nicky - Noblesse van het Genelaar (by Charmeur X Negro)
Cool isabel -  Herr Charmeur (by Charmeur X Alabastro)
Selected for Second WCYH Trial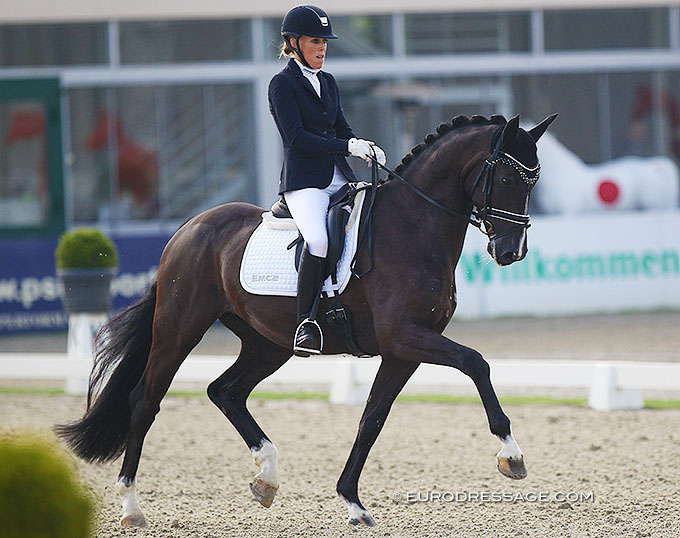 The selectors picked four combinations per age division to move on to the second trial.
The second and last trial will be held at C.E. de la Belle Fleur in Cheratte on 14 November 2020, after which the final team will be announced.
Belgium is eligible to send two horses per age division. 
Serving as selectors at the first trial were 5* judges Christof Umbach (LUX) and Eddy de Wolff van Westerrode (NED) assisted by 4* judge Olivier Smeets (BEL).
They picked the following horses for the second trial:
5-year olds
Dries van Dyck - Saint-Etienne (OLD, by St. Schufro x Sarkozy)
Domien Michiels - Panthero van de Vogelzang (BWP, by Belantis x Quaterback)
Inge Heylen - Fiero JM (OLD, by Blue hors Farrell x Rohdiamant)
Nick van Laer - Jack Daniels N (KWPN, by Apache x Welt Hit II)
Reserve 1: Andrea Müller-Kersten - Powerpoint de Tamise (BWP, by Dark President x Sandro Song)
6-year olds
Jana Mrvik - Odessa van de Jonckhoeve (BWP, by Special Agent Amour x Rohdiamant) 
Wouter d'Hoore - Jessica (KWPN, by Fairytale X Krack C)
Flore de Winne - Flynn (HANN, by  Fahrenheit X Sir Oldenburg) 
Jerome Schneiders - Boateng OLD (OLD, by Bon Bravour X Diamond Hit)
Reserve 1: Katrien Verreet - Oblix van de kempenhoeve (BWP, by Quarterback x Sungold)
7-year olds
Isabel Cool - No Limit (BWP, by Jack sparrow x Pavarotti van de Helle)
Peter de Mulder - Indian Summer (KWPN, by Apache x Rousseau)
Nick van Laer - Conan di Fonte Abeti (RHLD, by Apache x Sir Donnerhall )
Brecht d'Hoore - Inverness (KWPN, by Everdale x Johnson)
Photos © Astrid Appels
Related Links
Eurodressage Coverage of the 2020 World Championships Young Dressage Horses
Belgian Selection System for 2020 World Young Horse Championships Announced