2020 French Youth Riders Championships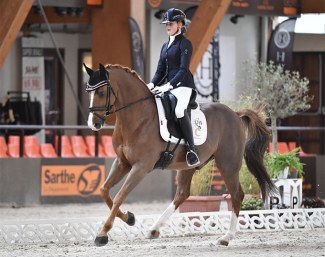 Children rider Fleur Weijkamp, junior rider Mathilde Juglaret, young rider Capucine Noel, and Under 25 rider Alix Bravard became the winners of the 2020 French Youth Riders Championships held in Le Mans, France, on 22 - 25 October 2020. 
Weijkamp Wins Children's Title
Fleur Weijkamp and the 14-year old French bred Oldenburg Don Amour de Hus (by Don Primero x Rohdiamant) were in a very tight battle with Anna Dupuy Pelardy on the 13-year old Hanoverian bred Hilario Saint H (by Herzensdieb x Acorado), but in the end it was Weijkamp who captured the gold. The Dutch-French Weijkamp was born into horses with her grand parents owning Haras de la Fleuterie in France.
Weijkamp scored 76.694% in the preliminary test, 76.296% in the team test and 71.782% in the individual test to average a winning score of 74.808%.The horse was previously competed by Alizee Roussel up to medium tour level. 
Pelardy improved each day on her mom Bertille's Hilario Saint H, going from 72.916% to 73.950% and a 77.557% on the final day. She averaged 74.808% for silver 
Eloise Thomas and the French bred, 13-year old Rhinelander pony Kind of Magic Fast (by Champion de Luxe x Marsvogel), landed the bronze medal with 71.389%, 72.238% and 75.553%.
Juglaret in Front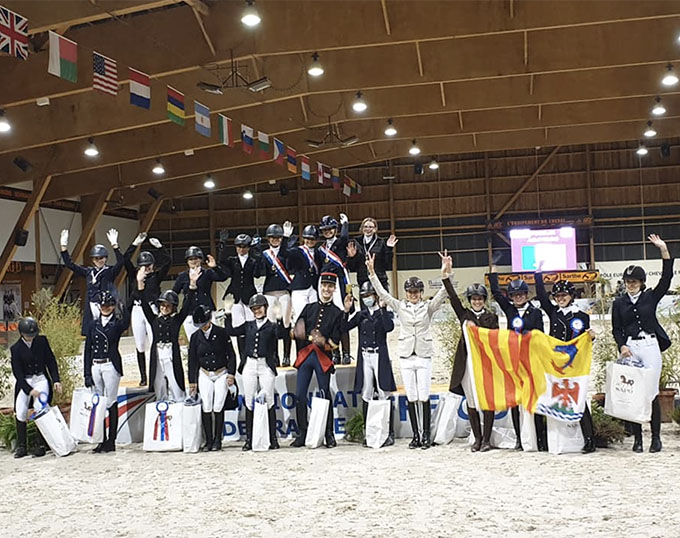 In the junior division, ten combinations competed in all three rounds but it was Mathilde Juglaret and  the 8-year old Lusitano Caporal de Massa (by Rieto x Xaquiro), who reigned supreme and took home the gold medal. The pair won all three rounds with a clear lead, scoring 74.351% in the team test, 75.316% in the individual and 79.300% in the Kur to Music to average a winning total of 76.322%. 
Mado Pinto and the French bred 9-year old Hanoverian Hot Bit de la Gesse (by Hofrat x Rubin Royal) ended up with silver after three consistent rounds. She posted 72.486%, 73.00% and 75.900% (average 73.795%). 
Alexandre Cheret and the former Grand Prix horse, 14-year old KWPN mare Bamona (by United x Inspekteur) landed with bronze on an average score of 71.962% after placing third three times with 71.324%, 71.737% and 72.825%. 
Four in a Row for Noel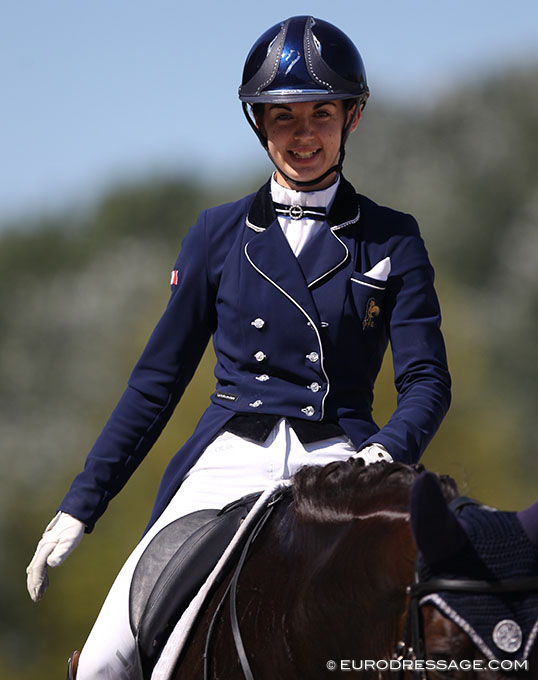 The young riders' division was a bit thin with just six pairs competing. French YR team rider and double Junior Champion Lea Bonifay (Fantastique) absent from the show. Still it made for a good competition.
Capucine Noel and her 14-year old Hanoverian mare Soleil Noir vom Rosenhof (by Stedinger x Weltmeyer) were unbeatable though and the only pair to score above 70 in all three rounds. She won the gold with 73.052% in the team test, 71.184% in the individual test and 76.025% in the Kur to Music. Her average of 73.420% put her on the highest step of the podium. This is Noel's fourth, consecutive French Champion's title, her second as a young rider.
The British based Camille Audo crossed the Channel to compete in Le Mans and returned hom with silver. Aboard her 14-year old Dutch bred Behroez (by United x Gribaldi), she scored 67.789%, 70.447% and 71.000% to average 69.745% to place second overall. 
Arthur Barthel and the 9-year old Lusitano bred Bambino de Massa (by Rieto x Galopin de la Font) finished with bronze on 68.831% but had two competitors on his heels with Mado Pinto fourth (68.223%) and Alexandre Cheret fifth (68.027%). Barthel was second in the team test with 69.158%, third in the individual with 69.211%, but dropped to sixth place in the Kur with 68.125%
Bravard Bests Under 25 Division
Three combinations contested the Under 25 division so there was a medal for each of them. The 23-year old Alix Bravard ended up with the shiniest gold, by winning both rounds on the 9-year old NRPS bred Santiago (by Spielberg x Houston). She earned 68.684% in the Intermediaire II and 68.628% in the Short Grand Prix. 
The 18-year old Mado Pinto had a very busy weekend, competing no less than three horses in three FEI divisions (junior, YR, U25). With her long-time partner, 15-year old Lusitano bred Rafale du Coussoul (by Mistral du Coussoul x Miguelisto), owned by Helen Burgess' Haras de la Gesse, she was second twice with 67.184% and 67.279%. 
Last year's Under 25 champion Rachel Bastady and her 15-year old Hanoverian registered Fandango d'Arx  (by Florencio x De Niro) slotted in third and got the bronze with 64.447% and 65.791%. 
Absent from the French Under 25 Championship was French individual at the 2020 European U25 Championships, Cédric Gallinard with Schero ZC
Results - 2020 French Youth Riders Championships - Le Mans
Children
1. Fleur Weijkamp - Don Amour de Hus - 76,694% 76,296% 71,782% --- 74,924%
2. Anna Dupuy Pelardy - Hilario Saint H -  72,916% 73,950% 77,557% --- 74,808%
3. Eloise Thomas - Kind of Magic Fast -   71,389% 72,238% 75,553% --- 73,060%
4. Leane Cotinaud - Or Noir de Hus - 72,292% 73,210% 70,374% --- 71,958%
5. Lilly Widdicombe - Qlinaro Finland -   67,556% 68,206% 68,721% --- 68,161%
6. Thanais Capelle Morosi - Escortgirl Maupertuis -  71,834% 65,000% 63,844% --- 66,892%
7. Eva Sanchez - Ugo Boss de la Lande - 66,750% 63,503% 65,819% --- 65,357%
Junior Riders
1. Mathilde Juglaret - Caporal de Massa -  74,351% 75,316% 79,300% --- 76,322%
2. Mado Pinto - Hot Bit de la Gesse -  72,486% 73,000% 75,900% --- 73,795%
3. Alexandre Cheret - Bamona -  71,324% 71,737% 72,825% --- 71,962%
4. Cloe Jawurek - Gayento van het Bloemehof -  69,000% 69,737% 70,900% --- 69,879%
5. Maud Hebras - Senorita Rosa -   69,324% 67,842% 70,475% --- 69,214%
6.  Clara Desplantes - Felicia  - 66,162% 67,605% 71,275% --- 68,347%
7. Laura Jeanne Favre.- Furstin Star JM - 68,838% 67,053% 68,400% --- 68,097%
8. Ella Lostria - Bon Romantic -   68,351% 66,316% 69,575% --- 68,081%
9. Sarah Planchet - Jatze van de Kwaplas -  66,919% 65,605% 68,925% --- 67,150%
10. Emilie Le Niger - Qoreane de Lautre -  63,919% 66,132% 69,075% --- 66,375%
Young Riders
1. Capucine Noel - Soleil Noir vom Rosenhof - 73,052% 71,184% 76,025% --- 73,420%
2. Camille Audo - Behroez - 67,789% 70,447% 71,000% --- 69,745%
3. Arthur Barthel - Bambino de Massa - 69,158% 69,211% 68,125% --- 68,831%
4. Mado Pinto - Sirano de Luxe - 68,632% 67,211% 68,825% --- 68,223%
5. Alexandre Cheret - Doruto -   68,290% 66,316% 69,475% --- 68,027%
6. Yoann Bourguine - Favian WH - 67,605% 67,368% 69,075% --- 68,016%
Under 25 
1. Alix Bravard - Santiago -  68,684% 68,628% --- 68,656%
2. Mado Pinto - Rafale du Coussoul -  67,184% 67,279% --- 67,232%
3. Rachel Bastady - Fandangp d'Arx - 64,447% 65,791% --- 65,119%
Related Links
Hebras, Bonifay, Noel, Bastady Win 2019 French Youth Riders Championships
Jawurek, Bonifay, Noel, Gallinard Win 2018 French Youth Riders Championships
Milochevitch, Noel, Boireau, Le Gallais Win 2017 French Youth Riders Championships
Stickland, Dufil, Legallais Win 2016 French Youth Riders Championships
Pinto, Chevanne, Ducos Blanchet, Judet Cheret Win 2015 French Youth Riders Championships
Hel and Judet Cheret Win Gold at 2009 French Youth Riders Championships