Denmark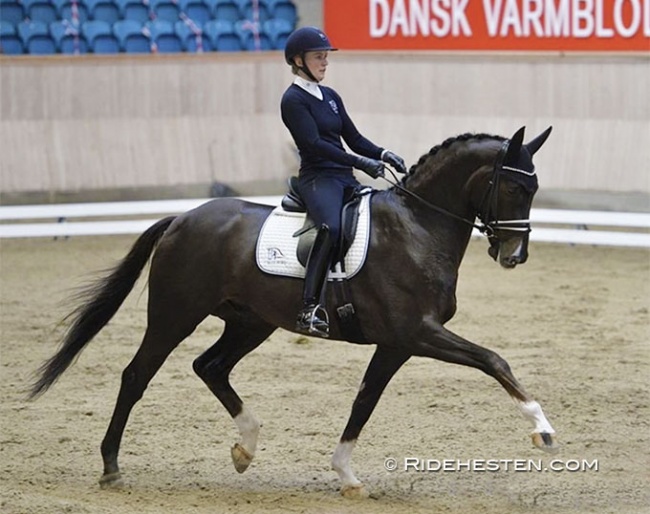 The Danish warmblood society and Danish Equestrian Federation have announced the horses that will represent Denmark at the 2020 World Championships for Young Dressage Horses in Verden, Germany, on 9 - 13 December 2020. 
The Danes held their team selection trial on 26 - 27 October 2020 at the national equestrian centre in Vilhelmsborg. 
As Danish warmblood is a fairly big breed society, Denmark is allowed to send four horses per age category.
The selected horses are:
5-year olds
Nuuk Melody (by Sezuan x His Highness) - Breeder: Else Rohmann - Rider: Mette Sejbjerg Jensen
Sweetnes (by Blue Hors St. Schufro x Tailormade Lancelot) - Breeder: Lisbeth B. Andersen - Rider: Silje Bakken
Highfive Fuglsang (by Grand Galaxy x De Niro) - Breeder: Anne Dorte Riis Laursen - Rider: Anders Sjøbeck Hoeck
Møllegårdens Dancer (by Dimaggio x Bøgelys Camaro) - Breeder: Lone Christiansen - Rider: Jan Møller Christensen

Reserve 1: Nobelle (by Negro x Blue Hors Future Cup) - Breeder: HRH Princess Benedikte - Rider: Mette Sejbjerg Jensen
Reserve 2: Kamar's Express Noir Hit (by Escolar x De Noir) - Breeder: Stald Kamar - Rider: Morten Kappel Petersen
6-year olds
Queenparks Wendy (by Sezuan x Blue Hors Soprano) - Breeder: Kurt Gosmer - Rider: Andreas Helgstrand
Straight Horse Don Zuan (by Blue Hors Zack x Blue Hors Don Schufro) - Breeder: Straight Horse - Rider: Cathrine Dufour
Elverhøjs Raccolto (by Sezuan x Sandro Hit) - Breeder: Berith Nielsen - Rider: Marianne Helgstrand
Blue Hors Touch of Olympic (by Don Olympic x Fidermark) - Breeder: Anja & Jan Petersen - Rider: Nanna Skodborg Merrald

Reserve 1: Odin Unik (by Denver TT x Blue Hors Don Romantic) - Breeder: Morten Skov - Rider: Cristian Tudela Ruiz
Reserve 2: Sauternes (by Sezuan x Londonderry) - Breeder: Lena & Ulrik Kristensen - Rider: Janni Dietz
7-year olds
Straight Horse Ascenzione (by Zack/BH Don Schufro) - Breeder: Straight Horse - Rider: elen Langehanenberg 
UNO Day Sun (by UNO Don Diego/Blue Hors Rosoff) - Breeder: Stutteri Uno - Rider: Kenneth Damgaard
Favour Gersdorf (by Foundation/Leandro) - Breeder: Inger-Marie Andreasen - Rider: Nadja Aabo Sloth
Atterupgaard Delorean (by Bon Bravour/Sandro Hit ) - Breeder: Atterupgaard - Rider: Selina Solberg Vittinghus

Reserve 1: Baunehøjens Carpaccio (by Charmeur/White Talisman) - Breeder: Pia Gober - Rider: Anette Ejlersgaard
Reserve 2: Tavajo Elton (by Tailormade Temptation/Don Lauredo) - Breeder: Elton Heste - Rider: Marie Bjoll
Related Link
Eurodressage Coverage of the 2020 World Championships for Young Dressage Horses