2020 Swedish Pony Championship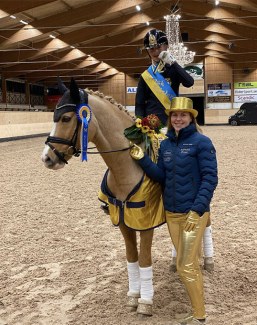 Elliot Nilsson and Casino Royale K became the winners of the FEI pony level division at the 2020 Swedish Pony Championships held in Helsingborgs Fältrittklubb on 29  October - 1 November 2020. 
A field of no less than 52 competitors competed in the "Category D, Group 1" division at FEI pony level. 19 combinations ended up contesting all three Championship rounds. 
Elliot and Wilma Holmgren's 15-year old Weser Ems bred gelding Casino Royale K (by FS Champion de Luxe x Top Non Stop) grabbed the gold medal, champion's sash and national titel with three high score earning rides.  They were third in the first round with 71.286M, second in round 2 with 73.063% and they won the freestyle with 74.583% to total 218.932 points for the title. 
Casino Royale K is a highly decorated pony who won the 2008 and 2009 Bundeschampionate as a youngster and had two seasons competing internationally with German Vanessa Theresa Oppowa (2012-2013), after which he disappeared from the CDI stage. The 15-year old palomino stallion only recently sold to Swedish Elliot Nilsson and the pony was gelded to be focused on sport. The 16-year old Elliot Nillson, who is in his last year on ponies, made his international show debut in 2019 aboard the 13-year old German bred HB Dancing Daylight (by FS Don't Worry x Till the Champ). He was given the ride on Casino Royale K by owner Wilma Holmgren, five months ago.
The silver medal went to Hannah Regosa on Malin Myrman's Swedish routinier, 12-year old stallion Inspi(red) Justice RP (by Simberg Superman x Nationa Zenith xx) with 217.713 points. The pair was second in the team test with 71.857%, they won the individual with 73.423% and placed third in the freestyle (72.433%). Regosa and her pony have been together since February 2019. 
Tindra Holmertz and Christine Thunberg's 17-year old palomino gelding Brave Heart (by Henfynyx Tywysog RWC x Isaksbo Jeronimo) finished with the bronze medal on 216.470 points. They won the team test with 72.095%; were third in the individual (71.667%) and placed fourth in the freestyle with 72.708%. 
Results - 2020 Swedish Pony Championships - Helsingborg
1. Elliot Nilsson - Casino Royale K - 71.286 - 73.063 - 74.583 --- 218.932
2. Hannah Regosa  -  Inspi(red) Justice RP - 71.857 - 73.423 - 72.433 --- 217.713
3. Tindra Holmertz  - Brave Heart -  72.095 - 71.667 -  72.708 --- 216.470
4. Emma Kåberg - Untouchable - 70.667 - 71.667 -  73.583 --- 215.917
5. Mary-Sophie Haid-Bondergaard  - White Love B - 70.905 - 69.279 - 73.883 --- 214.067
6. Elin Ullman - Morgensterns Dakar - 70.905 - 69.234 - 71.667 --- 211.806
7. Emilia Berglund Bergåkra- Jarno RP  - 70.667 - 69.324 - 71.058 --- 211.049
8. Filippa Wallqvist - Steendieks Spiderman V- 67.809 - 70.180 - 71.125 --- 209.114
9. Tilda Nydahl - Dogge Doggelito - 68.238 - 70.450 - 69.500 --- 208.188
10. Laura Laustsen -  Schierensees Mithril - 68.809 - 66.937 - 68.525 --- 204.271
11. Sara Granfors - Brouwerij's Percival - 65.857 - 69.955 - 68.042 --- 203.854
12. Izabelle Wahlstedt -  Waco- 67.048 - 66.892-  67.625 --- 201.565
13. Ida Anderberg - Roman - 66.476 - 67.928 - 67.125 --- 201.529
14. Esmeralda Viktorsson - Polsbery Pericles -  69.952 - 69.099 - 62.250 --- 201.301
15. Stella Hoff - Champ of Dance P -  65.619 - 68.063 - 66.958 --- 200.640
16. Louise Edvardsson - Hamiltons Magi - 66.571 - 68.018  - 65.167 --- 199.756
17. Alva Söderström - Sergeant Pepper Gene - 67.191 - 66.171 - 65.833 --- 199.195
18. Evelyn Fägnell -  Boldermans Boston  - 66.476 - 67.342 - 64.292 --- 198.110
19. Ellen Stymne -  Tanzbär T  - 65.095 - 68.514 - 63.458 --- 197.067
Related Links
Sandgren and Berglund Bergakra Win 2018 Swedish Pony and Children Championships
Barnestam Olssen Wins 2017 Swedish Pony Championships
Pettersson, Bergakra Berglund, Gyllensward, Mathisen Win 2017 Swedish Dressage Championships
Egholm Hebsgaard Wins 2015 Swedish Pony Championships
Andersson, Mattsson, Aspnas Win Gold at 2012 Swedish Youth Riders Championships
Marina Mattsson Wins 2010 Swedish Pony Championships