2020 CDI-W Thermal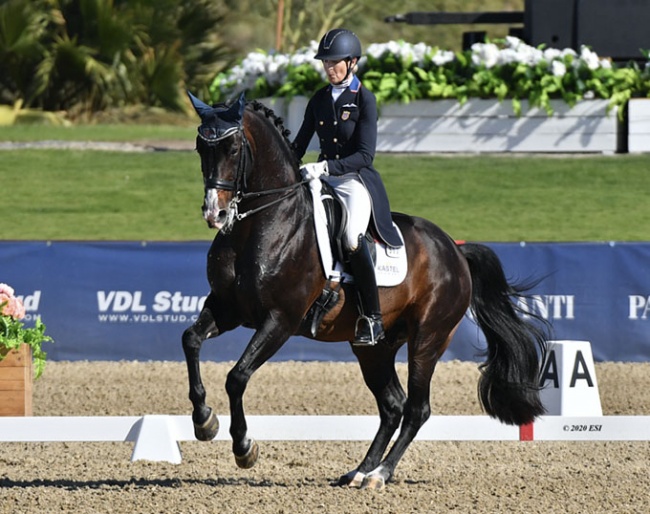 Charlotte Jorst and her 17-year old Dutch warmblood stallion Nintendo swept the big tour and World Cup qualifier at the 2020 CDI-W Thermal in California on 14 - 16 November 2020. 
The first international competition on the U.S. West Coast since the corona pandemic brought international competition to a stand still, the CDI-W Thermal boasted a smaller CDI-W big tour and a large group of Grand Prix riders in the Special tour
Jorst and Nintendo Make a Clean Sweep
Jorst and Nintendo (by Negro x Monaco) took a strong start in the Grand Prix with 71.87% and dominated the Kur to Music with 75.710%. 
The duo has been competing together for seven years. In the Kur, the pair debuted brand new music and choreography for their freestyle routine. The freestyle possessed the energy and cohesiveness Jorst hoped for and it clearly bode well with the judges.
"It felt incredible. It was really nice music. I had only fully practiced it once before so I won't lie, I was very nervous," explained Jorst, who trains with Marie Meyers. "Especially for the entrance because I was trying to time it perfectly. It really worked out though. I got behind the music once in a while but in general it felt incredible."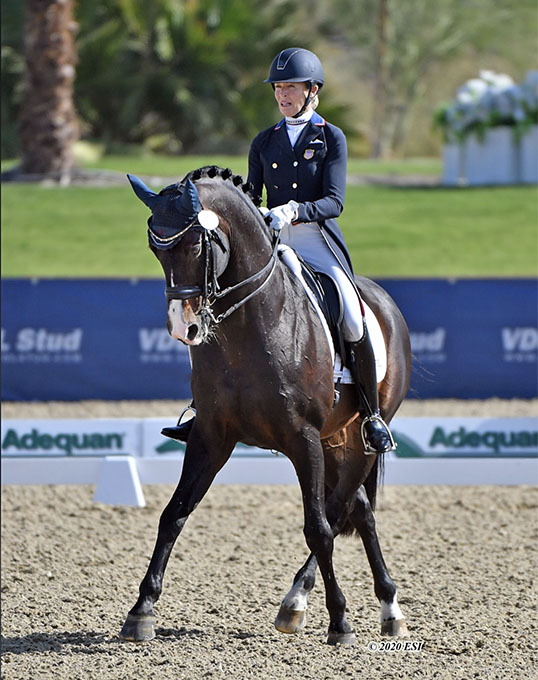 Finding the right music for Nintendo proved to be a challenge. This time she collaborated with a freestyler designer from Spain.
"It is very difficult. What I have found is that your favorite music isn't necessarily the best music for the horse. That has taken me far too long to realize. I should have realized that five years ago but I didn't," Jorst continued. "I have come up with so many weird freestyles and this one just panned out right away. I don't know why I didn't think of it earlier. I guess everyone has to go through those trials and errors. I just had more errors than others I think."
Jorst will be competing in Thermal again next week in another CDI-W in order to clinch a berth at the 2021 World Cup Finals in Gothenburg. This year the pair spent most of their summer relaxing in Reno, NV and Jorst just started him back under full work a mere ten days ago. With this show being their first major competition back after the break.
"Nintendo loves to trail ride," commented Jorst. "Here (in Thermal), I can go all over and we can do our usual routine which is huge for me because I usually trail ride him for half an hour every day before I start to keep him motivated and happy."
Four horse and rider pairings contested the CDI-W Freestyle.The second place was captured by Carly Taylor-Smith (USA) and her mount Rosalut NHF (by Rosenthal x Salut), a 10-year old Oldenberg gelding owned by Nikki Taylor-Smith, with a score of 74.075%. Rounding out the podium was Jan Ebeling (USA) and Diamond's Diva (by Diamond Hit x Santander H), a 15-year old Oldenburg mare owned by Ann Romney, with a score of 72.495%.
Steffen Peters Posts Personal Best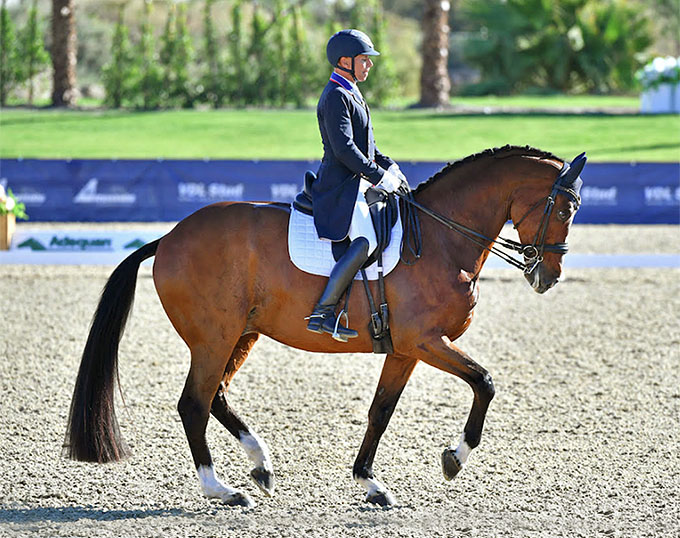 A field of eleven horse and rider pairs demonstrated their capabilities to the judges in the Grand Prix for Special and it was Steffen Peters (USA) and Akiko Yamazaki's 12-year old Dutch gelding Suppenkasper (by Spielberg x Krack C) who rode to the top with a personal best score of 77.413%. 
Second place was awarded to Anna Buffini (USA) aboard her brand new ride  FRH Davinia La Douce (by Don Frederico x A Jungle Prince), a 13-year old Hanovarian mare which she acquired in September from the Balkenhol family in Germany, with a score of 68.565%. Rounding out the top three was Guenter Seidel aboard Louise Leatherdale's Equirelle (by Florett As x Donnerhall), an 11-year old Dutch Warmblood mare, with a score of 68.261%.
This is Peters' highest ever Grand Prix score with Suppenkasper, although it should be mentioned that four judges (Torrente, Colliander, Warren, Majewskahad) had the pair at 75-76% and Janet Foy at 82.6% !
"Mopsie and I have been together for almost four years now. It was a bit of a rough start, we started out in the lower 70% and slowly worked our season up a bit more every year, especially last year in Florida," explained Peters. "He looked very promising. He made the team for the Olympic Games that didn't happen. I felt like Mopsie and I needed at least another year to polish things off and mature. Not just Mopsie, but myself too. I can't help but think he will be even better next year."
Eight combinations moved on to the Grand Prix Special, which Peters won with  76.149%, this time having all five judges more aligned. Buffini slotted in second with Davinia La Douce on 70.319%, while Peters' former assistant trainer Dawn White-O'Connor and Bailarino (by Breitling W x De Niro) placed third on 68.106%.
Despite a shortened season due to Covid-19, Peters was happy to have more time to mature with his mount before they, hopefully, represent the United States at the Olympics in the coming year.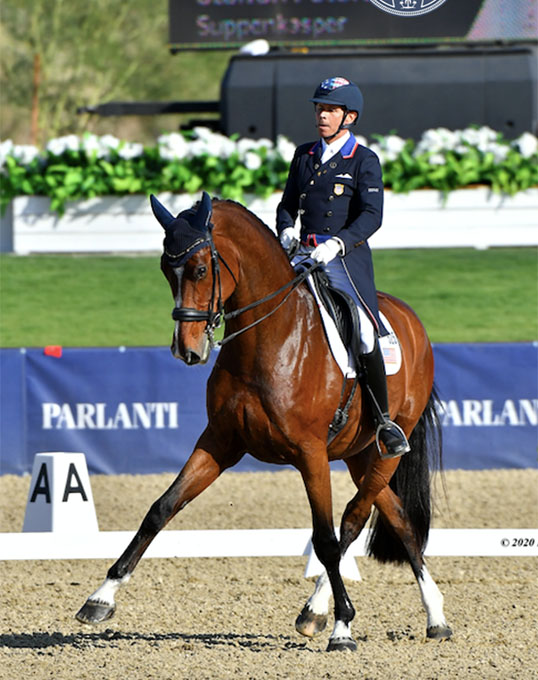 "It simply gave us more time. Mopsie is a very energetic horse and always wants to go, sometimes wants to go too much. That shows in the extended trot and extended canter. It also shows in the piaffe and passage, he tries sometimes so hard," Peters articulated. "What used to happen, he would get so excited in the passage that he would, once in a while, be uneven behind. One hind leg would do a passage for a 9 score and the other for a 6 score. Unfortunately, that doesn't average out for a 7 score. The piaffe is still a little difficult when he tries too hard. He would sway sometimes in front and I practiced that quite a bit in a two-point at the end of our warm up to just make sure that he understands the piaffe is a part of relaxation. He is finally understanding that to the point where I can ask him for more in the piaffe. Before it was always saying a little prayer and being super careful, not touching him, kind of hoping that things would work out in the piaffe. Now I can ride it and be a bit more in charge of it." 
Peters understands the standard at which these horses are asked to perform at. It is not just in the show arena that riders ask horses to perform their best, but during training as well. Peters builds quality relationships with all his horses to determine the best suited training schedules.
"You don't do all the movements of the Grand Prix everyday but if you do a movement, you perform it as if you are at the Olympic Games. You do it 100% or you don't do a movement," Peters continued. "You work a lot on this whole idea on what the Grand Prix is based on because you need so much energy but, on the flip side, this extreme relaxation in the collected walk, extended walk and that relaxation before the piaffe. Then they need to be super fired up for the piaffe passage. Constantly at home working on getting them confidently energetic but more important, relaxed.That is what it is all about. Getting that energy when you really need it but having that pure relaxation that is even more important."
Peters and Darnell Take the Small Tour
Two small tour level tours (1* and 3*) were offered at this Desert Dressage CDI-W at the Desert Horse Park in Thermal. 
The 1* tour was won by Steffen Peters aboard Christina Vinios' 8-year old Oldenburg stallion Boreas FRF (by Bordeaux x  De Niro). They scored a winning 72.99% in the Prix St Georges and 72.892%, twice keeping White-O'Connor behind him on Mary Keenan's Dutch warmblood gelding El Torro B (by Painted Black x Jazz). 
Boreas FRF was discovered as a foal by German Petar Perkovic at the 2012 Oldenburg Foal Auction and presented him at the 2015 Oldenburg Saddle Licensing, where he was named champion and sold in the 2015 Spring Elite Auction for 140,000 euro to American Christina Vinios of Five Rings Farm.  Dawn's El Torro B is an alumni of the 2015 World Young Horse Championships in Verden, where he finished 13th in the 6-year old Finals under Danielle Heijkoop. 
Charlotte Jorst will make her CDI debut aboard the 9-year old Dutch warmblood licensed stallion Grand Galaxy Win (by Apache x Jazz), who is a popular breeding stallion in Europe. They rode the 1* tour and were third in the Prix St Georges with 68.236% and fourth in the Inter I with 66.912% in a field of five riders.
In the 3* tour, Claire Darnell swept the board with the 8-year old Dutch warmblood Harrold S (by Vivaldi x Fidermark). She won the Prix St Georges with 71.029%, the Inter I with 69.902% and rode the Inter I kur for a victory on 75.758%.
Text PR Desert Horse Park, edited by Eurodressage
Photos © ESI Photography
Related Links
Scores: 2020 CDI-W Thermal
CDI Competition Resumes in the U.S.A. in Thermal and Wellington, Several Debutants