2020 New Zealand Young Horse Championships
The 4-year old Feuer Tanz, the 5-year old Dance Hit SW, and the 6-year old Furst Rock DW became the winners of the 2020 New Zealand Young Horse Championships held at the 2020 NZL Dressage Championships in Taupo on 21 November 2020.
The NZL Young Horse Championships were held on Saturday 21 November at the Taupo National Equestrian Center and one class counted to decide the title in each age category. 
4-YO: Feuer Tanz
Five combinations competed in the 4-year old division and it was Rochelle Speirs on the New Zealand warmblood Feuer Tanz (by HP Fresco x Gymnastik Star) who topped the board and claimed the champion's sash. Judges Hobson and Hughes-Keen rewarded Feuer Tanz with a winning score of 76.2 points. The gelding is bred by Gillian Booth and owned by Julie Brougham and Linda Budden.
The runner-up was Wendi Williamson aboard the 4-year old Hanoverian Danseur MH (by Dancier x Anamour), bred by Matthews Hanoverians and owned by the rider. The duo scored 75.2 points for second place. 
5-YO: Dance Hit SW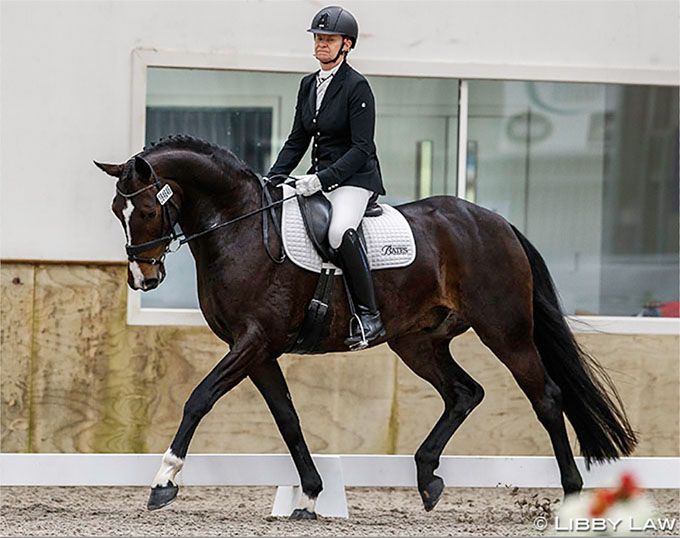 Only two pairs contested the 5-year old division, which traditionally in Europe always provides the largest field of competitors. The judges were Cooper and Eivers. 
Susan Tomlin steered the New Zealand Hanoverian bred Dance Hit SW (by Danciano de Malleret x Sandro Hit) to victory with 85.2 points. Dance Hit SW is bred by Sheena Ross of Sterling Warmbloods).
Reece Downham rode The New Zealand bred Hanoverian Ruby MH (by Royal Mirage W x Dream Boy) to a second place with 72.8 points. The horse is still owned by the breeder, Judith Matthews. 
6-YO Furst Rock DW
Vanessa Way and NSC Furst Rock DW, a New Zealand Hanoverian by Furst Romancier x Royston Rockstar, bested the field of four in the 6-year old division, judged by Cooper and Eivers.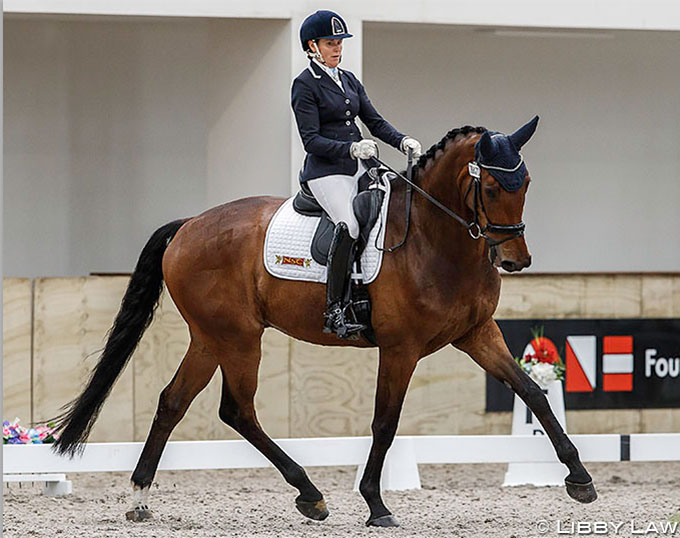 Bred by David Woolley and owned by the rider in partnership with Brooke Hughes, NSC Furst Rock DW scored the high score of the day and won the 6-year old title with 89.4 points. 
Jody Hartstone and her home bred Lusitano Jamaica Cruzeiro do Sul, by her imported Portuguese Lusitano stallion Ali Baba out of a Huilco dam, were the runners-up with 75.8 points. 
Photos © Libby Law
Results - 2020 New Zealand Young Horse Championships
4-year olds
1. Feuer Tanz (NZ WB, by HP Fresco x Gymnastik Star) - Rochelle Speirs - 76.2
2. Danseur MH (NZ HANN, by Dancier x Anamour) - Wendi Williamson - 75.2
3. HSP Levi (NZ WB, by Wollrath Lessing x Griffyndor) -  Anna Williams - 74.8
4. Furst Hit EDH (NZ RHEIN, by Furstenball x Sandro Hit) - Victoria Wall - 73
5. Dreams of Joie AH (NZ WB, by Donnerubin DC x Jaguar) - Kaasandra Chee - 70 5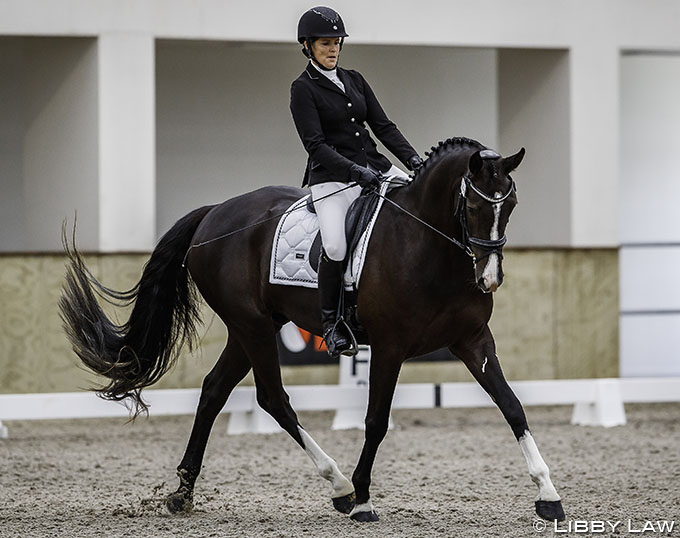 5-year olds
1. Dance Hit SW (NZ HANN, by Danciano x Sandro Hit) - Susan Tomlin - 85.2
2. Ruby MH (NZ HANN, by Royal Mirage W x Dream Boy) - Reece Downham - 72.8 
6-year olds
1. NSC Furst Rock DW (NZ HANN, by Furst Romancier x Royston Rockstar) - Vanessa Way - 89.4 
2. Jamaica Cruzeiro do Sul (LUS, by Ali Baba x Huilco) - Jody Hartstone - 75.8 
3. Jagermeister CD (HAN, by Rodrigo III x Rituel) - Cassandra Dally-Braun - 68.4
4. Jet Set RE (NZ WB, by GT Jake x Furst Jupp) - Tracy Smith - 68
Related Links
Quendrix, Fanfare MH, JHT Anatomy Win 2019 New Zealand Young Horse Championships
Fanfare MH, Aroha MH, HP Fresco Win 2018 New Zealand Young Horse Championships
Stoneylea Welt Princess, HP Fresco, River Park Luciana Win 2017 New Zealand Young Horse Championships
Sartorial Hit SW, Glamorgan By Design, Leo Donna Win 2016 New Zealand Young Horse Championships