2020 CDI-W Wellington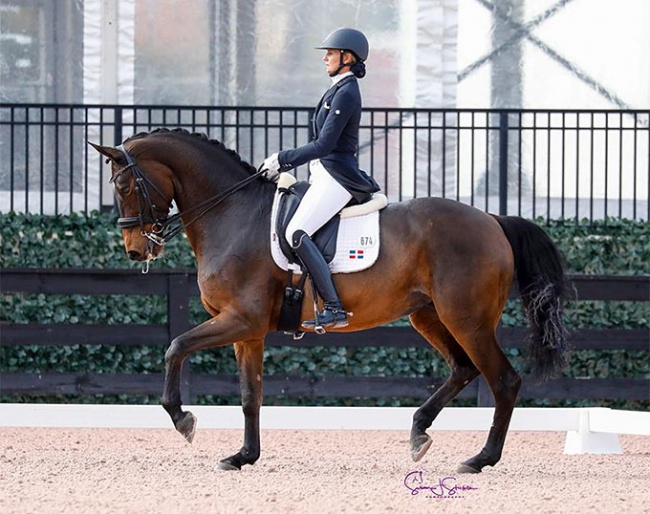 The Global Dressage Fall Festival II brought back international dressage competition to Wellington, Florida, on 10 - 13 December 2020. It was the first time that a CDI was hosted as early as December in the lead-up to the Global Dressage Festival of which the 2021 edition begins on 13 January.
A small field of competitors gathered for those event, but those riders who rode appreciated the opportunity to get rid of some ring rust in this trouble corona year which saw the majority of competitions cut from the calendar. 
Losos de Muniz Wins World Cup Qualifier
Riding longtime partner Aquamarijn, the Wellington based Yvonne Losos De Muñiz (DOM) claimed back-to-back spots at the head of the victory laps on Friday and Saturday, adding two blue ribbons to the pair's already lengthy career list. In the Grand Prix CDIW, which offered valuable qualifying points for the 2021 FEI Dressage World Cup™ Finals, Losos De Muñiz and Aquamarijn, a 2005 Dutch Warmblood mare by United x Gribaldi, found their rhythm to earn a score of 69.261% and claim victory.
"She feels amazing, but I'm a bit rusty!" commented Losos De Muñiz of her equine partner and their performance. "I thought I was a little better prepared than I actually was, but it was our first time out, which always feels a bit that way. It feels really good to start so well, though. All the mistakes I have to say were 100 percent mine. She feels the best she probably has been for me. It's just getting back in there and feeling what I've got, and it's exciting!"
Losos De Muñiz and Aquamarijn returned to the ring the next day with momentum and turned in a quality performance that resulted in a score of 79.625% in the Grand Prix Freestyle CDIW, securing them the top spot by more than five percent.
"She got four months pretty much off, going on the track and just hacking because I got stuck in Canada, so then when I came back in July I sort of pretended I started with a new horse," reflected Losos De Muñiz. "I went through all the past stuff I was having trouble with, and it was actually kind of cool, and I was able to improve. I took advantage of not being able to show, and I did that with all of my clients and all the horses, and I have to say they're doing really well."
Losos De Muñiz and Aquamarijn are already qualified for the 2021 Olympics in Tokyo and will train and compete accordingly ahead of the global championship that begins in July. Additionally, they have their sights set on possibly competing in the 2021 FEI Dressage World Cup Finals, which are set to take place March 31 - April 5, 2021, in Gothenburg, Sweden.
"I'll keep her sound and happy until the Olympics. I'd like to go again for the World Cup Final in Gothenburg, too. She doesn't need to be trained; she just needs to be kept in good condition," noted Loses De Muñiz of Aquamarijn. "Mainly, it's being smart about how much I show or how much she does. It's easy with her to keep going and going because she's a really awesome athlete, but I've got to be a little more selective. She's not old, but we're maturing. She and I are the same finally."
Lyle and Harmony's Duval Return to Victory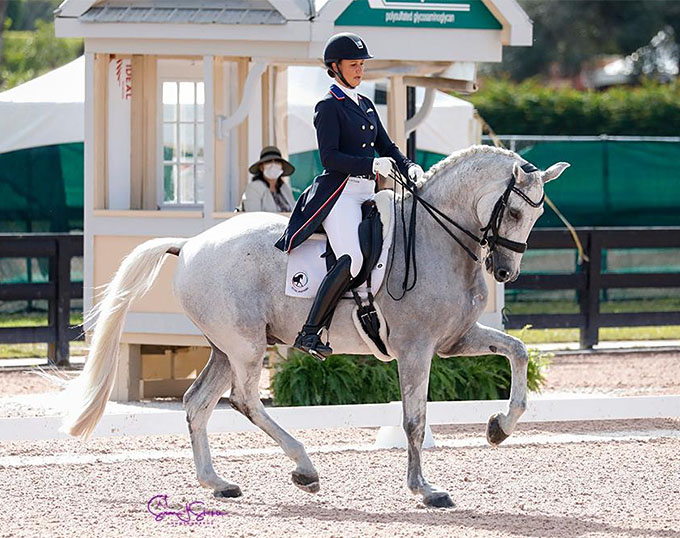 In the CDI3* classes at the Grand Prix level, Adrienne Lyle (USA) and Harmony's Duval, owned by Duval Partners LLC, separated themselves from the pack as the frontrunners. On Friday, the duo claimed first prize in the Grand Prix CDI3* with a score of 70.435% as the only pair to break the 70% threshold.
"I wanted to get a little more power from him today in the Grand Prix. The piaffes in the dressage tour can really be a highlight for him," Lyle commented of the 2008 Dutch Warmblood gelding by Rousseau x Riverman. "He's got a lot of power to do the extended work, and a very good ability to collect for the piaffe in dressage and pirouettes."
Lyle and Harmony's Duval maintained their winning streak on Sunday with a blue-ribbon ride in the Grand Prix Special CDI3* thanks to a score of 72.383%, which was just enough to edge out second-place finishers Katherine Bateson Chandler (USA) on Alcazar, who finished on a score of 71.979%.
"It feels really good [to be back]. We're sad the owners can't be here with us because of COVID, but they're supporting us from long distance, and I really appreciate them," noted Lyle, concluding, "I feel really fortunate for everybody who is making this possible for us. I love having the CDI here in December, and I hope it continues. I think it's great to be able to get out and to get one done before the regular season starts in January."
Layne On top in Small Tour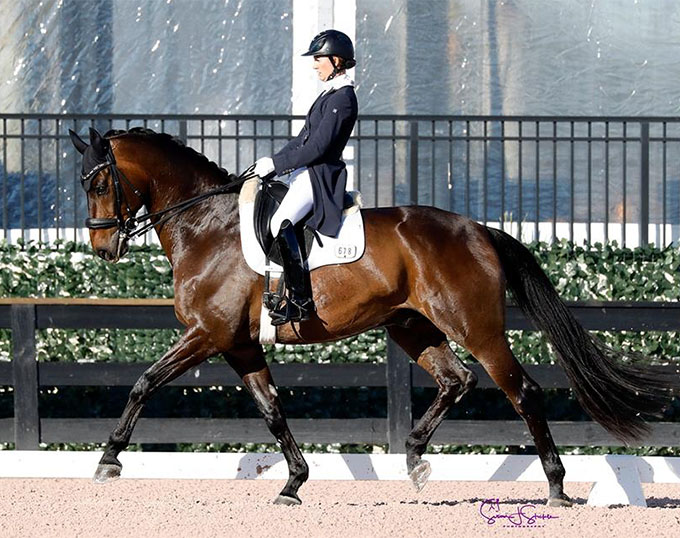 Kelly Layne (AUS) also had a good weekend aboard Hilfiger 3, owned by Elm Creek Holdings LLC, thanks to Small Tour victories on Friday and Sunday.
The pair started strong on Friday with a score of 69.147% to claim the top spot in the Prix St. Georges CDI3*, then continued their success on Sunday as they rode to the top of the leaderboard in the Intermediate I Freestyle CDI3* with a score of 71.255%.
Layne and Hilfiger 3, a 2006 born Oldenburg Warmblood gelding by Hotline x Argentinus, made their competitive debut together this past November at the Global Dressage Fall Fest I in Wellington, and the partnership seems to be blossoming already as the duo continues to earn top ribbons.
-- GDF press release, edited by Eurodressage
Photos © Sue Stickle
Related Links
Scores: 2020 CDI-W Wellington