Germany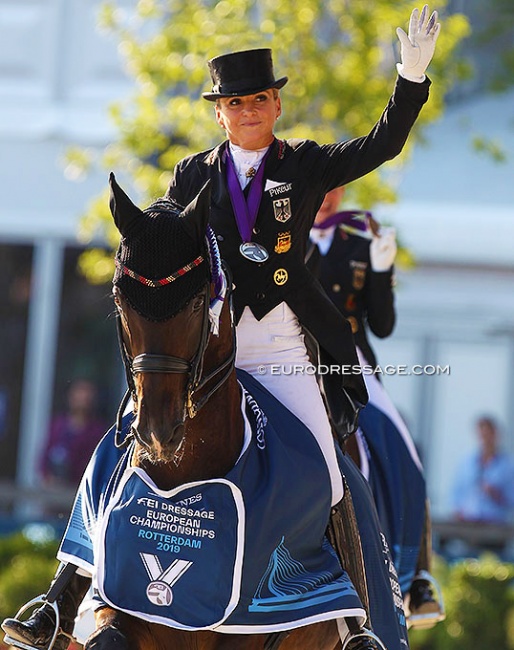 The German equestrian federation has announced the dressage squads going into the new year, 2021. 
The squads were updated based on results achieved at CDI competitions in the autumn as well as proof of fitness at a recent squad training session in Warendorf. 
Not only the senior squads were updated, but also the youth squads as several riders reached the age limit going into 2021 and can no longer be included to the their respective squad.
Two New Horses in A-Squad, Three Missing in Action
For the elite A-squad, German European team gold and individual silver medal winner Showtime (Dorothee Schneider) has returned on the squad after missing out on the entire 2020 show year. The 14-year old Hanoverian last showed at the 2019 Europeans in Rotterdam. Fortunately, the celebrated pair now proved fitness at the squad meeting and were resubmitted going into the 2021 Olympic year.
Isabell Werth was absent from the meeting, which means that her number one in the barn, Bella Rose, is still not included on the list. The 16-year old mare last competed at the 2019 European Championships as well, where she won triple gold. Werth did get submitted with a third horse, Victoria Max-Theurer's Quantaz, based on results achieved at the CDI's Achleiten and Hagen this summer. 
The second new comer is Hubertus Schmidt with the 11-year old stallion Escolar. This duo last competed at the 2019 CDI Frankfurt, but was back on form for the squad training.
Helen Langehanenberg and the 18-year old Hanoverian Damsey as well as Sönke Rothenberger and his 13-year old Dutch warmblood Cosmo were also absent from the squad session and missed a second opportunity to get resubmitted.
Corona Absence
The postponed Olympics Games are on the agenda for 2021 and are the ultimate competition where medals can be one. Two of Germany's long-time team horses and medal winners have been out of the picture for a while, which raises concern. 
German team trainer Monica Theodorescu told Eurodressage that both Werth and Rothenberger were absent from the squad meeting because of Covid-19 instead of fitness issues their horses experienced this year. 
"Both have decided to be more careful because of corona and not come to Warendorf," Theodorescu confirmed.
German Squads for 2021
Children - A-squad
Clara Paschertz - Danubio OLD.
Children - B-squad
 Lara Lattermann - Soleil de la Coeur.
Pony Riders - A-squad
Lana-Pinou Baumgürtel - Massimiliano FH
Antonia Busch-Kuffner- Kastanienhof Cockney Cracker
Rose Oatley - Daddy Moon
Antonia Roth - Daily Pleasure 
 Paulina von Wulffen -  Top Queen H
Pony Riders - B-squad:
Marlene Maria Binder -  De Long
Jona-Emily Bomberg -  FS Mr. Magic
Sophie Luisa Duen -  Dimacci D
Maleen Kohnle - Dabia Dior
Julie Sofie Schmitz-Heinen - Carleo Go 
Junior Riders - A-squad
Lucie-Anouk Baumgürtel  - Farlana FH
Jana Lang -  Baron and Davy Jones
Valentina Pistner - Flamboyant OLD
Allegra Schmitz-Morkramer - Lavissaro
Junior Riders - B-squad
Philippa Hodes  - Barolo M
Kelly-Ann Klenk -  Inspire
 Anna-Leandra Timm - Foxfire.
Young Riders - A-squad
Luca Sophie Collin - Descolari
Henriette Schmidt - Rocky's Sunshine
Jana Schrödter - Der Erbe and Frau Holle
Selina Söder - Rendezvous
Young Riders - B-squad
Theresa Friesdorf - Quotenkönig
Luna Laabs - Wild Willy Granly
Sophie Reef - Genua TC
Emely van Loon - FBW Despereaux
Elisabeth von Wulffen - Babylon
Under 25 - A-squad
Jil-Marielle Becks- Damon's Delorange and Damon's Satelite NRW
Evelyn Eger - Flynn PCH and Whitley
Hannah Erbe - Carlos
Ann-Kathrin Lindner - FBW Sunfire and Flatley
Raphael Netz - Lacoste
Alexa Westendarp - Hicksteadt.
Senior Grand Prix - A-squad
Jessica von Bredow-Werndl - Dalera BB and Zaire-E
Ingrid Klimke - Franziskus
Helen Langehanenberg - Annabelle
Hubertus Schmidt - Escolar
Dorothee Schneider  Sammy Davis jr., Faustus and Showtime FRH
Frederic Wandres - Duke of Britain
Benjamin Werndl  - Daily Mirror and Famoso OLD
Isabell Werth - Quantaz, Emilio and Weihegold OLD.
Senior Grand Prix - B-squad: 
Senta Kirchhoff - L'Arbuste OLD
Sönke Rothenberger-  Santiano R
Carina Scholz  -  Tarantino
Photo © Astrid Appels
Related Links
German Dressage Squads for 2020 Updated - Bella Rose, Cosmo, Showtime, Damsey Out
2020 German Championships Without Star Horses Bella Rose, Showtime and Cosmo