Sweden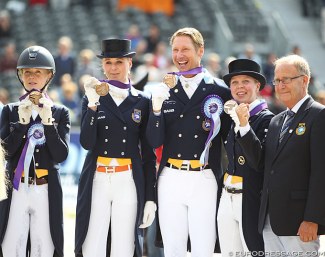 The Swedish Equestrian Federation has announced the updated Swedish dressage squads going into the new year 2021. 
Swedish dressage team captain Bo Jenå is looking forward to a new and hopefully brighter year with more competition opportunities. 
"It can only get better. Now let's hope that the competitions can start again as soon as the health situation allows it,"  he said. "The (longer) training period has been positive in many ways. The riders in the top squad have more horses that will debut at Grand Prix. It will be exciting to see them in spring."
The 2021 competition could be action packed with the 2021 World Cup Finals set to take place in Gothenburg, the belated Olympics in Tokyo, followed by a European Dressage Championships in September. 
The technical staff lined up for the youth squads include Anette Svanberg as pony team captain, Marianne Esseen-Söderberg as junior & children captain and Tina Due Boje as young riders' captain. The Youth team trainers are Kerstin André, Liane Wachtmeister, and Cecilia Kristoffersen. 
The Swedish squads for 2021 include
Children
No top-squad/A-squad riders nominated
B-squads
Irma Wickström - Bossa Nova
C-development group
Ebba Wallin – Tubular Bells
Clara Brandenberg - Antalaya SC
Juni Skobe Rosén - Darthula VH
Pony Riders
No top-squad/A-squad riders nominated
B-squad
Laura Laustsen - Schierensees Mithril
Sara Granfors - Brouwerijs Percival
C-development group
Agnes Frejd – Plus
Alice Kampe-Alsin-Crugybar Flying Childers
Alma Sjöblom - Vanity Fair
Annie Spångberg - Twenty Two, FS Cassidy
Angelina Brink - Weber af Kongshöj
Ebba Bånge - Runsås Chakira
Ebba Lindholm – Untouchable, Spotlights Barnaby
Ebba Wallin-EG Midsummer
Ellen Stymne - Tanzbär
Elin Ullman - Dancer Boy
Elsa Åhlin - Chicago
Emilia Andersson - Kulltorps Flavour, Paso Double
Emilia Rameus - Sandro's Chappiellini
Esmeralda Viktorsson - Polsbery Pericles
Evelyn Fägnell – Boldermans Boston
Frida Öjeblad - Capuccino Royale
Holley Grönberg - Angelo
Ida Anderberg - Roman
Ingrid Albinsson - Mr Devil
Julia Roswall – Taxman, EG Dirac
Linn Tullberg Jagrell - View Mount
Louise Edvardsson - Hamiltons Magi
Lovisa Lindén - Hippotekets Isolde
Melissa Tapper - Mistery
Nicole Crona - Cezanne de Luxe
Millicent Myrman – Caigon
Ronja Kardos - Brännornas Rigoletto
Stella Hoff - Champ of Dance P
Tilde Lantz - Proteus
Vida Nordling Pettersson - Wyken Not A Lotta Bottle
Wilma Bornhager - Dusty
Wilma Holmgren - HB Dancing Daylight, Rubins Pride Myrra
Junior Riders
No top-squad/A-squad riders nominated
B-squad
Sofia Heimburg - Guajana
Blanca Bosson - Cardon M
Laura Laustsen - Pasteur
My Sandgren - Hampus M.Ge
Ellen Olsson - Daimjenko
Siri Ehrnrooth - Elverhöjs Olympia, Faustino
Siri Ryrstedt – Linghson RS
Saga Larsson – Elliot af Grillgården
Louise Brantefjord - Aladin 
C-development group
Moa Sundelöf - Casado L.E.
Tindra Holmertz - Celine Dion
Olivia Falk – Picnic
Emma Kåberg – Carla
Emilia Bergåkra -Primavera
Ellen Collijn - Bretagne
Millicent Myrman - Virkelysts Lasino
Emilia Lind - Donatello
Young Riders
Top Squad
Evelina Söderström - Weihenstephaner
No A-squad riders nominated
B-squad
Matilda Jakobsson – Cappuccino
Matilda Illerfelt - Bento D
Emelie Svanström - Toscham SD
Maja Falk - Gilmor MC
Felicia Olofsson - Dan Brown
Ida Persson - Tago
Felicia Bermar Vistedt - Breezy A.S
Ellen Lindén Urnes - Fairy Tale
Linnéa Holmgren - QC Sir Dennis
Evelina Söderström - Cilantro
Amanda Lindholm - Rozette
C-development group
Sofia Buskhe - Red Starlight
Elina Rosenqvist - Mollberg
Hanna Nilsson - Becquerel
Elise Lindeblad - San Andreas
Ellen Hedbys - Sonnenkönigin
Kajsa Olsson – Pay Back TP
Christina Lundblad - Headline
Cecilia Bergåkra - Izack
Nina Jenemark - Belisko
Ella Löfgren - Fanchette for U
Nora Einerth - Sirello
Tindra Alricsson - Adobe MB
Amanda Barnestam Olsson - Simmebros Donna Frapin
Under 25 Riders
No top-squad/A-squad riders nominated
B-squad
Emelie Aldenfalk
Elin Mattsson
Lina Dolk
Nathalie Wahlund
Lo Dahlquist Mörkenstam
Senior Riders
Top-squad
Antonia Ramel
Juliette Ramel
Patrik Kittel
Therese Nilshagen
A-squad
Sandra Dahlin
Natalie Oldfors
B-squad
Gunilla Bystrom
Johanna due Boje
Jacob Norby Sorensen
Denise Ljungkvist
Marit Olofsson Naas
Jennifer Svensson
Photo © Astrid Appels
Related Links
Mattsson, Jonsson, Kittel Win 2020 Swedish Dressage Championships
Wickstrom and Persson Win the 2020 Swedish Children and Junior Riders Championships
Elliot Nilsson Wins 2020 Swedish Pony Championship
Sweden Will Not Send Riders to 2020 European Youth Championships