Bits 'n Pieces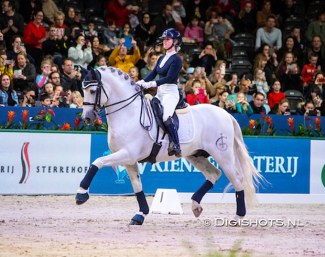 The Dutch tax authorities have launched an investigation into the Dutch media company Talpa, owned by media mogul John de Mol, and TV personality Britt Dekker concerning the purchase of PRE horse Genciano. 
Dutch publication Media Courant reported on the matter.
400,000 euro
In March 2019,  Talpa purchased the now 12-year old PRE bred Genciano (by Datil VII x Napoleon II x Pestillo), who was based in the barn of Annabelle Collins and Agusti Elias in Barcelona, Spain.
Under Dutch Emmelie Scholtens, Genciano competed at the 2014 World Championships for young dressage horses in Verden, Germany, where they finished fifth in the consolation final with 8.06 points. They went on to win bronze at the 2014 Spanish Young Horse Championships
Talpa paid 400,000 euro for the horse and gave it "on loan for life" to Britt Dekker in exchange for making four TV-shows for Talpa. 
"Otherwise the IRS would go after me and I would have to pay taxes on it, because I was paid in kind," Dekker explained. "I wanted to have a horse and if I had received the money for it, I had to pay taxes on it and now I don't."
She continued, "a contract was made that I would get the horse on loan for life. Not that he (John de Mol) would blackmail me, but otherwise it will end like, 'hey you now made four shows for us...' From a tax point of view he had to be owned by Talpa. You now think that I'm saying something I'll get in trouble with, but we already have mega problems, so..."
Star in Holland
Dekker and Genciano, who is amicably named "George", provide amazing publicity for the sport of dressage in The Netherlands, even though she is an amateur rider.  The pair has ridden in demonstrations, for instance at Jumping Amsterdam and at the Friesian Proms, which attracted a crowd.
Dekker has a social media following of 320,000 on Instagram and 75,000 on Facebook. More importantly, she is a big TV star in The Netherlands with her shows being watched by a million viewers.
"John gave me my dream horses, which otherwise I would never have been able to buy," Dekker added. "I made four shows for it. It's just mediaeval pay-in-kind. I got a horse, I made shows, nothing more and nothing less. I experienced it as very pleasant."
Source: Media Courant - Photo © Digishots
Related Link
Dutch Socialite Britt Dekker Buys Genciano