Oldenburg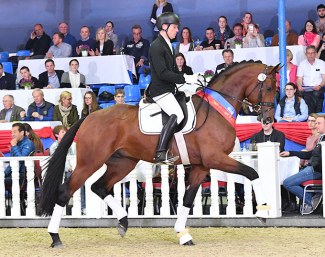 Stallions from all breed societies are welcome on 23 February 2021 at the pre-selection for the saddle licensing. Quality will be the deciding factor when the Oldenburger Pferdezuchtverband awards prizes to the future sires or chooses them as champions, not origin!
2021 OL Saddle Licensing
The saddle licensing for dressage stallions will be held as part of the 94th Spring Elite Auction on 9 and 10 April 2021. Stallions will be presented for auction at the Elite Auction on April 10.
Three- and four-year-olds from all riding horse breeding associations are eligible for pre-selection. During the pre-selection, the stallions will be examined during free running, on the lunge and on the hard ground. Admission to the licensing takes place on the final walking ring.
Please register your stallion by February 1.
Register Your Stallion Now
Here you will find the registration form for the stallion pre-selection: https://oldenburger-pferde.com/en/formulare/registration-stallion-pre-selection-for-saddle-licensing.html
For questions and information, please contact Dr. André Hahn at